All sorts of myths, tall tales, and urban legends swirl around the legacy of Andy Warhol. My favorite story (which probably isn't true, but I hope it is) is the one about an incensed film critic who didn't believe that anybody had the will or fortitude to sit through one of Warhol's static, multi-hour films. During a screening of Andy's 8 hour long Empire (in which he trained a stationary camera at the Empire State Building), the critic pounced on Warhol, chaining the silver haired pop artist to his theater seat so he'd have to watch the entirety of one of his own films for a change. The soft-spoken, sunglasses-sporting imp got the last laugh: he was able to Houdini out of his chains and escape before the first reel was switched out.
Seeing Andy's visual work isn't too difficult. Most major museums have a Warhol or two on display, or play host to blockbuster retrospective shows of the man's silkscreens. Actually seeing one of his movies is a lot harder — to this day, Warhol's films are unavailable on DVD or Blu-Ray (unless you buy them via foreign bootlegs). They can only be seen as film prints. Unless you happen to live near MOMA or attend a major film school, the odds that you'll ever see a Warhol film aren't good.
Which is why the screening coming up THIS Saturday night through Sunday morning of Empire in Tucson is such a HUGE deal. For the first time ever in Arizona, this 8 hour film will light up the walls of the Exploded View Microcinema (located next to the 191 Toole venue).
I got a chance to talk to David Sherman, one of the founders of Exploded View, about this one of a kind cinematic event. Our conversation bounced from Swiss painters to D.I.Y. church spaces, from Warhol movies to meditation; and even the grim orange specter of our Fuckboy In Chief materialized at one point in the conversation.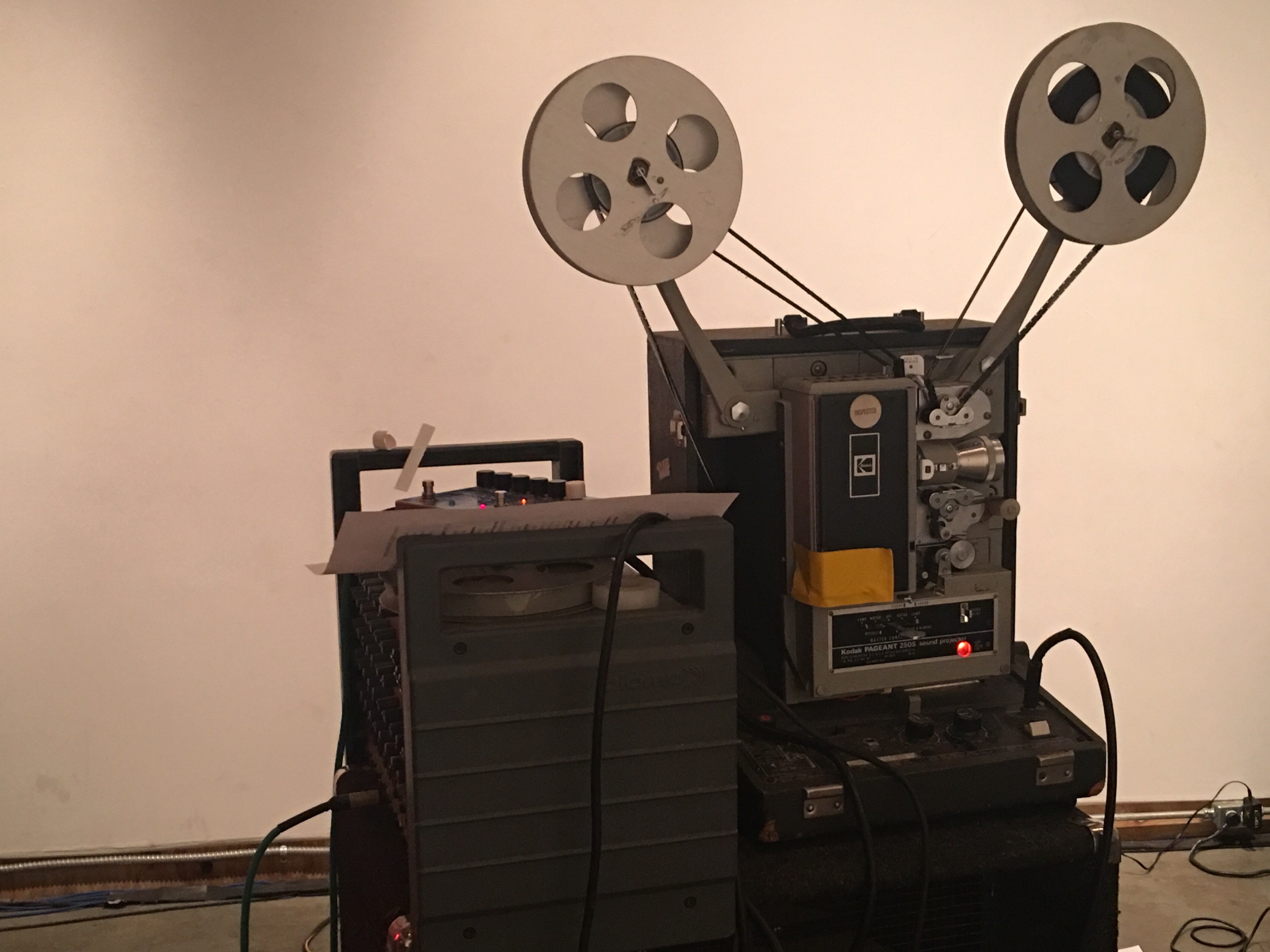 Why don't we start out by talking about the history of Exploded View. How did it come together?
My wife Rebecca Barten and I had a microcinema in San Francisco in 1993 through 1997. That was in the basement of a six-unit, quasi-Victorian. The basement wasn't being used – it was really small, even smaller than the space we have now. It could fit 20-25 people at most. So we came up with that term, microcinema. There's sort of a precedent for that: ciné-clubs, and people like Craig Baldwin, who's been doing his Other Cinema since the 80's.
Then we were in Bisbee for 8 years, and from there we went to Tucson. I grew up here, actually. We got this storefront, which is something we've always wanted to do. And that storefront is part of the artist warehouse district down there in Tucson. It's owned by a nonprofit, which is cool. We put money into doing the build out, and just wanted to see what kind of things we could get happening here.
Tucson doesn't have a history, per se, of media arts like some cities like San Francisco. Usually places that have a strong university program with experimental teachers and makers tend to have richer cultures — places like Buffalo or Baltimore. The University of New Mexico has a pretty cool scene over there. We wanted to see how we could cultivate that through other alliances, like with music programming and queer programming because that tends to be the most progressive department at U of A. We've done a lot of stuff with them.
How do you and Rebecca handle your programming? Do you specifically seek out work from filmmakers, or do they approach you to arrange screenings?
It's sort of a combination. There's an experimental film circuit that people tour across the country. They often play in L.A., Albuquerque, Austin, Shreveport…. There's this Southern circuit that a lot of people tour with their work and they usually come through here, too.
People will reach out to us and we'll try to make it happen if their work fits with our aesthetic. We're not into narrative films – we're more interested in film as art. We do show documentaries and exploitation films too… Like that Tony Conrad thing, I heard about it and I knew the filmmaker from San Francisco. So we reached out to him and made it happen here.
And we try to cross over with our programming by doing music, as well. I think it's funny that a lot of Tucson venues are starting to book noise shows, because we started doing that four years ago. I'm not saying we're responsible for that, but it's become more mainstream in a way. Bars do them, and the contemporary art museum has done a few of those… Aren't you seeing more of that in Phoenix too?
Yeah- Scott Mitting organizes a bunch of 'em. They happen at a lot of house shows, too, and at places like The Lunchbox and the Trunk Space's new location.
New location? Where did the Trunk Space move to?
It's in a building that's part of the Grace Lutheran Church on 3rd St., near the Phoenix Center For The Arts.
So it's literally in a church?
Yeah.
Wow. That's interesting. You know, 191 Toole for awhile was a church. They used to do punk shows – and they were also really anti-gay, which was weird. How can you book punk shows and be anti-gay Christians at the same time?
Let's talk about the "I'll Be Your Mirror" Empire screening. What inspired that idea, to screen the Warhol film and make a happening of it with live music and mirrored walls?
Honestly, that's changed a little bit. Initially, we had a different concept — this sort of goes back to the idea of how to get people to go see stuff in Tucson that they might not be familiar with. We had this more grandiose idea for screening Empire that would have made it more like a party…. But after thinking about it, we started wondering if that would be doing the film a disservice – making it ancillary to another party scene in Tucson. So much of culture here revolves around drinking in bars, so most music happens in those kinds of places.
This is probably going to be the one time this happens in Tucson. I did some digging around, and it doesn't look like Empire has played in Arizona before. So we're going to do a more stripped down screening. There'll be a lounge in the back, with some sofas and monitors. There's a live video feed of Andy Warhol's tombstone in Pennsylvania, so I think we're going to stream that. We'll play other stuff, lewd stuff, that we have on VHS on the other monitors.
And we're just going to do one screen – no mirrored walls. That's been our practice, in addition to making films on our own, to treat projection and film exhibition as a medium in itself. We're going to treat the screening pretty traditionally, even though it's an un-traditional film. We also got lens sent in from Colorado, so there's two matching lens for the projectors so we can do the crossover and not have to switch the reels and interrupt it.
There'll be some coffee there. We're going to charge $10 now instead of $20, because we figured nobody's going to pay $20 in Tucson. I don't know how many people to expect, honestly. I hope 50-60 people show up at some point during the night, but you just don't know. It could end up being just us and Olivier Mosset, who's sponsoring it. He's this very cool Swiss painter who actually knew Warhol. Are you familiar with him?
Mosset? No, the name doesn't ring a bell.
He lives in Tucson. He paid for the print of the film – he's very generous with arts organizations. He comes to a lot of our screenings. He was in Montreal in 1967 as an assistant to Jean Tinguely, the kinetic sculptor. He was working at the World's Fair there, and then he went to New York. He was like "I'm going to visit Warhol!" I don't know if they had corresponded before they met.
The subcultures he's been a part of over the years- the Factory people…. He was there with Warhol for the Chelsea Girls premiere in Paris. Mosset's a minimalist, so Empire is one of his favorite films.
We've actually seen it in San Francisco. Rebecca and I saw two-thirds of it back in the 90's when it got re-released from the Warhol Museum. And the thing is, there's sort of a misconception about the film where people think it's just one shot. It actually isn't. They had 1200 feet of film, rolls of film, that could fit in the camera. Each roll lasted about 45 minutes each. And they get slowed down. It's shot at sound speed and then it's projected at silent speed, so it's slower than real time. You really wouldn't know, except for the top of the Empire State Building. It has a light on it that flashes every hour, so you can actually keep track of it that way. At the end of each reel, they have to change it because the light flares out and then it flares back in for the next reel. Sometimes you get these reflections of Warhol and Jonas Mekas who were shooting it at the Time-Life Building. And then there's other stuff, like the grain and the scratches and the gradual change of light to pretty much pitch black.
It's pretty exciting if you get into that space- it's akin to having a visual drone experience. And it's silent, which is another reason why we didn't make it into a party – people banging around in the bathrooms and that sort of thing. I mean, it's not like a church kind of scene, but it's also- we were like, "there's so many parties to compete with, that doing one here would just detract." So many people use film as wallpaper now, and this is a different kind of thing cause it asks for your attention. Whether you give it to it or not is up to you. You could leave, go to dinner, and come back – the film will still be there.
I think it should be a really interesting event. The thing is, it's super different in relationship to — and even more so, than when we saw it in the 90's — you know, smartphones and social media. Where people are constantly visually stimulated. This is the complete opposite of that. It is sort of like a church – in that, when do you spend a big chunk of time really not doing anything? Like with meditating — it's boring, but you work through those different things: "Why am I doing this? I don't see any results. I don't see this or that. My feet hurt, my butt hurts." What's interesting about this film is that you cycle through all these emotions, from boredom to excitement to re-engagement to maybe even dismissal. The film just encapsulates all these things; it's nothing and everything simultaneously.
It's interesting – Donald Trump actually owned the land underneath the Empire State Building for about 10 years in the 80's, I think. Warhol thought he was – he actually wrote about him in one of his diary books – that he was a tacky cheapskate. He had made some paintings of Trump Tower, four or five of them, silk-screened. Trump didn't like any of 'em, so Warhol was like "he's so tacky." Trump always aspired to be a part of that New York scene, but he was too vulgar to be accepted — and not vulgar enough to be a Superstar, either!
Did you see the Chelsea Girls when it played at Phoenix Art Museum?
No! I'm still kicking myself for missing it.
That's a much more lively film- being two screens simultaneously, with all the Superstar freaks kind of carrying the load. Even with that film, which we saw a couple of times in San Francisco, it was interesting to see how many people would walk out. They know the name, they know about Warhol, so they associate it with everything poppy and cool… but they can't deal with the reality of what he documented, whether it's super minimalist or maximalist – I guess you can say Chelsea Girls is maximalist.
One of the interesting things about Warhol as a filmmaker – he was really at the height of his painting stardom, so there was no need for him to make films. But he did them, completely noncommercial, and paid for them. His investigations into film are interesting because he pretty much recreated the history of cinema on his own terms. The first films, like Sleep and Empire, are still cameras and silent. Long single takes and black & white. And gradually he started incorporating color into his films, and actors, and zooms, and narratives. All that stuff he added over the course of his career- going from doing the most basic thing to leading up to stuff like the Paul Morrissey Frankenstein, where he was basically just a producer.
The Empire 16mm screening starts at 7pm this coming Saturday, April 29th at Exploded View. It will run until 3am on the morning of Sunday, April 30th. Tickets are just $10.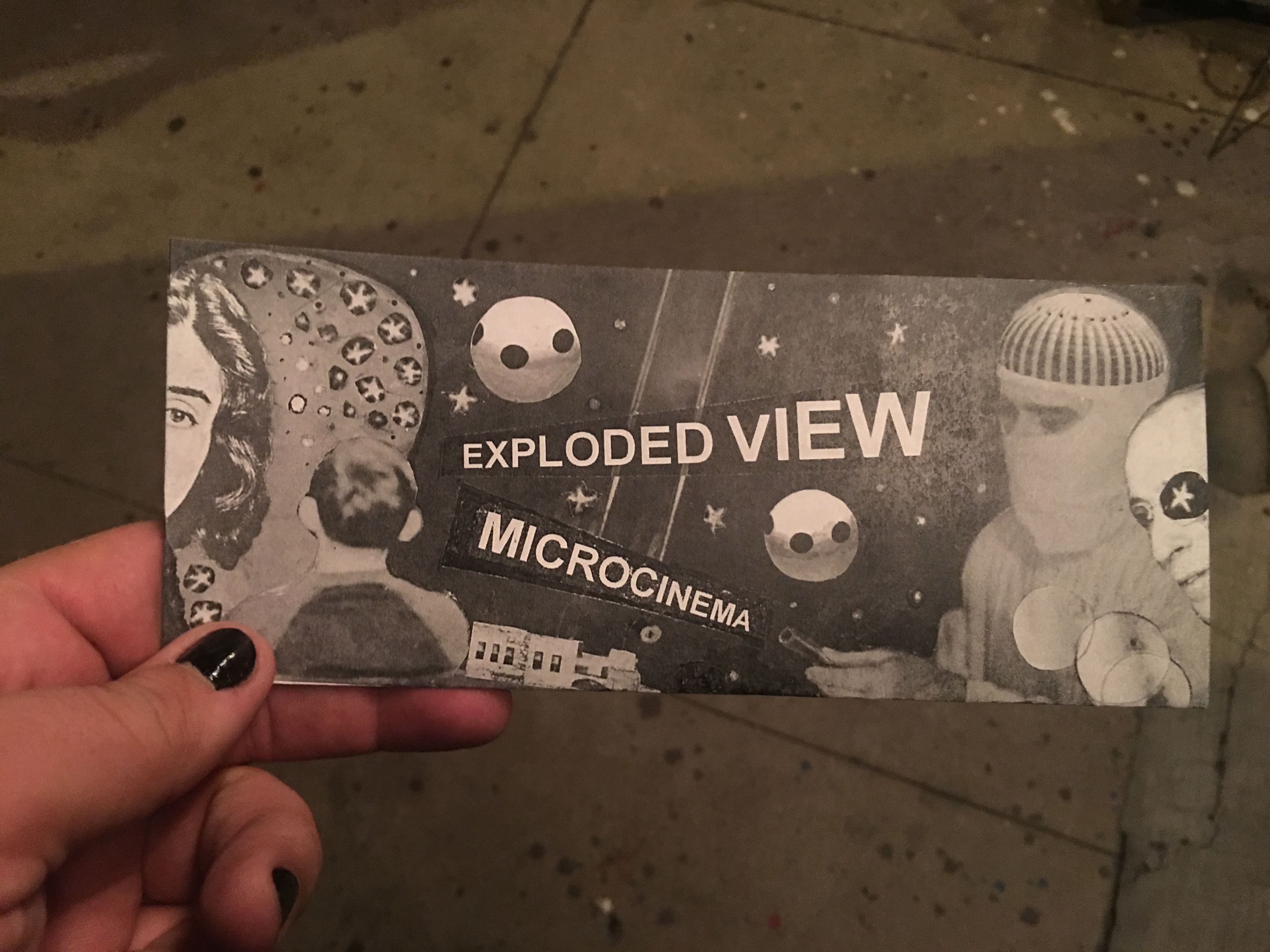 Ashley Naftule is a writer, performer, and lifelong resident of Phoenix, AZ. He regularly performs at Space 55, The Firehouse Gallery, Lawn Gnome Books, and The Trunk Space He also does chalk art, collages, and massacres Billy Idol songs at karaoke. He won 3rd place at FilmBar's Air Sex Championship in 2013. You can see more of his work at ashleynaftule.com
For more Phoenix coverage that doesn't suck, follow PHX SUX on Suckbook and that tweety website for Twits.
Read more from PHX SUX: