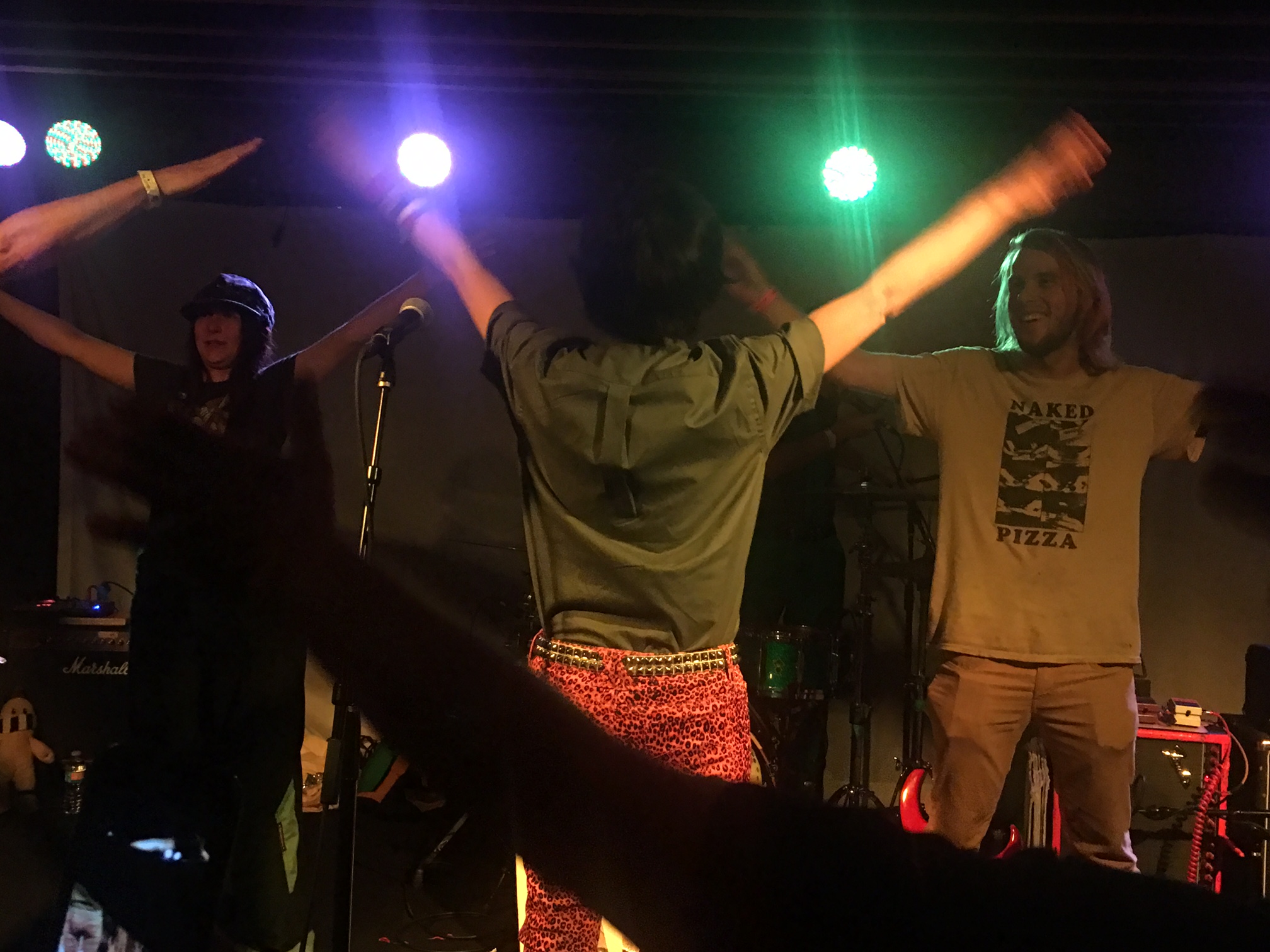 I've never felt more relieved not to be a musician than after seeing Peelander-Z live tonight at Valley Bar. Walking away after the show, with my ears still ringing, my mind was reeling from the utterly unhinged spectacle that the color-coded quartet had just put on. They had set the performance bar so incredibly high that 90% of most bands couldn't even hope to reach it, let alone vault over it.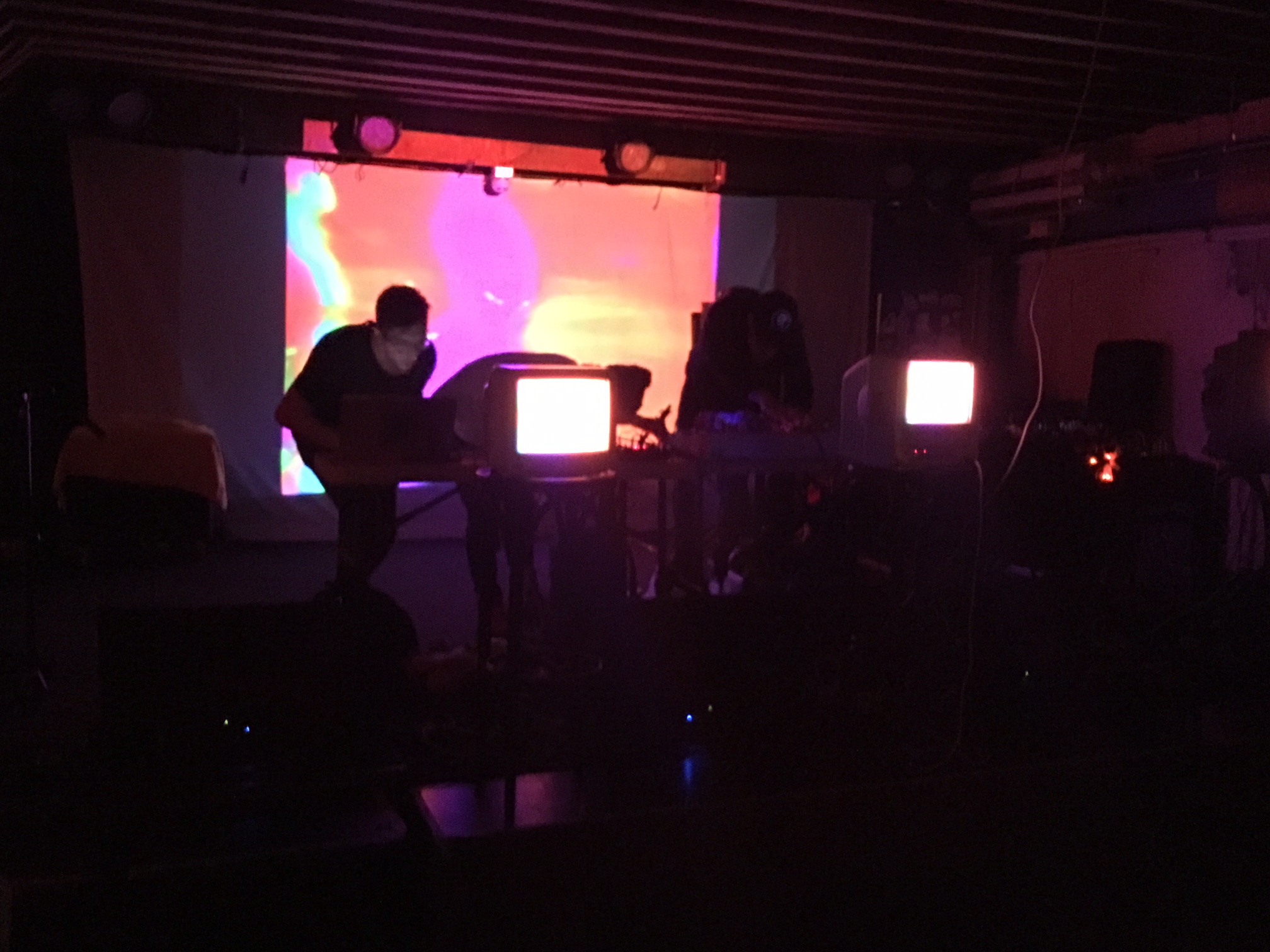 I arrived earlier in the evening to drink with some friends before the show. We got inside the performance space just as Glob started their set. They were kind of a strange choice as an opening act – the other two acts on the bill were super high energy and utilized lots of audience participation. Glob, on the other hand, were a more passive experience.
While they were the odd man out on the bill, the trio behind Glob put on an interesting set. They stood behind tables covered with laptops and electronics that were nested in thick tangles of wires. Three small TVs were set up in front of the stage; behind them was a large projection screen. One of the musicians had some kind of sensor on his hand that he used to manipulate the images on screen through his gestures. The images swirled in soft, runny neon colors. It was like a screensaver of melting watercolor paintings. Images of slime green sunsets, mushroom clouds unfurling in slow motion. and the band's silhouettes bobbing in the digital purple haze accompanied their ambient music. Their electronic music had some hard edges to it; it's deft combination of noise with beautiful, almost-cosmic sounding textures reminded me of the kind of exhilarating sounds Fuck Buttons made on their Tarot Sport record.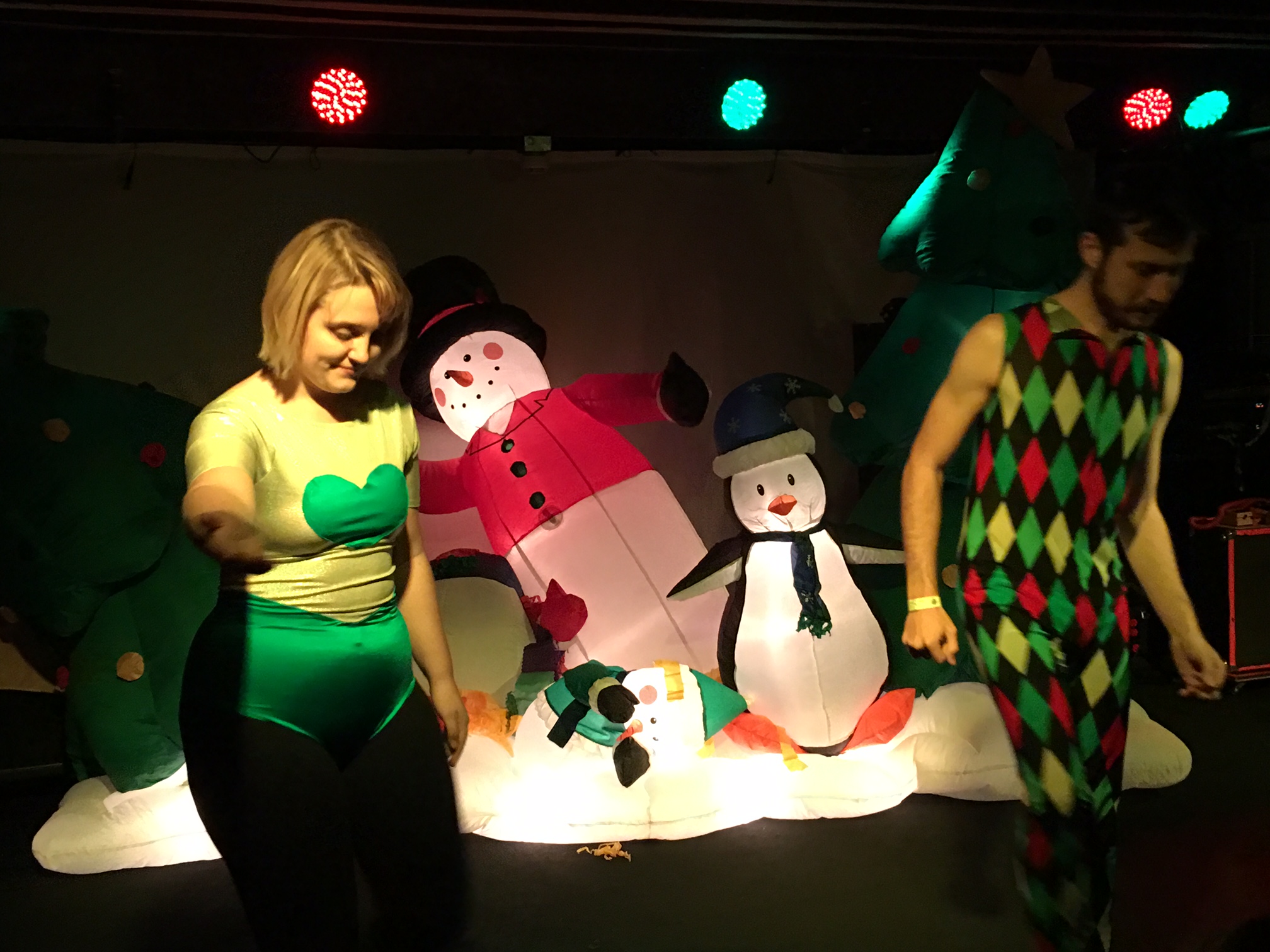 After Glob finished their set, the stage was set for Treasure Mammal's performance. A light-up inflatable winter wonderland sprung to life onstage. Treasure Mammal entered the room. They were a trio this time: bearded national treasure Abe, along with two body-suit clad dancers.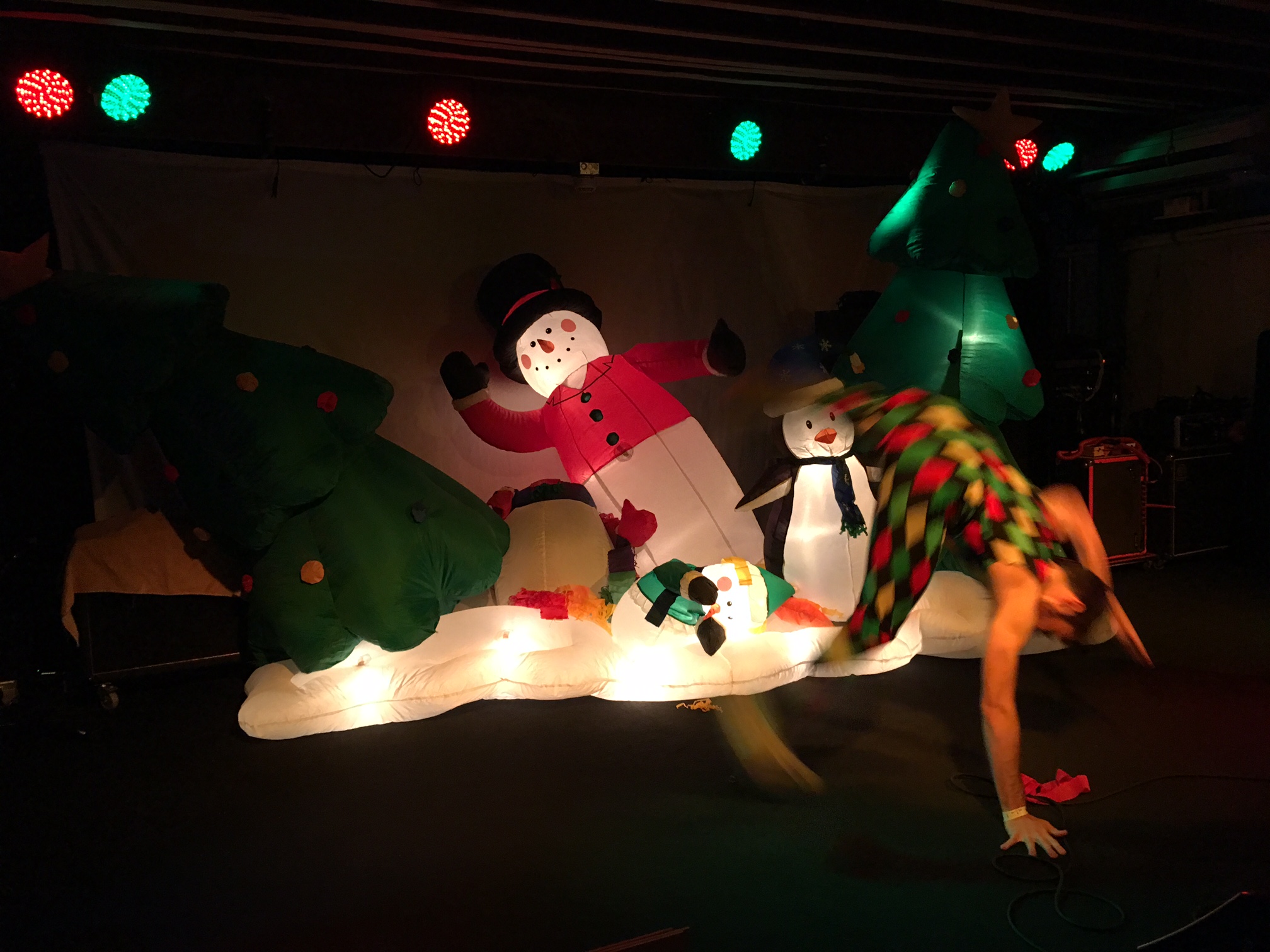 Let's get two things out of the way:
1. If you live in Arizona and haven't seen Treasure Mammal yet, please find someone to swiftly insert a boot in your ass as penance for your complete and utter failing at life.
2. If you're in a band, don't follow Treasure Mammal unless your live show has got The Goods.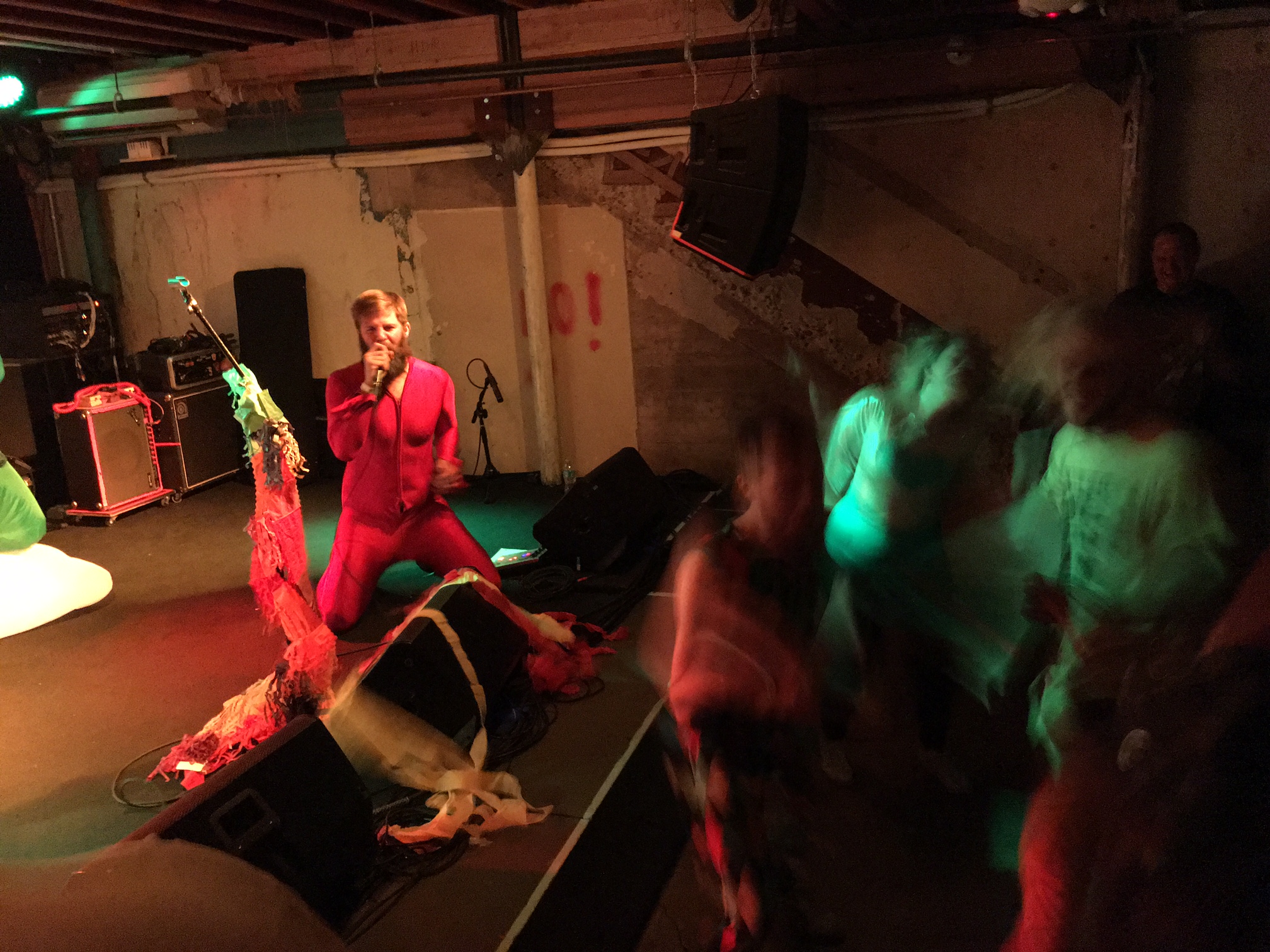 When it comes to doing audience interaction, T-Mammal are in a league of their own. They started their set by getting the audience to join hands with Abe, clustering in a circle to do a prayer to ODB. Following their first number, they invited the audience to join them onstage! For most of the set, a group of us (including yours truly) danced onstage while the group did their thing. The two dancers hopped into the audience, jumping over each other, lying on the floor and locking their legs together to become a human bicycle, and hyped the crowd throughout T-Mammal's dance-y and upbeat set/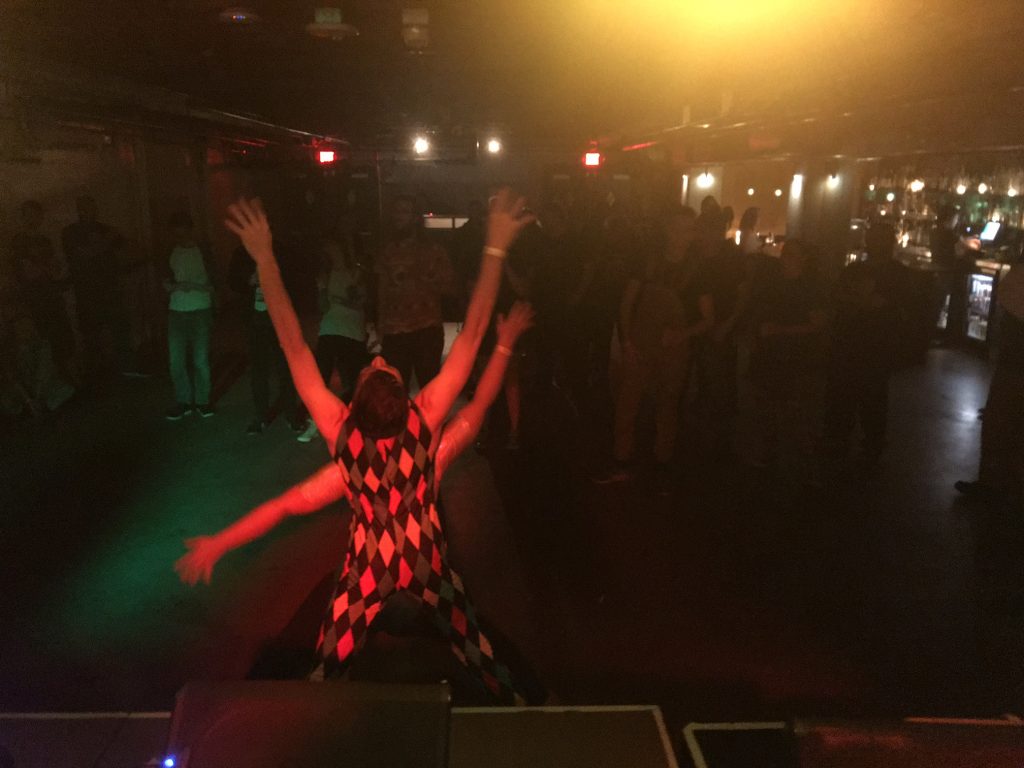 At one point, Abe admitted that he had recently bruised a rib at a Trunk Space show so he was taking it easy that night. You really couldn't tell, because this was just as involving and dynamic as any other T-Mammal show. And while the stage banter about energizing crystals and quoting Anthony Kiedis lyrics sounded familiar, the group continues to add interesting new wrinkles to their stage show. Midway through the show, T-Mammal got the audience divided into two columns so we could run into each other and chest bump during one of the tunes. And then there was the finale, where they did a cover of 311's "Amber" while a bunch of us laid down onstage and waved our legs in the air during the chorus. It was goofy, giddy, and a fun way to end their performance. It was an invigorating, life-affirming set that made the whole evening worthwhile. If Peelander-Z hadn't taken the stage after them, it STILL would have been worth the price of admission for that Treasure Mammal show.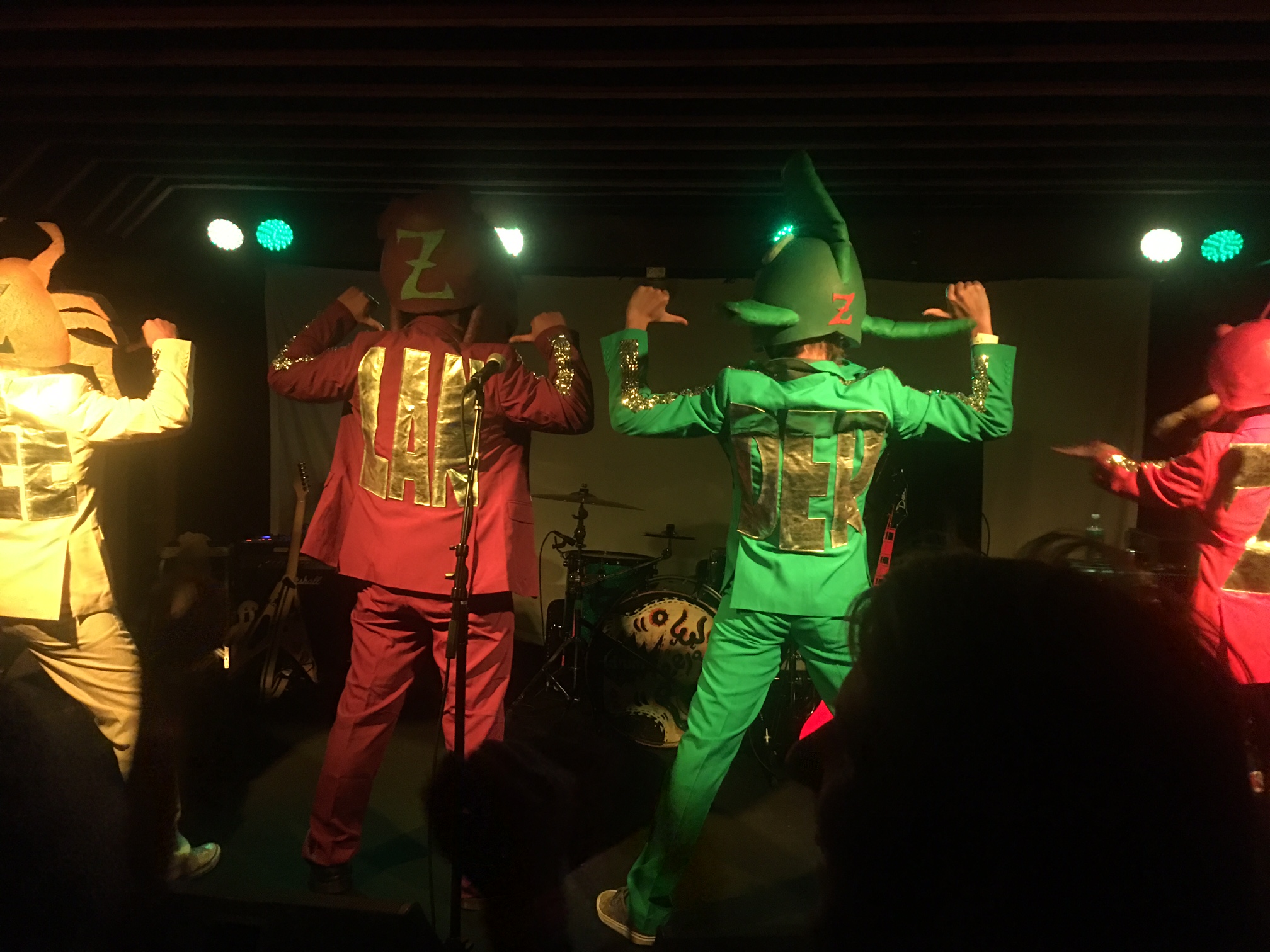 The Japanese action comic punks were in the house, though, and they did not disappoint. To put it in the simplest of terms: they were un-fucking-believable. Imagine a Japanese Ramones, with a stage show that mixed together human bowling, stage dives, pots and pans percussion, costumes straight out of the "Yo Gabba Gabba" style book, conga lines, a limbo party, Flying V's flying in the air, impromptu renditions of "Smoke On The Water" on a two-string bass… imagine an evening that was like being teleported into a cartoon for an hour and you've got some idea what Peelander-Z are like live.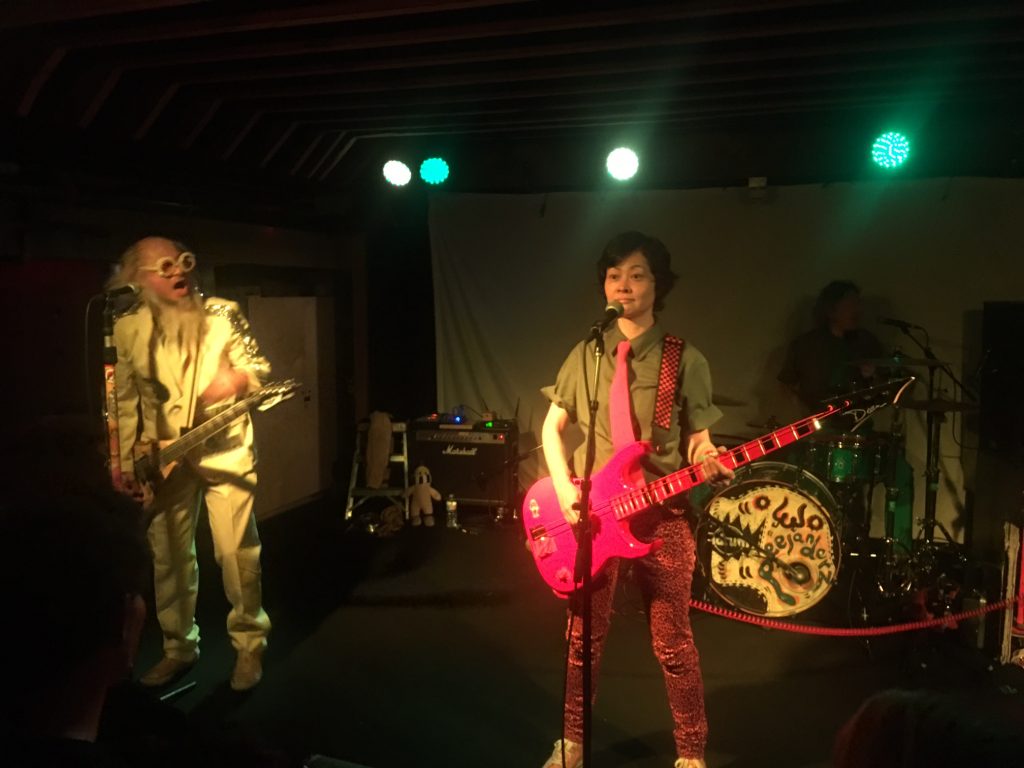 After christening audience members by sticking his helmet on their heads, frontman Peelander Yellow kicked off the show with the band's signature tune "Ninja High School". It set the tone for the rest of the night: audience sing-a-longs, high energy antics from the band, and cue cards held up by Peelander Pink.
They handed out drumsticks and dented pots so audience members could tap and bang along to the songs. Yellow put on a suit of armor made out of those pots and pans, venturing into the crowd so people could bang on HIM. A walking percussion instrument! The band also brought up audience members to do calisthenics and warm the rest of us up.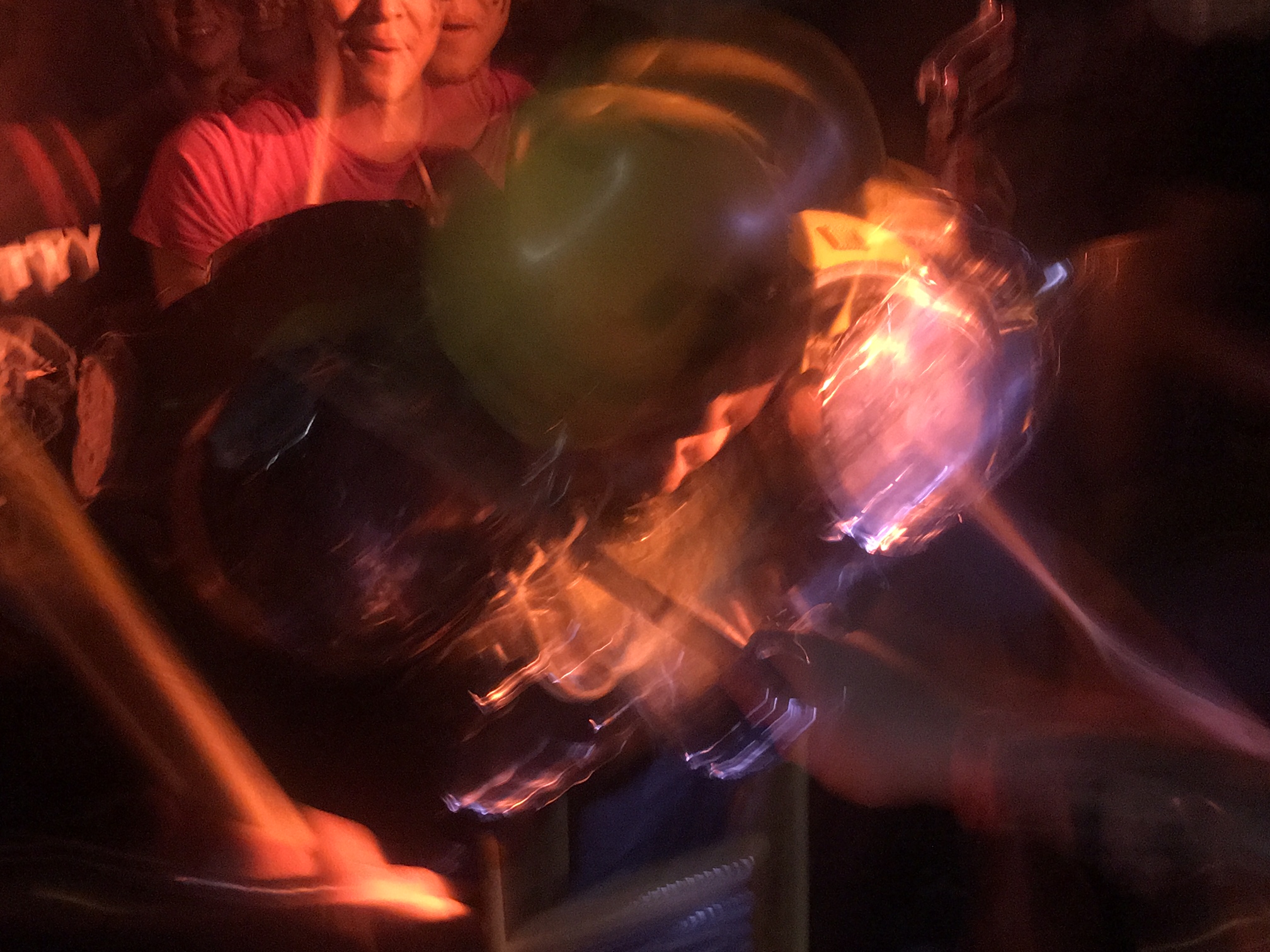 As the band continued their onslaught of catchy, caffeinated punk songs, they kept upping the performance ante. For their song "Selfee", they encouraged the audience to take selfies with the band photo-bombing from onstage. Yellow spotlighted each of the band members, giving them time to play a blistering solo. He even stretched the mic out on what looked like a selfie stick so they could sing along to some of the songs.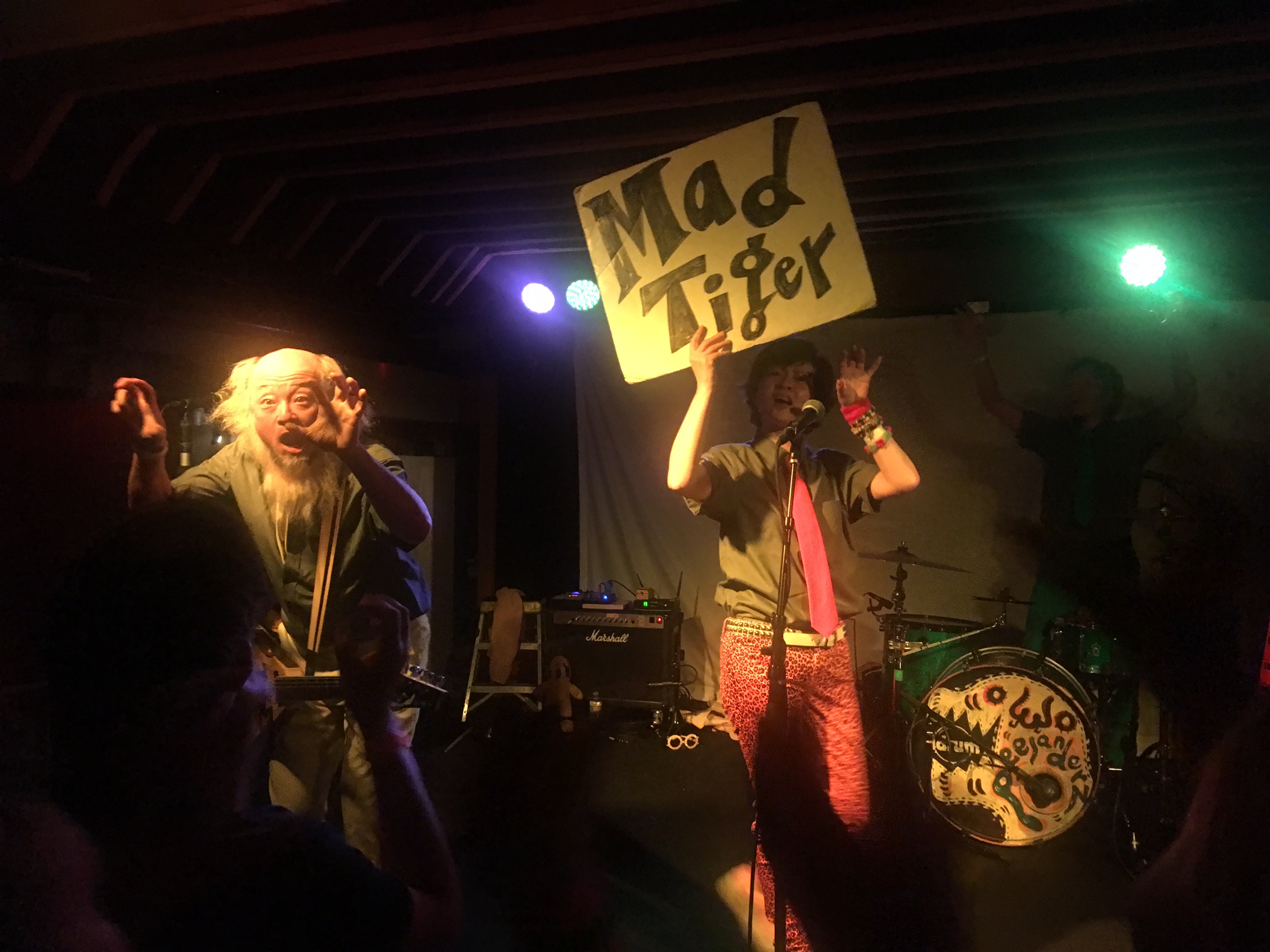 At one point, they started replacing members of the band with audience volunteers until EVERYONE playing onstage was random people from the crowd. As they played, the band set up bowling pins onstage. Putting on a Galactus-esque helmet, Yellow hopped on top of the bar behind the crowd. He got the audience to pick him up and carry him across the room, hurling him into the pins!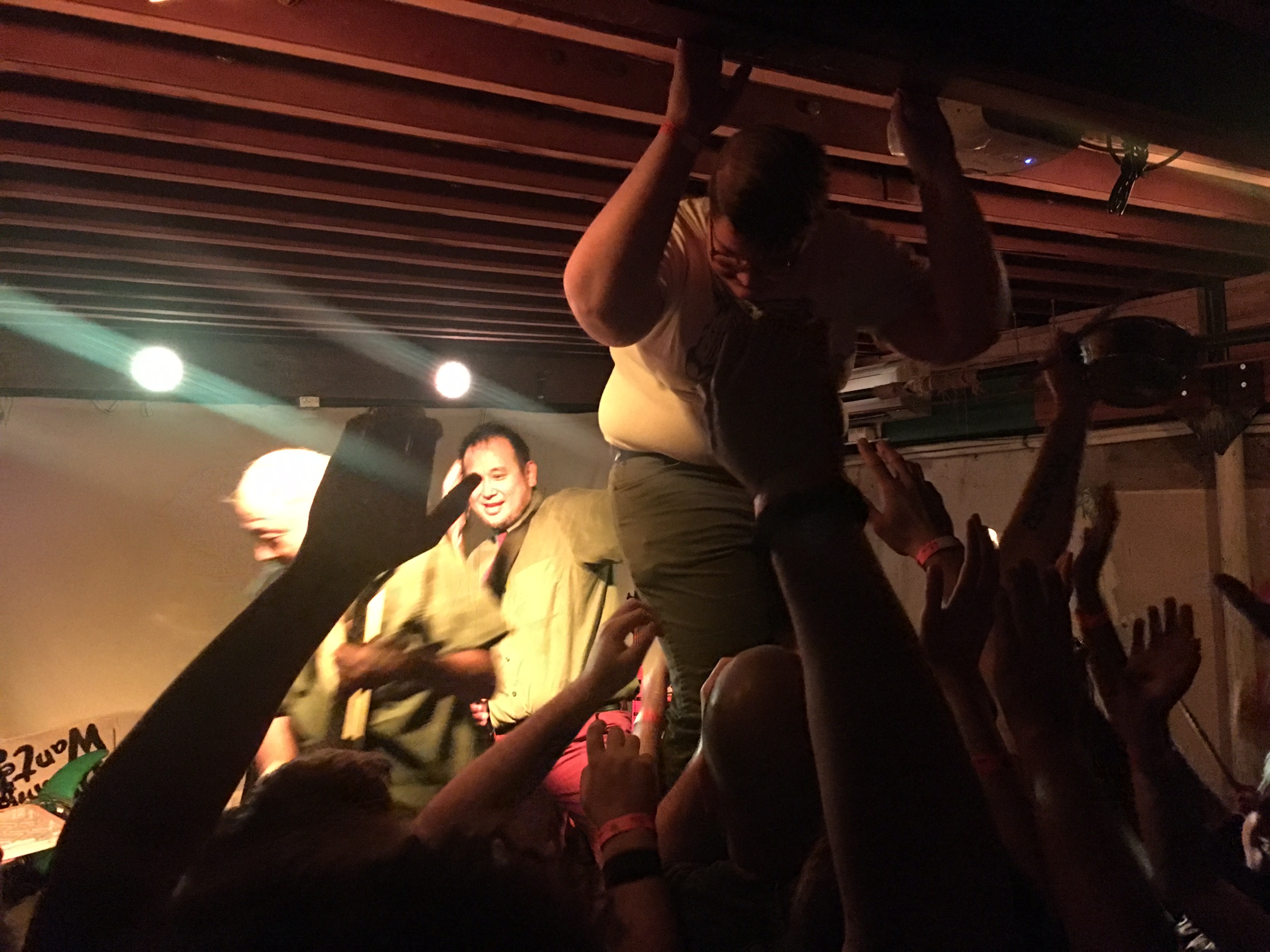 The sheer amount of work and energy they put into their live shows is astonishing. They're not content to step out there and just play their songs, as fun and infectious as they are. They go the extra mile by putting on an elaborate stage show. And not only that – it's a stage show with plenty of opportunity for FAILURE. Stage divers could fall, hurled guitars could not get caught, volunteer band members could suck out loud. It requires a lot of faith in people to just say "fuck it" and do the kind of things that Peelander-Z did tonight. Most other bands are too lazy or chickenshit to put themselves out there the way these Sentai suit-loving, "Beaver Fever"-singing comic book superheroes do.
They closed their show by inviting Ryan Avery (who they had shouted out on the mic earlier for being there for them, way back in the day, at their Phoenix debut) to climb onto a ladder and do a stage dive. After we ferried Avery across our outstretched hands, the band did a final number – a synth-heavy cover of "Girls Just Want To Have Fun." The band, grinning deliriously, bid us adieu and exited the stage.
There was no encore. And for once, nobody shouted for one. That was wise: NOBODY could follow a performance like that. Not even the Peelanders themselves.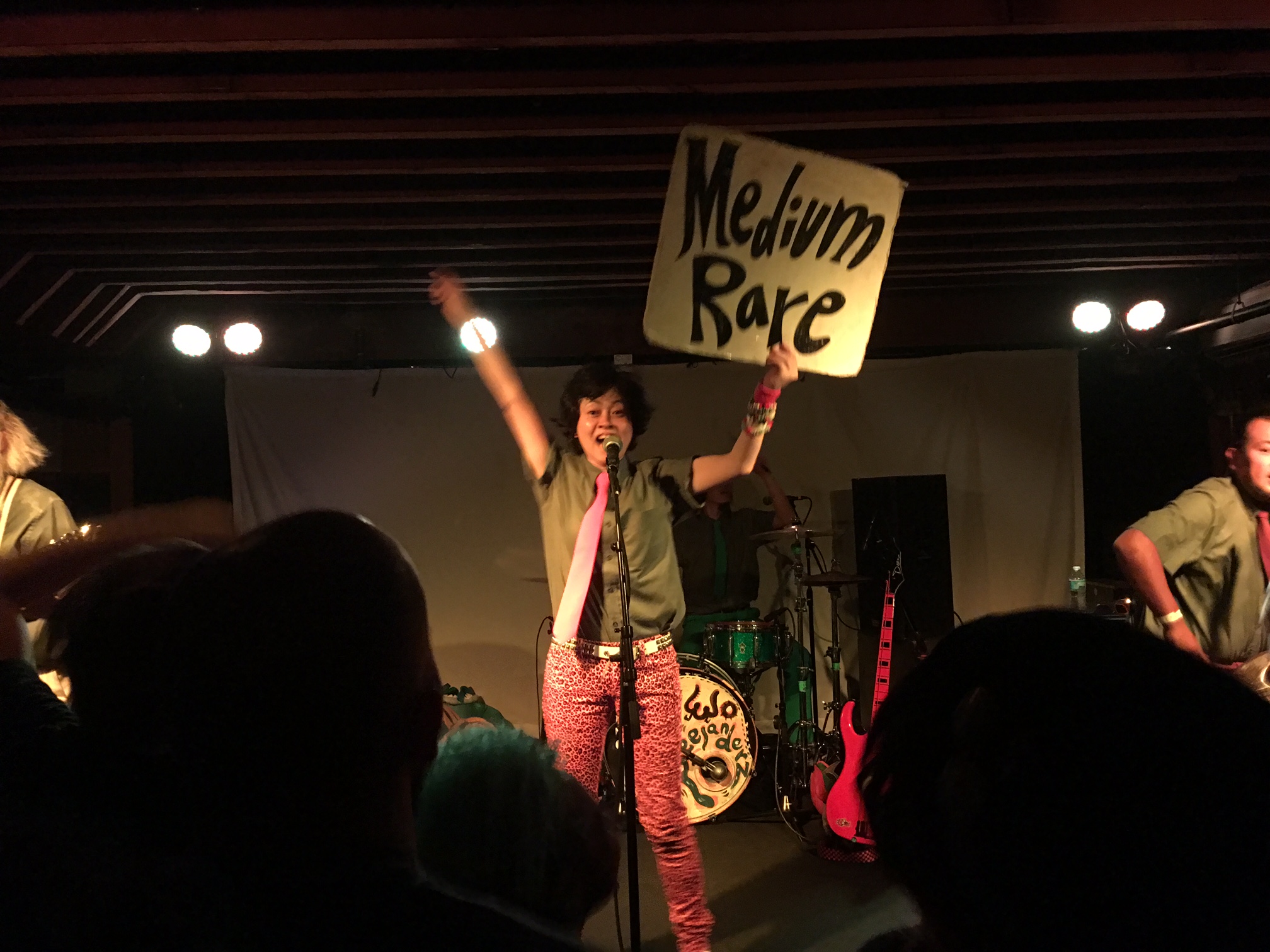 Ashley Naftule is a writer, performer, and lifelong resident of Phoenix, AZ. He regularly performs at Space 55, The Firehouse Gallery, Lawn Gnome Books, and The Trunk Space He also does chalk art, collages, and massacres Billy Idol songs at karaoke. He won 3rd place at FilmBar's Air Sex Championship in 2013. You can see more of his work at ashleynaftule.com
For more Phoenix coverage that doesn't suck, follow PHX SUX on Suckbook and that tweety website for Twits.
Read more from PHX SUX: