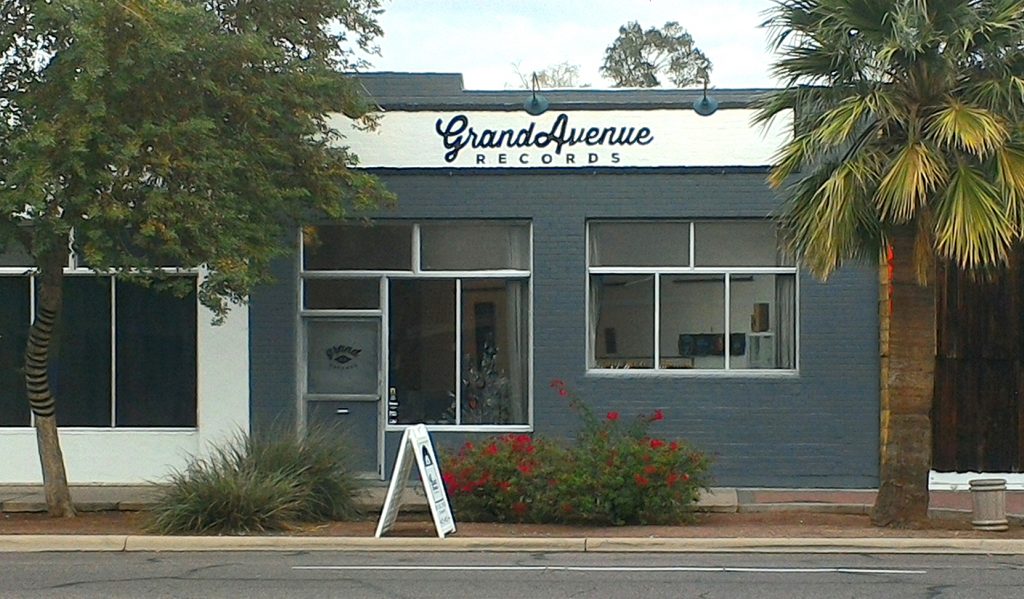 As we still mourn the desiccated corpse of Roosevelt Row beneath the shadow of its condominium tombstones, Grand Avenue beckons those dispossessed and disenchanted by the new urban colonialism. The six-way intersection on Grand Avenue and Roosevelt hasn't had much luck in the past year: the Trunk Space moved, Reyna's Dollar Store is no more, and the business that took its place didn't quite last six months. The Bikini Lounge alone stands its drunken vigil over the chaos, offering us cherries soaked in Everclear to help the emptiness abate. On the bright side, at least we now have the luxury of walking over to Tres Leches Cafe in the morning for a caffeine cure.
However, a beacon of hope for good taste has arisen. In the snug space between the Bikini Lounge and the former Trunk Space, Grand Avenue Records has appeared. A small space with big potential, a record store aspires to be so much more. Specializing in 12" singles and full-length LPs in hip-hop, jazz, funk, soul, disco, electronica, and synth pop, there is an abundance of choice tunes to explore for newbies and veteran audiophiles alike. Venturing inside one afternoon, I met Konstadinos "Cocoe" Tsimahidis, the proprietor of this fresh specialty music shop.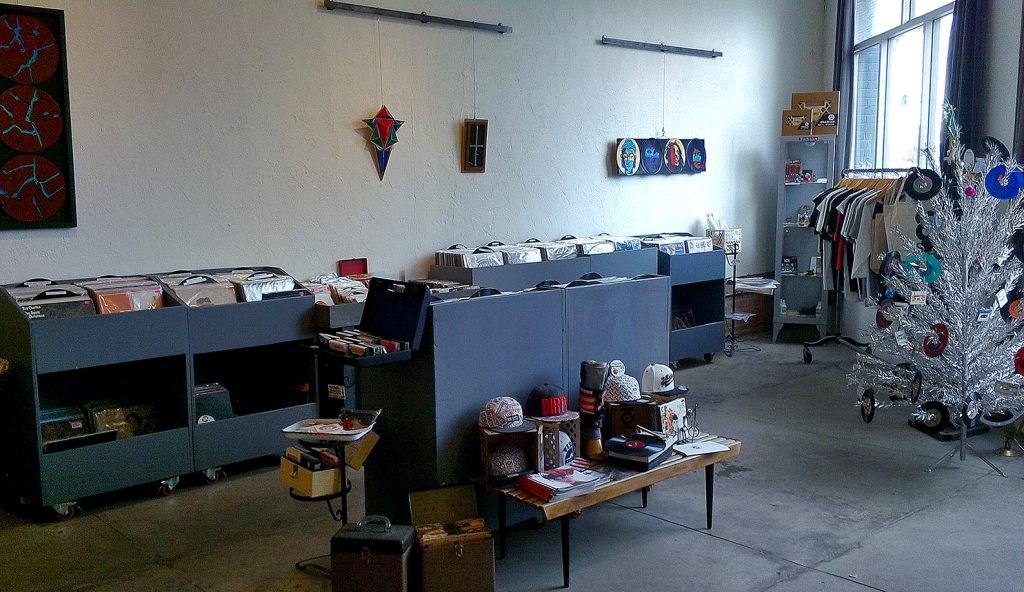 Cocoe has been buying records since the 80's, and earned his disc-jockey chops while living and working in Orange County, California. The music selection at Grand Avenue Records is a reflection of his experience and taste, its inventory thoughtfully curated. Though he's had gigs in Phoenix since the mid 90s, he was finally inspired to move to our beloved valley of detritus about four years ago.
"Moving to Phoenix opened me up creatively," said Cocoe, recalling the creative slump that the Land of the Firebird broke him out of. While both living and working near Grand Avenue, he loves watching the neighborhood develop through art and music. So far he says he's earned several regular customers at his store, ranging from seasoned music junkies to curious vinyl newbies. He enjoys getting acquainted with his visitors, and hopes that his store will grow into a multi-use space that cultivates creative and interpersonal connections.
The storefront is also shared by Cocoe's wife, Anzela, and her business Cherry Bombin', which formerly existed as a separate entity not too far down the avenue. She is also in charge of curating Grand Avenue Records' monthly First Friday art shows, beginning in February. A selection of Anzela's wares and accessories, handmade out of bicycle inner-tubes, can be perused by the front window.
"It really is a 'mom and pop' shop," said Cocoe, describing the collaborative nature of their businesses. The duo decided to combine their individual endeavors under one roof for reasons both practical and inspired: working together as a family, while benefiting and diversifying from each others' practices. Their six-month-old daughter and 'copilot', Stella, was not available to comment.
Cocoe hopes to eventually expand his inventory, including adding more record bins and vintage DJ gear. He also has plans to release music under the Grand Avenue Records label in the near future. Aspirations aside, Cocoe aims to keep his store affordable for both DJs and collectors alike.
Grand Avenue Records celebrated its grand opening with art and music on December 10, 2016. Currently on display is Circles: A Vinyl Art Show, a collection of artworks painted on and composed of vinyl records, and will remain on view until January 20th. It is a tribute to the late Circles Discs & Tapes on Central and McKinley, whose historic architecture was partially demolished in a development blunder back in April 2016. Hopefully the Circles building will remain standing for the next annual Circles show in December 2017.
DJ Cocoe will be spinning at his event, Loose Joints PHX, at Valley Bar on Friday, January 13th. Check out the event on FarseBook.
---
About the author: Hannah Irene Walsh was born and lives in Phoenix. She is a poet, storyteller, and multimedia artist. Her work is biomythographical, inspired by a combination of her studies, imagination, and experiences living in Arizona. She received her BFA from Northern Arizona University in 2012, and is currently working on her MFA at Arizona State University.
---
For more Phoenix coverage that doesn't suck, follow PHX SUX on Suckbook and that tweety website for Twits.
Read more from PHX SUX: