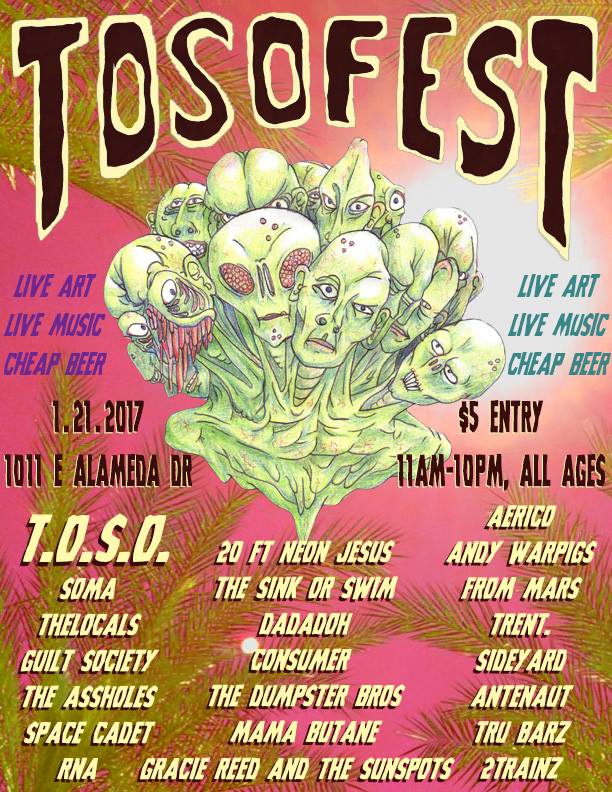 (T.O.S.O. Fest — See January 21st)
GET LIT: Inquiry, Agency and the Poetics of Resistance
Thursday January 5th at Valley Bar
If you've ever asked yourself how can poetry resists power structures within society? What does resistance look like? And how can poetry integrate with other fields, practices and disciplines–social work, anthropology, even academia—to bring disparate groups of people together and give voice to disenfranchised communities?
Well, Four Chambers Press wrote all those questions on their Facebook event page for GET LIT. I guess to learn the answers you have to go! Good thing it's free!
The Expos // Closet Goth Album Release Show
Friday January 6th at the Trunk Space.

Two album releases, one night. Gilbert's Closet Goth (a name that perfectly exemplifies such a boring hometown) will bring their no wave post punk dance show to Trunk Space alongside the synthy pop punk outfit The Expos, who have once donated all their digital download sales to Standing Rock.
Also playing are Diners and Doomed to Gloom. It's only $6 at Trunk Space. Here's the Facechoke event page.
Consumer / Negative Native / RNA / Son Eater / EZShot
Sunday, January 8th at Trunk Space
The sludgy noise punk stylings of Consumer expertly mix fucked up rage with glitchy electronics, like HEALTH or Kill Memory Crash. They'll be playing with Negative Native and Son Eater from Los Angeles, as well as RNA and EZ Shot from Phoenix.
This one is also at Trunk Space. Cover is $7. Here's the Facechoke page.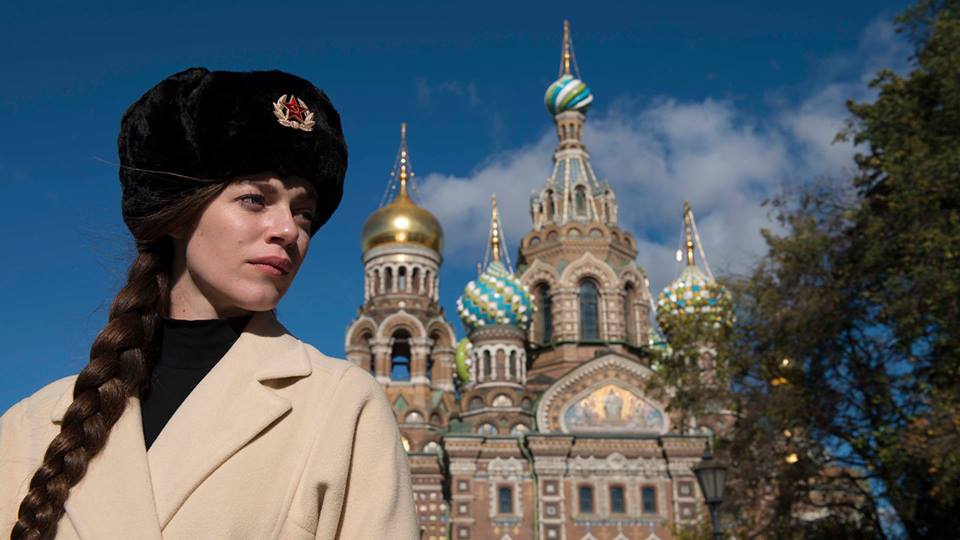 VICELAND at SMoCA
"SMoCA presents the provocative shows Woman (2016 Emmy Nominee) and States of Undress from the brand-new VICELAND television channel developed by Peabody Award-winning VICE media. The final screening of this series surveys motherhood in two unique political and cultural contexts: Russia and the United States.
Special guests will join to discuss themes explored in each episode. Tickets: $7, Friends/Members $5
Night of Neuralgia #4: Nasty Women
Friday, January 20th at Grand ArtHaus
Hey, we gotta promote our own show, right? PHX SUX presents our most kickass Night of Neuralgia yet. NON is our loud-as-fuck series of underappreciated noise musicians in the valley. We're having two in January: one at the Trunk Space on Thursday January 12th, but this one is part of the Phoenix contribution to this exhibition at Grand ArtHaus.
NON #4 will feature the rhythmic chaos of Lana del Rabies, DJ Sinaptik, Jessica Dzielinski, E Alo, Chelsea Claire of Kill Follins and Fugly Chuds, Aesthetically Sound and Althea Pergakis and Jennifer Anderson.
All ages. Voluntary door charge with all proceeds going to Planned Parenthood of AZ. Location is at the Fine Art Complex 1101 near University and Hardy in Tempe. Here's the Facechoke event page.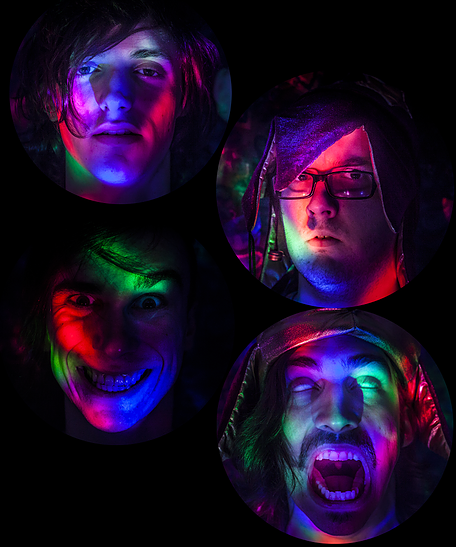 (T.O.S.O. — Photo Credit: Elijah LeComte)
T.O.S.O. FEST
Holy shit the list of bands on this is long as fuck. There will be T.O.S.O. (of course), Soma, Thelocals Guilt Society, Aerico, The Assholes, Dadadoh, The Sink or Swim, Gracie Reed and the Sunspots, Consumer, 20 Ft Neon Jesus, The Sink or Swim, RNA, 2trainz, Andy Warpigs, From Mars, Trent., Sideyard, Antenaut, Tru Barz, Space Cadet, Mama Butane, and last but not least The Dumpster Bros.
$5 Entry Fee, $7 for Unlimited Beer with ID check. The location is a secret?? Here's the Facechoke event page.
Lit Happy Hour: My Life on the Road by Gloria Steinem
Thursday January 19 at Scottsdale Museum for Contemporary Arts
Wow, SMoCA is doing two kickass feminist things in a row and they both cost less than $10 bucks? Almost makes us hate Scottsdale a little less. Almost.
Feminist pioneer Gloria Steinem's memoir discusses a lifetime of travel that enabled her to listen, connect deeply with people and energize a movement that would change the world. Speaker: Christina Davis, SMoCA programming coordinatorTickets: $7, Friends/Members free with RSVP to 480-874-4609
Queer Fear Zine Launch – Storytelling and Poetry Jam
Thursday January 26 at The Listening Room
From the event page: "Queer Fear is a new art and literature zine leveraging first hand stories to explain the queer experience. This is a magazine for Gay, Lesbian, Bisexual, Genderfluid, Trans, Ace, Demi-Romantic, Intersectional Beauties, Non-Binary, Questioning, Queer, Allies, and more. This is a magazine dedicated to the non-conforming.
Wasted Ink Zine Distro will be present with a selection of queer themed zines to also help with the magic. There will also be prints of collage artwork featured in Issue One, and of course, all the latest copies of Queer Fear available at the party.
The event is free, with a suggested donation of $5 or what you like which will benefit Onenten Phoenix. This organization uses these donations to support their housing program for LGBTQA+ youth" Here's the Facechoke event page.
Girls Night of Punk in Prescott feat. Go Betty Go, The Vemonous Pinks, The Cadaver Dabba Doos, Silent Us and Two-Bit Jennys
Friday Friday January 27 at Lyzzards Lounge
Double Whammy! Hey, we wrote about this one. Andy Warpigs did a great interview with The Cadaver Dabba Doos. This show will also feature the Go Betty Go, The Vemonous Pinks, Silent Us and Two-Bit Jennys.
Yeah, you have to drive a bit, but this one definitely seems worth it. Also, you get to get the fuck out of Phoenix for a bit, so quit complaining. Hitchhike if you have to. Jeez.
Got a hot tip for us (that isn't your tiny dick?) Send it to us at PHXSUX602@GMAILDOTCOM or bug us on Facechoke.
---
For more Phoenix coverage that doesn't suck, follow PHX SUX on Suckbook and that tweety website for Twits.
Read more from PHX SUX: