Satanism and blood go hand in hand. When it comes to popular perception of Satanic worship, familiar Hammer Horror images come to mind: sacrificial virgins, dead goats, figures in black robes wielding knives dripping crimson droplets on a pentagram. The REALITY of Satanic worship is munch more mundane – you're more likely to witness a virgin daiquiri getting sacrificed at a Satanist gathering than any shrieking maidens, and the only dead goats you'll see will be on the album covers in your host's record collection.
The Satanic Temple's Arizona Chapter have recently started a project that plays with that bloody association in a positive and feminist way with their Menstruatin' With Satan project. Setting up drop boxes across the Valley, the Temple is collecting tampons, sanitary pads, and other menstrual products to help women and girls in need.
I recently got a chance to talk to Michelle Shortt and Stu de Haan from The Satanic Temple's Arizona Chapter about the origins of their Menstruatin' With Satan project, and also got a look at what else the Temple has got cooking in their cauldron when it comes to charitable drives and political actions.
I wanted to start off by asking how the Menstruatin' With Satan project came about. What inspired it? Was it a local project, or something that The Satanic Temple has done on a national level?
MICHELLE SHORTT: Menstruatin' With Satan is an original campaign that was first proposed by Travis LeSaffre. He's the Boston Chapter Head. It developed a lot of interest in the community and it got a ton of donations. Because of how well people responded to his campaign in Boston, it became a nationally approved campaign… which means it's up for grabs for all Satanic Temple chapters to implement within their own communities.
It didn't take long for the chapter in Arizona to follow suit. We'd love to have all the chapters get on board with it, but it does take a lot of legwork to get it started.
How many drop boxes do you have right now?
SHORTT: We have six drop boxes up. Three in the Tucson area, 2 in Phoenix, and 1 in Mesa.
How long will you be doing the project? Will it be an ongoing charity drive, or does it have a set time limit before the project ends?
SHORTT: We made six drop boxes, but if we want more we can get more. Ideally, we'd like to have three boxes in every major metro area for the first run of donations which ends on July 31st. I'd like to have Menstruatin' With Satan run indefinitely. It can be a way to showcase different businesses – we can do luncheons or get-togethers at these businesses to drive customers to those locations while also getting donations for our cause.
I'd like for us to do the indefinite campaign and just keep moving it around, cause a lot of businesses have come to us saying they'd love to host a drop box. Before I announced the campaign, it was really hard getting people to host the boxes. I was getting pretty discouraged, but I understood that many businesses don't want to be associated with us. Not because they don't agree with what we're doing, but because their clientele might not understand and they don't want to adversely affect their business. Once we got those first three in Tucson and we went public with the campaign, it got shared so much and we had businesses messaging us about getting involved.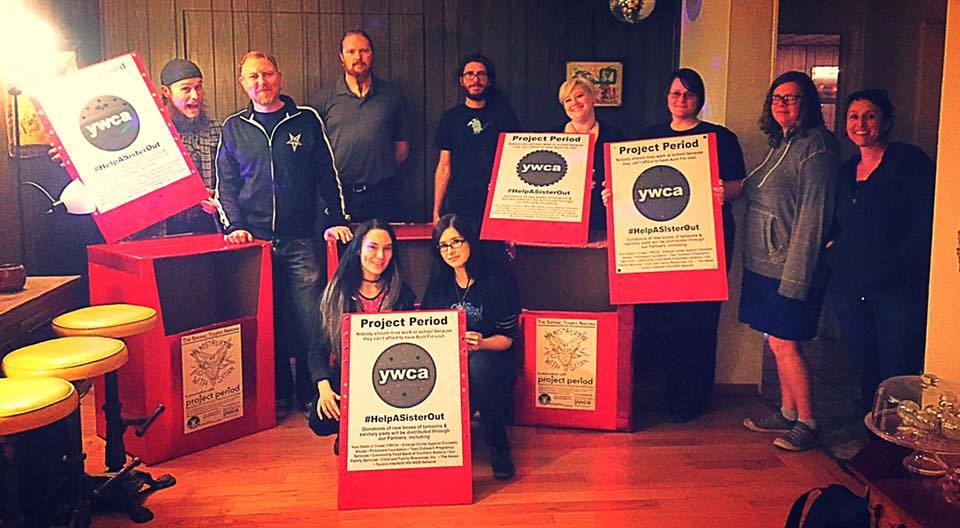 The Satanic Temple, prepping their first round of donation boxes (photo from Temple Facebook)
One thing that I found fascinating about your campaign was how it's the sort of charitable action you don't see "the other side" doing that often. I did some research to see how many active Christian charities in the valley were doing feminine hygiene/health product drives and the results were… dispiriting, to say the least.
It's kind of funny — people are saying that we're doing a really good thing for disadvantaged women, collecting all these donations… With the Boston chapter, they had some really nice stories published about their campaign. The stories were very generous and positive, but the comments- the comments on all the stories were awful. Comments like "burn them" and "don't trust it". Some people couldn't see the irony of it — when Satanists are doing more good than your average group –
STU DE HAAN: That's part of our methods, too. We're exposing how hypocritical and superstitious supernaturalists are. To our opponents, anything we do is automatically evil, no matter what it is. So we're exposing that — we're doing this nice thing that no one else is really doing and we're getting death threats for it. Literal death threats.
What are other projects and actions are the Arizona chapter involved with?
DE HAAN: In the Tucson unified school district, we applied for an after school program called After School Satan Club. And the purpose for that is that in a lot of these public schools they have what's called the good news club. They are evangelical afterschool clubs that have pushed their way into public schools because public schools can't viewpoint discriminate. So they allow a very fundamentally right-wing Christian group to have an afterschool program. The issue is that a lot of these programs cost money but the good news club is free, so it's essentially turning into a daycare program for kids who can't afford other programs or whose parents can't get off in time to get them. So these clubs are preaching to these kids and telling them they're going to go to Hell because they're sinners.
What we did was put together a secular program that doesn't talk about religion at all – it talks about science and art and logic and reason, which are our fundamental tenets. We wanted to offer an alternative for working parents. Of course, all Hell broke loose. We got death threats and ultimately the school district completely ignored us. Even though the Supreme Court has said you can't viewpoint discriminate against the club. At this point, we're looking into potential legal consequences for the school district.
And on the national level, what other projects is the Temple working on-
DE HAAN: We got some more stuff happening in Arizona.
I'd love to hear it!
DE HAAN: What started our chapter was what we're calling the Invocation campaign. What we did was, we requested that Michelle gives an invocation in the City of Phoenix's city council meeting, which caused a big meltdown. So they changed the system completely so that no one could give the invocation and made it a moment of silence. And then they changed it again to no one in the public can give an invocation. Essentially, after 65 years of invocations, they took it away from the public just to block Michelle from giving a two-minute speech.
SHORTT- As for charitable works that other chapters are involved with, there's the Soles For Satan drive, which helped start up a potential chapter in New Zealand. It's also an off-shoot from our Socks For Satan drive, which was a campaign in west Florida. Boston also held a Warmer Than Hell coat drive. Basically, we modify our campaigns based on the seasons. We define our drives by whatever is most needed in our communities.
DE HAAN: We also have the Protect Children Project. In a school in Texas, there was this incident where vice principals were beating and spanking young women to the point of injury. So we put up these billboards across the street from school saying "Never Get Hit Again". One of our tenets is 'your body is inviolable' — nobody can touch you without consent. So the idea is, if this keeps happening, we're gonna say that anybody who identifies with us is getting their religious freedom violated.
SHORTT: The Women's Reproductive Rights campaign is also a big deal for us. Especially with the new administration in office, we feel that women's rights are constantly being targeted. So we had a case in- what was it, Missouri, Stu?
DE HAAN: Yeah, it was Missouri.
SHORTT: Go ahead, Stu. You know this case better than I do.
DE HAAN: In Missouri, they only had one abortion clinic in the whole state and it had a 72-hour waiting period. And during that period, they'd give you Christian literature so you'd be 'sure' you were making the right decision. We created a waiver saying that it's against our religious beliefs for women to have to read this stuff. Of course, they told us that they don't care. So we have a pending lawsuit in Missouri against the state for that.
SHORTT: Baphomet!
DE HAAN: And in the state of Arkansas, they passed a law saying that the Ten Commandments can be put in front of the state building. If any other group wants to put a monument up, they have to apply. So right now we petitioned every legislator to pass our application to put up an 8-foot tall bronze statue of Baphomet right next to the Ten Commandments as our religious monument. They literally told us to go to Hell, so we're banding together with some other groups – the American Humanist Association, American Atheists, and other groups that want to put up their monuments. We're coordinating right now in case they do put up the Ten Commandments and refuse all of our petitions because that would be a clear violation of the equal protections and establishment clause.
SHORTT- I wanted to backtrack to Menstruatin' with Satan, so we could specifically thank the YWCA's Project Period (Young Women's Community Association of Southern Arizona). If it wasn't for them accepting our donations, this wouldn't have happened.
If you're interested in donating to Menstruatin' with Satan, there are currently drop boxes located at:
TUCSON:

Broken Clover Tattoo
Dry River Witches Collective

PHOENIX:

The Coronado
Wasted Ink Zine Distro

MESA:

The Grid: Games and Growlers
Ashley Naftule is a writer, performer, and lifelong resident of Phoenix, AZ. He regularly performs at Space 55, The Firehouse Gallery, Lawn Gnome Books, and The Trunk Space He also does chalk art, collages, and massacres Billy Idol songs at karaoke. He won 3rd place at FilmBar's Air Sex Championship in 2013. You can see more of his work at ashleynaftule.com
For more Phoenix coverage that doesn't suck, follow PHX SUX on Suckbook and that tweety website for Twits.
Read more from PHX SUX: