neuralgia [n(y)o͝oˈraljə]
noun
intense, typically intermittent pain along the course of a nerve, esp. in the head or face.
PHX SUX has been throwing shows since we started, but our experimental noise Nights of Neuralgia (NON) have been the most popular by far. Let's take a look at some of the highlights over the last four we've hosted. Oh, and for those in a hurry…
tldr – We are amazed by how the audience and performers these events have drawn together, not really expecting to move beyond house shows, let alone fill venues.
Each night has a sort of theme to it, or at least a thread of commonality. We try to consider the audience and treat the events as an art form[1]. Not like theme parties in the sense that Nu Skool did (which were also great fun) but more in finding unexpected commonalities in different forms of music, an presenting them in a way for you to be primed to be open to something new with this safety line from something familiar. Considering the audience is something we're doing that I think has been a win, and a good standard to bounce other ideas off of. It really sets up the artists for success.
–

NoN#5 – The Trunk Space – 2017/02/17
https://www.facebook.com/events/1831205680481705/
Come to NON #5 at the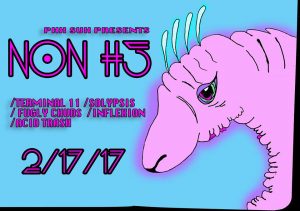 Trunk Space on Friday February 17. It's an industrial leaning night (Solypsis, Terminal 11, Acid Trash) with some noise punk (Fugly Chuds) and IDM/tech (Inflexion).We're also bringing back live video synthesis for the projectors. Last one here was wall to wall people and light and noise and about 40 people show… and that was on a Thursday.
We'll be doing the optional door charge again. Worked fine last time and wouldn't want money to be a barrier from a new experience.
Much of this list below is for us as much as it is for our dear reader[2] to learn from to do better. I'll be listing both what worked and what didn't for each event. What didn't is usually more important. We have some pretty ambitious ideas we'll be implementing soon. Baby steps and kid gloves and all that noise.
–

NoN#4 / Nasty Women – Fine Art Complex 1101 – 2017/01/20
https://www.facebook.com/events/1043078739153295/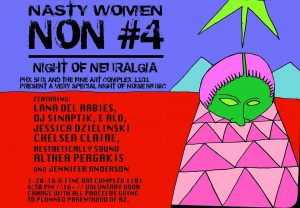 Several people had asked me up until this point if any women do noise music. I'm not sure if anyone believed me or not when I told them I had met so many I could throw an entire show of only female artists. One time an art professor at ASU overheard me and invited me to check out his gallery and so this show happened.
The Fine Art Complex 1101 was looking for some way to participate in the national Nasty Women exhibition to raise money for Planned Parenthood of AZ. In addition to the noise show, there was a room full of people who were knitting pussy hats. I liked that a lot of guys were getting in on that too, I doubt anyone batted an eye at that. Maybe the drunk guy talking about how the inauguration was the happiest day of his life did. (We didn't inform him it was a Trump protest thing and he wandered off without incident).
There was also a photography exhibit called "Naked Women" that featured photos that contained nudity that were very provocative but non-sexual. I found this to be a real win for the experience of the evening, and would like to both perform in art galleries in the future, but also have photography and paintings on exhibit at shows in general (for example, NXOEED would be rad af).
So lessons? Our genitals seem to serve no useful help to generating excellent noise music. Of course. But we also learned that two stages is a great way to do noise shows if the space lends to it. Also, having other events that are tied to the noise show brings in people that aren't hardcore music fans, with many liking what they heard as a pleasant (loosely speaking) change in pace. Rain also isn't much of an obstacle for the attendees.
Your response to this event was something I found incredibly heart warming.
Lana del Rabies – rhythmic digital/analog chaos
DJ Sinaptik – aggrotech industrial noise jockey
Jessica Dzielinski – patterns, textures, and found oddities (i.e. shoegaze)
E Alo – electronic tones, uplifting vibes
Chelsea Claire – multimedium noise experiments
Althea Pergakis and Jennifer Anderson – experimental mad scientist electronic-acoustic instruments
–

NoN#3 – The Trunk Space – 2017/01/12
https://www.facebook.com/events/1680030598955585/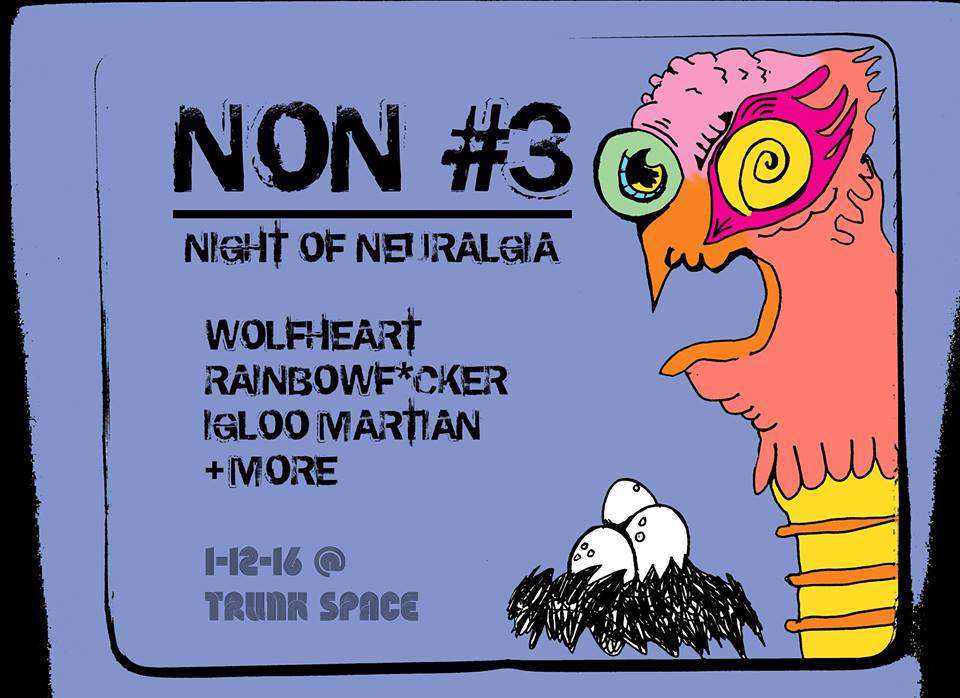 A night at a proper venue in the heart of downtown. I was super excited about the lineup but was nervous about filling up a space 5x the size of the previous venue. And on a Thursday. This was also the first time we had a band come in from out of town. And a certain local music writer was talking about how he was going to be there.
The moment we were turning on the a/c in January because there were too many people steaming up the place was the moment I first thought we really might be onto something here. Phoenix really is ready for this.
It's worth noting that Lav also threw a noise show that night at Rogue under Thrillerscope. They call it experimental dance, but it's very similar to what we do. Two noise shows in Phoenix on any night would have been newsworthy, let alone a Thursday. And both well attended? I'm both delighted and intensely surprised.
This was also the first show we had an artist doing the video projections live using video synthesizers. This was a real win, Benj Braman did a great job. Not everything went great there… I learned that at a certain point adding more projectors serves no purpose other than to blind people harder. I guess we do promise intermittent pain, but not like this.
We promise it more like what Igloo Martian did. He asked if he could perform in the green room instead of the stage, so standard reply, "fuck yes", and off he went. No idea what he was up to. Then he started organize people into tour groups of 4 or 5, put us in a line, and loud noises started coming out of that room and we started going in one group at a time to see Igloo sitting on top of that fridge playing guitar and right as the confusion starts to subside he violently points to the door for the next group to come in.
We also had the locally famous Joe Gonzales doing live painting. We need to keep finding new kinds of artists we can work into these events.
WOLFheart – the mind meld of Gimpheart X WOLFZiE (or maybe GimpZiE?)
Rainbowf•cker
– Tempe based noises trio FFO: HEALTH, Lightning Bolt, Melt Banana, Hella, etc
Igloo Martian and friends – circuit bent noise and performance artist extraordinaiire from Tucson
Professor Scott Murray – modular-based ambient space droning
Lav Andula – noise future-tech witch-house fusion from Thrillerscope Records
Kerosene Achieves Truth – vapor-synth sample sculpturing noise artist
–

NoN#2 – Pueblo – 2016/11/13
https://www.facebook.com/events/364917837180245/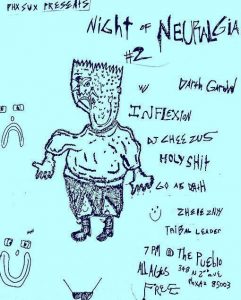 The second event was also at a private location, but at least its one that regularly hosts bands and can safely have the address listed in public. Plus, I'm a big fan of The Pueblo and hope to hold another night again sometime… maybe when there's a show at Crescent next door we can serenade angry-inch style.
Pretty much everything was going against us on this show. No one should have shown up at all. It was on a Sunday. Not only that, it was a weekend that had music festivals in Mesa and Grand Ave, but a lot of local musicians and fans were in Bisbee for Side Pony. That's where I woke up that morning. Fortunately my band didn't have a time slot on Sunday, but we didn't know that until Saturday. So one thing I learned is people have my back if I can't run the show, since so many people volunteered to fill in. (you know who you are and you all rock)
It was definitely our smallest crowd, but was a great time. Using the Martin Atkins playbook, we picked a venue that was of an appropriate size for the crowd so it still felt full. Probably peaked around 20 people inside the venue at one point, 30-40 filtered through over the night. The people that did show up were the more serious experimental noise fans rather than the casual listener. I've taken note of that. It takes a lot to get me out of the house on a Sunday too.
Zheleznyy – power electronics
Tribal Leader – hard acid techno
Inflexion – drone tech-house
Go as DeatH – dark ambient noise drone
Holy shit – noise jazz avant garde noise fusion
Darth Garwin – world instrument experimentations
–
NoN#1 – PPC – 2016/09/24
https://www.facebook.com/events/1208900152464646/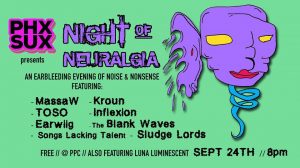 This is where it all began. We just hoped to have enough people to want to do this a second time. PPC was definitely the place to do this. While it wasn't on a conscious level, I know the shows they have hosted over the years have influenced all of us… they have this scrappy DIY ethic that you can't help but be inspired by.
If you haven't been to a show at PPC, just know that the pictures below were actually in their kitchen, and you really didn't notice that in person either.
The biggest lesson at this first show was we really don't need to hold back in general, as long as we're smart about the flow of the show, and we provide an exit for whatever noise happens to be a trigger for that person. I really had no idea how things would go. I don't think anyone did. I just tried to lay back and observe… people watching. You learn so much that way.
One thing I learned was to not put two pure-noise acts back to back, at least for a general show. I didn't originally have the set list like that, but there's always last minute adjustments. We had too many people leaving at that point, and it makes sense… if two bands in a row are too much for you I would probably go home too. But I also learned that people will stick around for even the harshest noise if the next act gives you a break.
We all learned we wanted to do these nights regularly. I would have never guessed so many people were privately doing experimental music at some an impressive level.
MassaW – noise/drone (ft 1:11 of Acid Trash)
TOSO – progressive desert grunge/art punk
Earwiig – experimental noise chaos wizardry
Songs Lacking Talent – nü-age angst
Kroun – ambience spiked with pain (ft CJ Melton)
Inflexion – IDM/drone/tech-house
The Blank Waves – medieval vaporwave DJ set
Sludge Lords – experimental grunge noise
footnotes
1 not like pretentiously or something… so don't go digging for hidden meaning. Damn it. This is like talking about pink elephants, isn't it? Seriously there is no hidden meaning, I just like people to have a good time while trying new stuff so they try new stuff again.
2 you're looking great these days, by the way. did you lose weight?
---
For more Phoenix coverage that doesn't suck, follow PHX SUX on Suckbook and that tweety website for Twits.
Read more from PHX SUX: