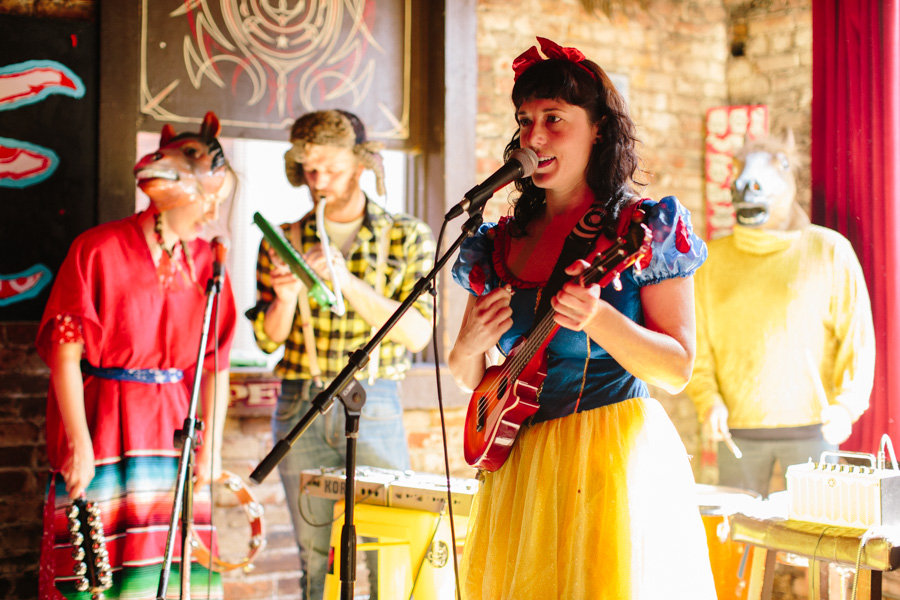 For a band with a name that drips menace, Bloody Death Skull's music is surprising sweet. Picture Lesley Gore covered in gore, or Roky Erickson & Wednesday Adams doing the Mashed Potatos at a sock hop in Hell and you'll have some idea of what Bloody Death Skull sounds like. It's old school bubblegum pop mixed with 2 parts arsenic and a dash of the Monster Mash.
I got a chance to talk with Daiana Feuer, the brains behind Bloody Death Skull. Singer, songwriter, and ukulele player, she also directs many of the band's distinctive music videos and orchestrates their wild and unusual live shows. The Los Angeles-based Bloody Death Skull will be making their Phoenix debut this month at the Trunk Space (in their new home at Grace Lutheran Church), so we talked about their upcoming performance, as well as the band's latest EP, videos, and the music of the Yin Yang Twins.
Let's kick things off by talking about some of your music videos. How long did it take you to do the stop-motion animation for the music videos of "Betsy's Back" and "Girls Like You" that you directed?
"It takes forever! For 'Betsy's Back's', I added it up to being 35 hours of shooting. With 'Girls Like You', that was my first one — I kept trying to put together all the footage and I would notice that I needed another scene. So I kept having to do another scene- it's so fun, though. You get to create these little worlds that I find really entertaining."
Those videos seem like such a great visual representation of Bloody Death Skull's sound- they have this playful energy, while also having a subtle undercurrent of menace.
"Those two things are just what comes out of me."
Where did you get the idea for the Barbie videos? Watching them, it reminded me of Todd Haynes' Superstar: The Karen Carpenter Story… was that by any chance an influence on your work?
"No, I haven't seen it. What's it called?"
Superstar: The Karen Carpenter Story. It's this short bio film about Karen Carpenter, and it's shot with a bunch of Barbie and Ken Dolls.
"Whoa- that sounds amazing. I have to see that."
Unfortunately, it's only available as grainy bootlegs on Youtube. Richard Carpenter got the film banned because he doesn't come out looking good in it- I think Mattel might have objected to the use of the dolls, too.
"As far as the idea's concerned and how it came to me — I kind of became interested in stop motion while I was in grade school. There's that side- I like the idea of stop motion, the movement, the process, seeing something inanimate come to life… And the Barbies are just perfect! I found this pack of Barbies — all the limbs moved. I was like 'oh my god, this is my cast!' I kind of keep wanting to make videos with them; you know how a director has certain actors that they always use in their movies? Like Tim Burton and Johnny Depp. That's kind of what I'm going for with recasting the Barbies in different videos."
Your ensemble of Barbies.
"My ensemble, exactly! Now I'm making a video for another band where they wanted me to do a video with my Barbies. It's exciting — now they'll get to be in somebody else's video…
And I also think the Barbies represent — they kind of embody of the things that are a part of my music. I think my music feels like it's for a child but it's for an adult. The Barbies, they're toys, but they take on crazy personas when they're being played with by a grownup."
For your new EP, The Haunting of Bloody Death Skull, you recorded it using vintage analog recording technology. Did you record it on tape because you wanted to achieve a particular sound, or were you seeking some kind of vibe that you could only get from analog tech?
"Basically, the opportunity made itself available, so I just jumped on it. It came through my band mates… they hooked it up through a studio they've been doing work in. My band mates are John and Bridget from the band Haunted Summer, who are great; they play with Bloody Death Skull whenever they're not on tour.
I really like the idea of using different recording methods. I've recorded on broken tape recorders and I like that. But this was created at a beautiful studio where we not only recorded on tape, but we edited it on tape as well using a different tape setup. I liked having the constraint of what you can fit on tape — the editing process on the huge board, just seeing it all being done — it's a beautiful process."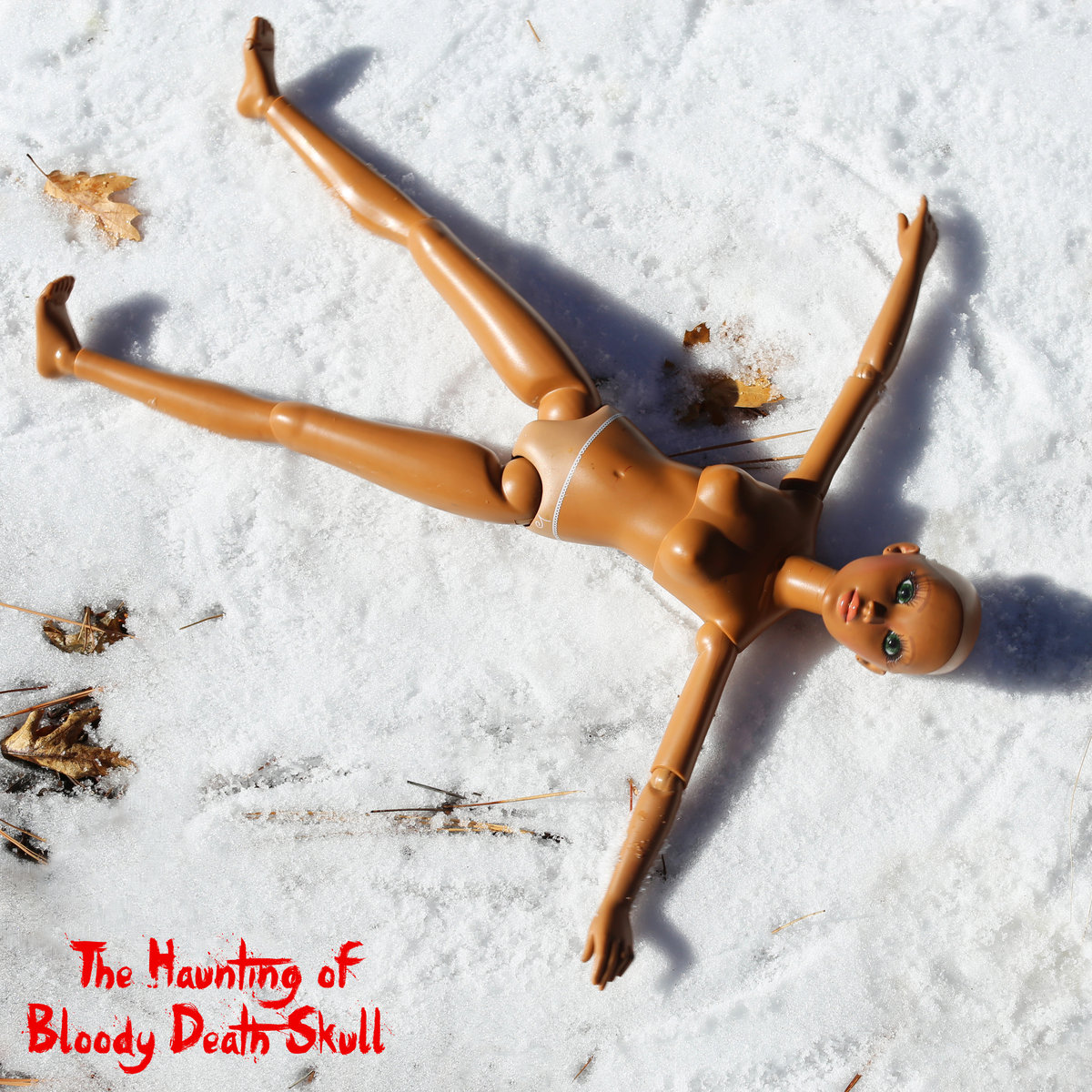 This is kind of an odd question, but I always love asking people this- what are your karaoke jams?
"Hmm… I'm trying to think of what I do on cruise ships. Every time I'm on a cruise with my family I do a lot of karaoke. I tend to be a karaoke star on the cruise ships; not because I'm a great singer, but because I go a little crazy.
'Like A Prayer' is one of my favorites! I like 'Gangsta's Paradise'… any Elvis songs. George Michael's "Faith", I'm a radio junkie- I know all the rap songs, all the pop songs. We sometimes do a cover of "The Whisper Song" by the Yin Yang Twins."
Really?!
"It sounds really nice on ukulele."
I've read about some of your past shows, and how you like to integrate different performance art aspects and theater stuff into your live performances (like tap dancers and "mayonnaise wrestling"). I was wondering if you had anything like that in store for us for your Phoenix show.
"Yeah, we're definitely going to do interesting things! I like it when the band dresses in themes, so that's one layer of it. I've played a lot of sports, so I feel like whenever we're matching- when we're in a theme, it just makes sense to me. It's another way of having fun and bringing another playful element to it.
One of my band members, Beth, just plays objects; some of them don't even make sounds! But she plays them, and it just feels like it does something… it's part of the sound in some way. We've got all kinds of things in store — I can't really tell you about what's going to happen, but I can tell you about what we've done in the past. One time, we had a guy play a watermelon- that was kind of amazing. He was dancing with it; eventually it ended up everywhere! I like to have something going on that's a little bit unpredictable, in addition to the music."
I also read that y'all have been known to play odd venues on occasion, like strip clubs or abandoned zoo enclosures. What are some of the weirdest places you've played at?
"One of our first shows was in an art gallery that had been decorated to look like a haunted living room. We once played inside of a water bed couch cocoon at a hotel! We played in a fort; that was great, too. We played in a tent that I had made to look like a rocket ship… I guess we've played in a lot of weird places."
And soon you'll be playing a church.
"It's exciting! One of our favorite places to play is this weird saloon in the middle of the desert called The Palms Restaurant. It's a kind of shoddy bar surrounded by nothing in the middle of nowhere, run by these aliens – these wonderful people. They're blonde and they feel like they're from another planet, in a great way. They are super nice. But the whole place, there's something about it … every time we play there, it just goes crazy. Maybe we become more weird to match the weird environment…"
Speaking of The Palms: you've also curated and produced the Deserted At The Palms festival these last few years. Are you planning on doing it again this year?
"I'm not sure what we're going to do this year. In the past, I did the whole thing myself. It's kind of hard to do it without some money support. The experience is always wonderful, but I think I need to get the right kind of sponsorship before doing it again.
I'm very passionate about micro festivals being held at non-traditional spaces. I think there's a through-line through all the things that I do: I really like hyper imaginative worlds that are kind of absurd. So, I create that with the music, I create that with the live shows, with events. I guess I just want to see how you can create absurd versions of the world through every kind of experience."
Bloody Death Skull plays The Trunk Space on Thursday, March 16th with Drunk & Horny, The Space Tourists, & TOSO.
Ashley Naftule is a writer, performer, and lifelong resident of Phoenix, AZ. He regularly performs at Space 55, The Firehouse Gallery, Lawn Gnome Books, and The Trunk Space He also does chalk art, collages, and massacres Billy Idol songs at karaoke. He won 3rd place at FilmBar's Air Sex Championship in 2013. You can see more of his work at ashleynaftule.com
For more Phoenix coverage that doesn't suck, follow PHX SUX on Suckbook and that tweety website for Twits.
Read more from PHX SUX: