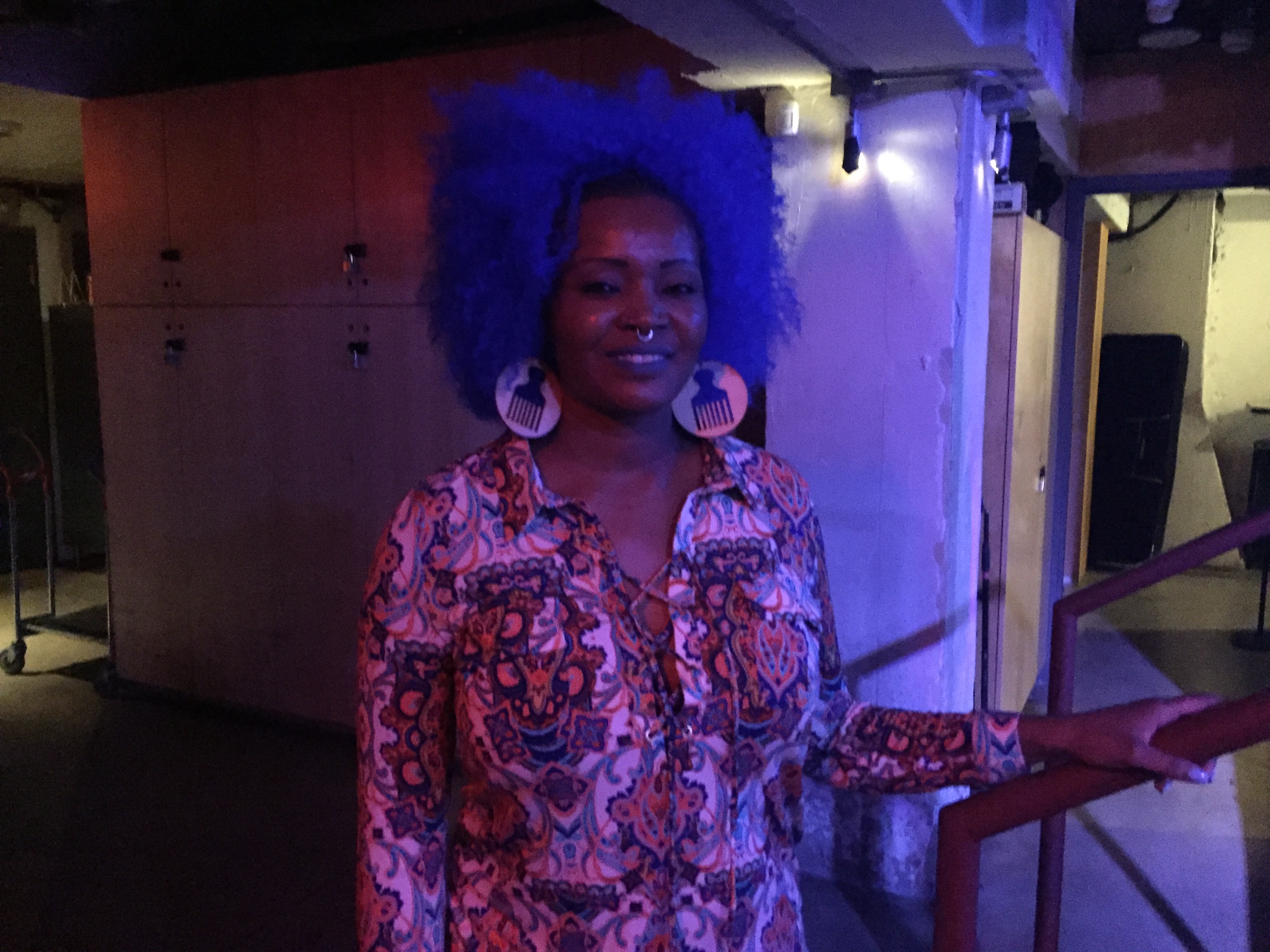 Photo by Jeff Kronenfeld
I arrived at Valley Bar just about at the posted starting time of 7:30. It was dark save for the blue light drowning the stage and the candles on the tables flickering in the fake breath of the A/C. I grabbed a drink and a few words with Mystic Blue, the event's organizer and a local musician. Mystic Blu has a shock of a curly azure hair made all the bluer by the ambient glow of the stage's lights. She beamed with an excitement that was more than a little contagious. She told me about the event, Words Within The Rhyme: An Intimate Evening Where Rap Meets Spoken Word. Mystic Blu elaborated on the idea of having rappers sharing poems minus the usual trappings of musical accompaniment or crews. She wanted to capture the intimate power of poetry, to highlight the words, the feelings, the people. She served as the evening's MC, kind of a meta-MC if you will, and performed original songs in between the rappers and poets as well.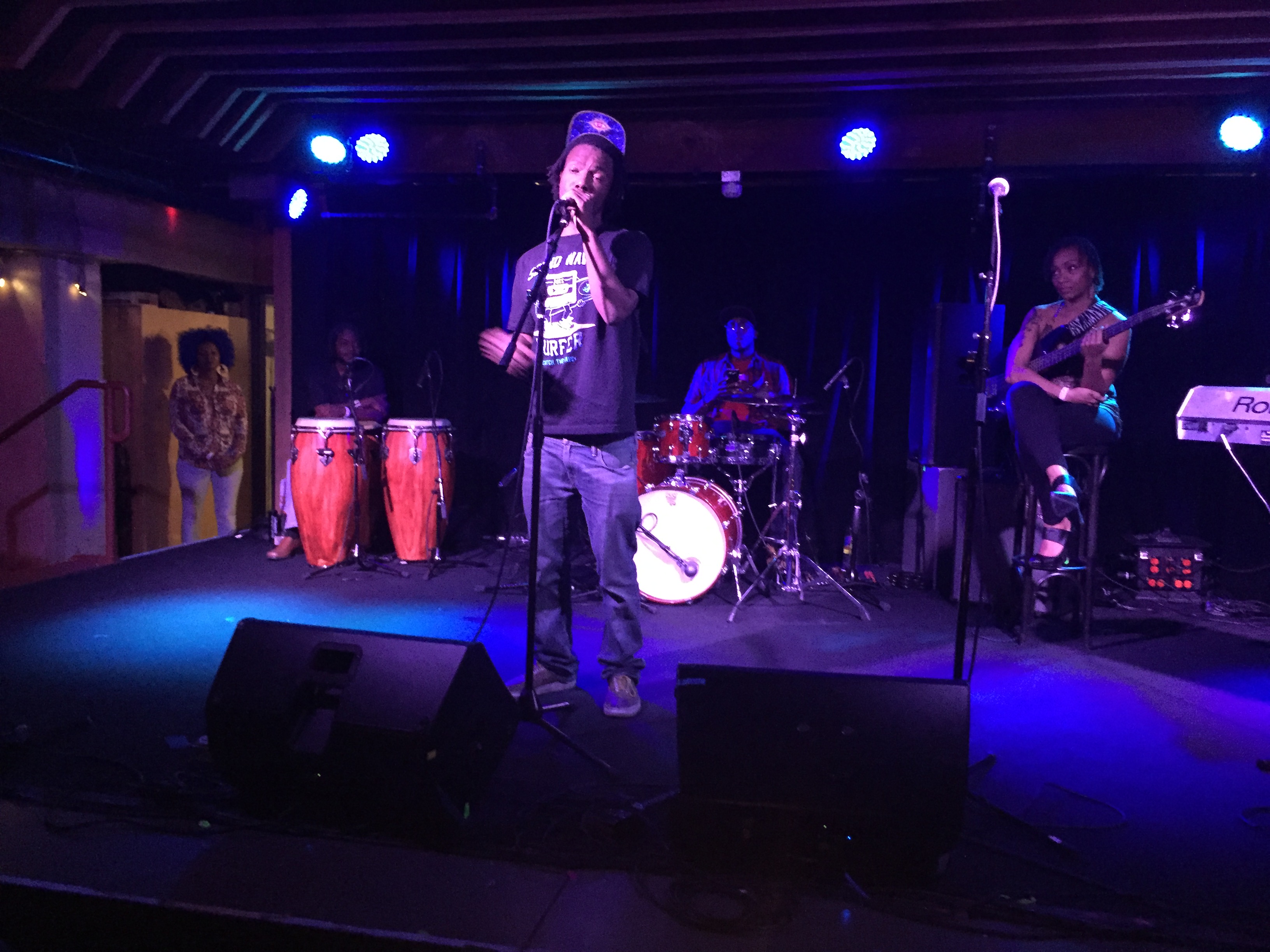 Photo by Jeff Kronenfeld
The first rapper/poet of the evening was I-DEE. With an easy charm and hat at a rakish angle, he spoke about his love for marijuana and how it enabled him to cope with the alienation of modern society, the fakeness of social interactions, of romantic relations, and even touched on the food desert phenomenon. The song ended with a line I may mangle, "an age where/the angels wings get cut/so roll your problems up in a blunt." You may dismiss the slant rhyme as trite, but the whole crowd felt it, and, it's a coping method I not only endorse, but in fact practice. His next song or poem, the distinction feeling artificial and insignificant, was even more personal. "There's a lot of money in your insecurity," he said. He expounded on the vastness and incomparability of love, and near the end spoke "a wild flower muse grew out through my ink pen."
The second rapper/poet was AK-Reshawn. He was tall, nervous, and dressed in all black. His first song stressed the importance of learning the hard way, of mastering patience. He didn't feel quite as present as the other performers. Perhaps he was flustered by the more intimate nature of performing poetry as opposed to rapping. At one point he got caught in a little loop repeating the same line while trying to hone in on the next verse. It came off endearing rather than off putting.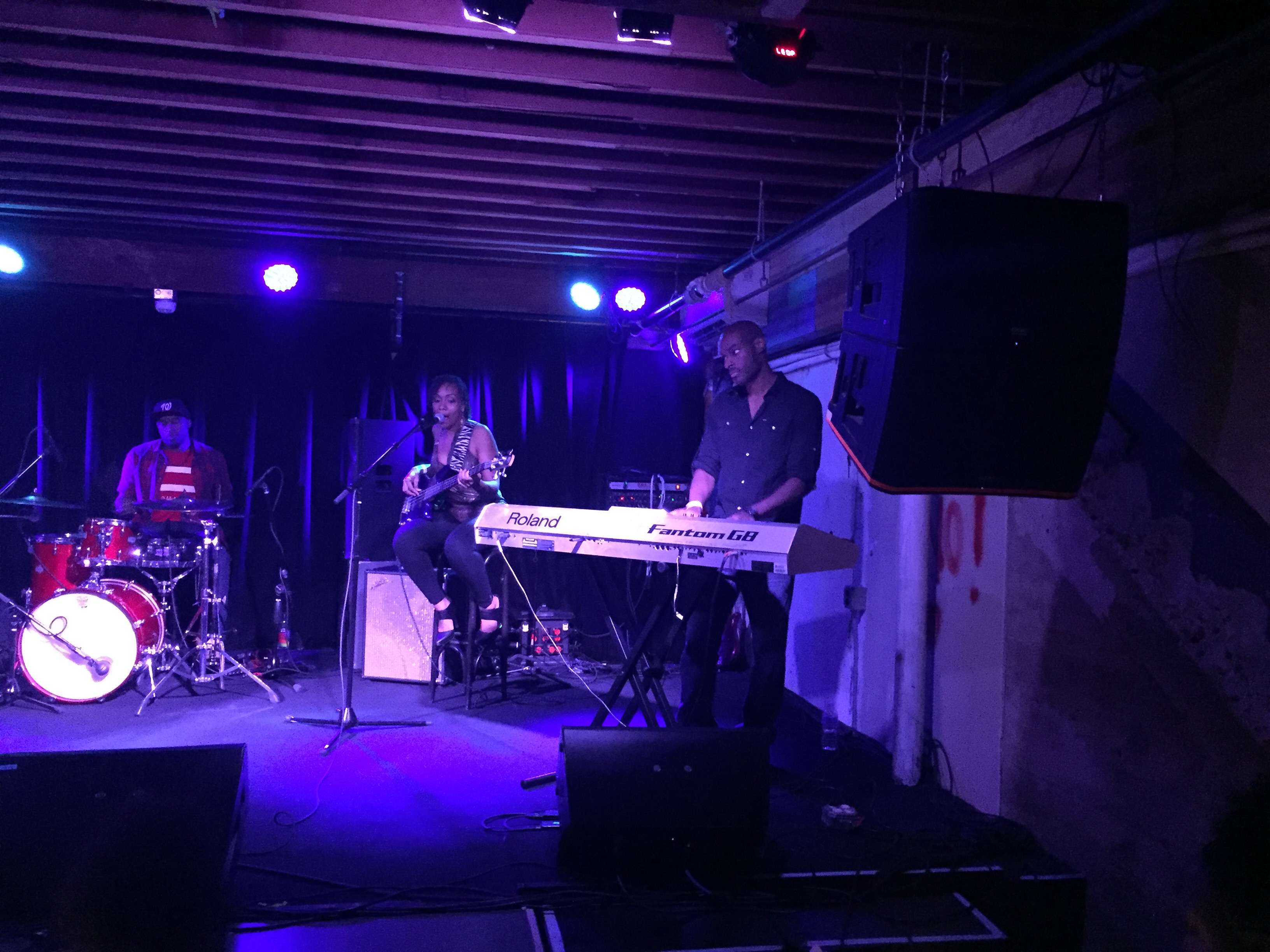 Photo by Jeff Kronenfeld
Next the piano player and the bassist each took a turn at the mic. After that, the third poet, Charlie West came on. He is a rapper, producer, and more. He is also the "brand ambassador" for WorldWidemixtapes.com, a site hosting music, music videos, interviews with musicians, album reviews, and the like. He read a song from his cell phone which he had written that very day. Like many of the other pieces, he mediated on love and the difficulty of finding and maintaining authenticity in the modern world.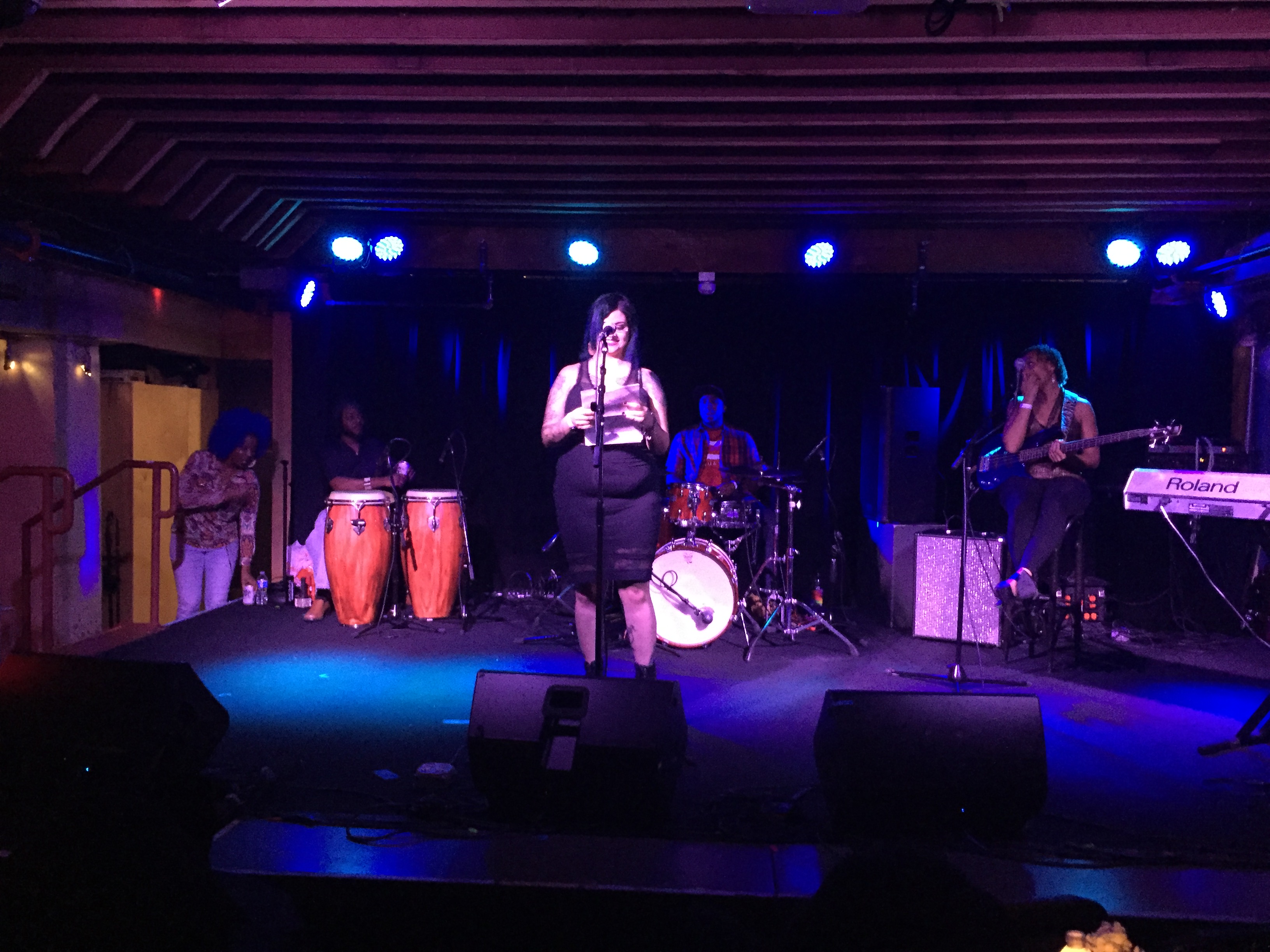 Photo by Jeff Kronenfeld
Next was a special guest, Val, a visual artist who was performing her poetry in front of an audience for the first time. She did well, seeming hardly nervous at all. She said many things, but the line that stuck out in mind was "one big beautiful mess/glad we ran fast".
The fifth poet was Haze the Saxy Rapper, so-named because he also is a saxophonist. He gave a little biographical information before performing. He spoke of his battles with substance abuse (I took a big swig) and how he finally went to rehab and got clean for his daughter. The self-confessed ex-Uber driver, he now works in education for special needs students. This initial confession set the tone for his deeply personal poems. He spoke of the pull of "little pills" and lamented environmental degradations and growing social dislocation that make it feel like "the earth is balding."
The final poet was PK tha Poet. He exuded authenticity as freely as Scottsdale's ersatz Whisky Row does fakeness, which is a fucking ton in case you didn't know. He had a wispy beard, a big smile, and large ankh tattooed on his neck. He performed some very heartfelt yet still funny poems. After his performance, he mentioned an upcoming screening of his documentary "Living Like The Birds" about the struggles artists and creators face while trying to make their passion their paychecks, something many of you can probably relate to. The screening will take place at the Christown Harkins Theatre this Sunday, April 30th at 8 PM.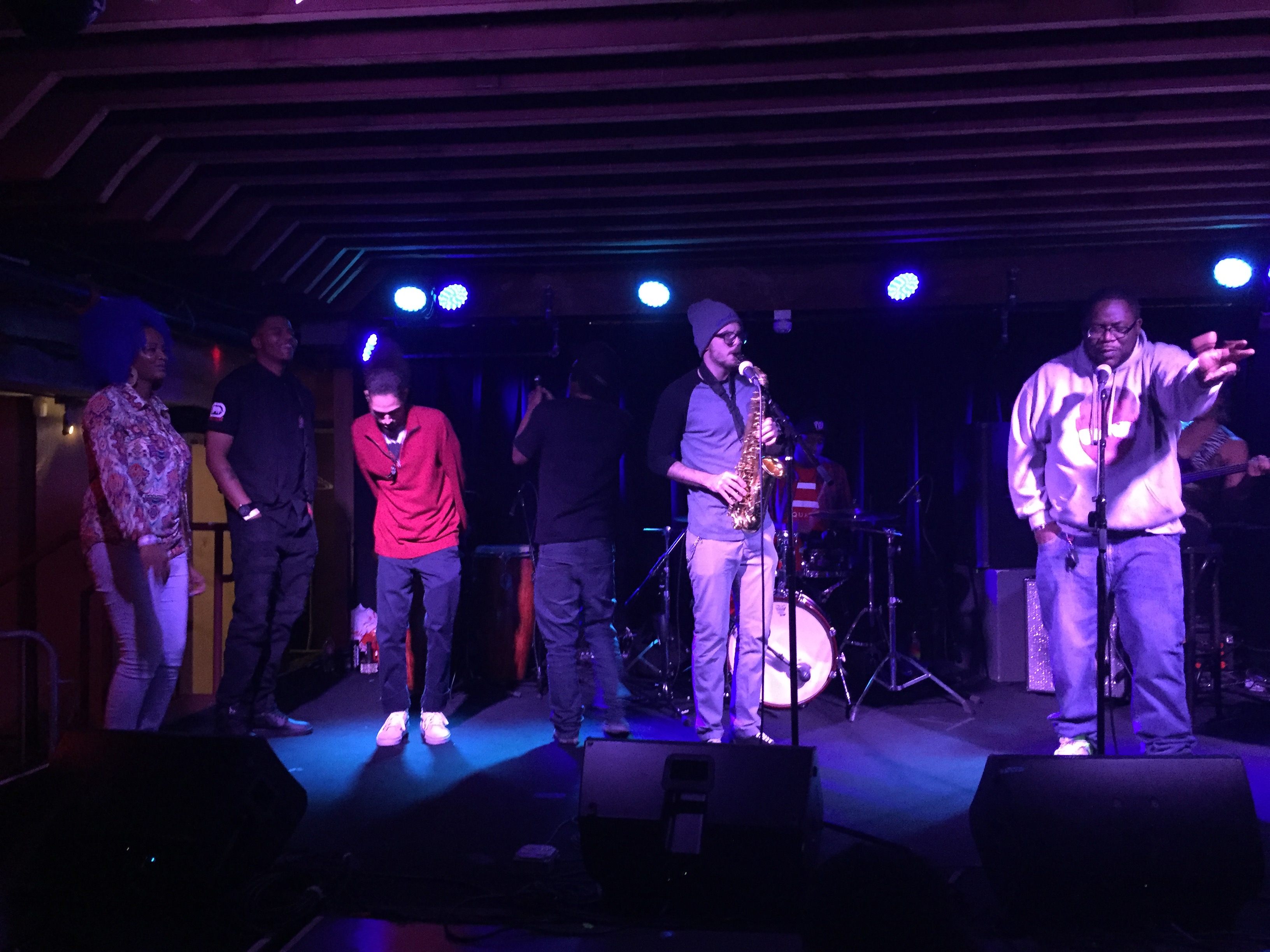 Photo by Jeff Kronenfeld
Closing out the night, all the performers were invited back on stage, along with any daring audience members, for one of my favorite of the hip-hop forms, the cypher. It was a fitting end for the first, but hopefully not last Words Within the Rhyme. When asked about the chances of another, Mystic Blu was somewhat coy. She'll be bailing on Phoenix for the summer, which, who can blame her, but says when she's back in August that she may very well see about a follow up.  If you're still in this hellhole we call home then, you should think about checking it out.
Jeff Kron is gainfully employed by the Poisoned Pen. He has stories featured in The Sharpened Quill, a recent collection of short stories by Phoenix-based authors. To order, click here. Feel free to send all hate mail and love letters to him at jeffk[email protected] and he'll definitely write you back. Or not.
---
For more Phoenix coverage that doesn't suck, follow PHX SUX on Suckbook and that tweety website for Twits.
Read more from PHX SUX: