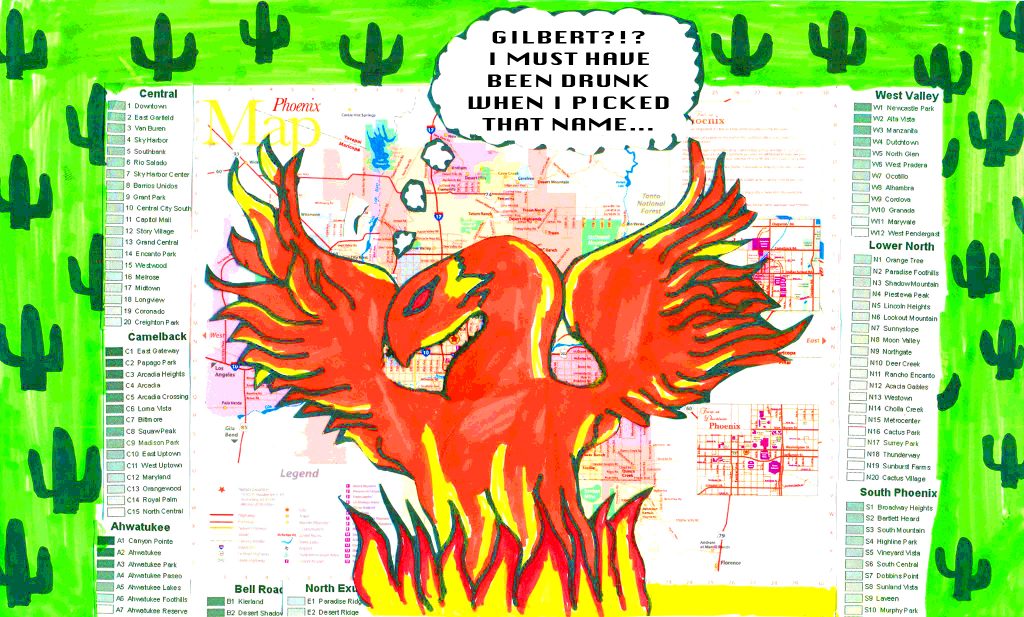 Even if it's a barren concrete wasteland, Phoenix is very aptly named. In fact, the name Phoenix is nothing short of kickass, layered in meaning and metaphor for a region borne out of a forgotten, ashen civilization and slowly growing hotter and more uninhabitable.
So why do almost all the other names for cities in Maricopa County fucking suck? Have you ever noticed it's often nothing but shitty white male names? Scott, Glen, Chandler, Gilbert… Anyone who has a name like that is probably a schmuck and cities like Scottsdale are filled with schmucks, so maybe it's fitting, but geesh, I hope I never live in a place so crappy it's named after a character from Friends.
Yet the further out from Phoenix you spread, the shittier the names become. Avondale? Really? You named your crappy little suburb after a line of makeup for middle-aged women? Maryvale falls into the same category.
Is the Surprise that there's nothing to do but heroin in Surprise? Then there's Mesa. While a Mesa can mean 'an isolated flat-topped hill with steep sides,' in Spanish the word means 'table.' A nondescript term for furniture is fitting for such a boring, sprawling piece of shit that is nowhere near an actual mesa.
What about the so-called 'master-planned community' we know as Anthem? Did that get named for the shitty Ayn Rand novel? You'd have to ask real estate mogul Del Webb, the asshole responsible for springing up cookie cutter retirement communities across the nation, all of which have the same idiotic names—either Anthem or Sun City, sometimes both. He's the reason we have Sun City, Arizona; Sun City, Nevada; Sun City, Florida; Sun City, Texas; and Sun City, California.
Which leads us to Youngtown, which is apparently the oldest retirement community in the US. I guess if you're going for half-assed irony, you've got a good name there, but c'mon.
And we have not one, but two towns named after a tire company: Goodyear and Litchfield Park, the latter named for Paul Weeks Litchfield, founder of Goodyear Tire and Rubber Company.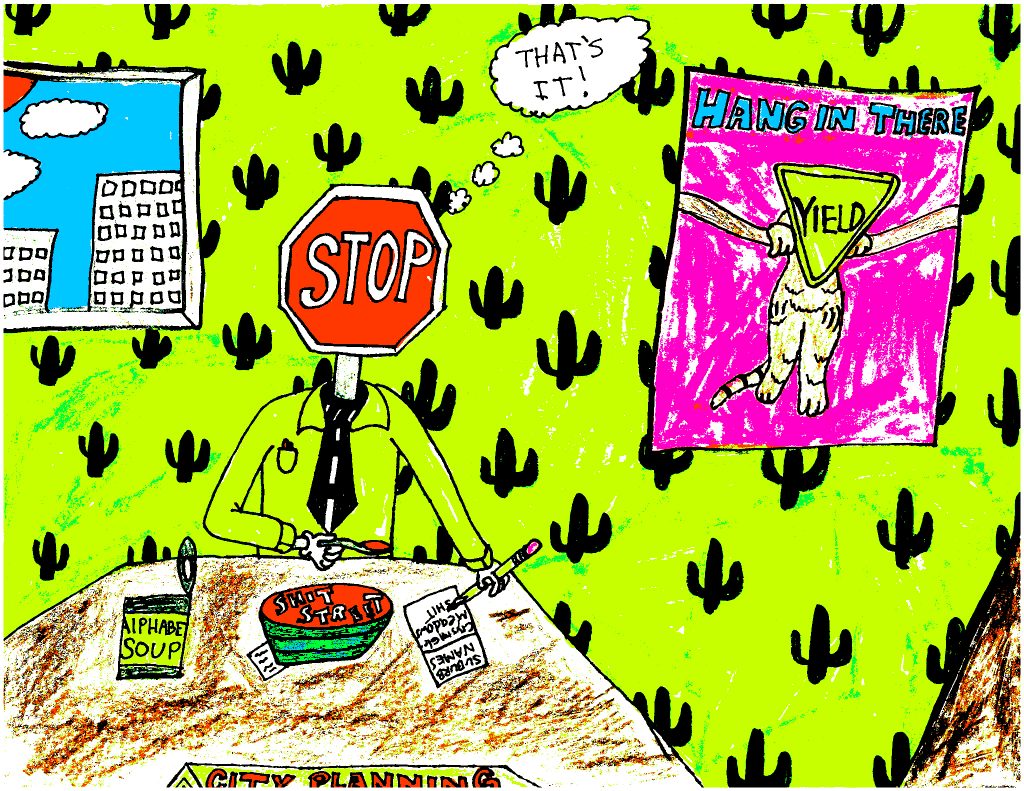 What we imagine city planning meetings to be like.
It's a given that any county is gonna have stupid names after egotistic jackasses like Tolleson, Wickenburg or Wittmann. All these dead white men get to piss their name all over the area, but that's to be expected, so whatever.
But then you have all the names that have literally nothing to do with the region. Buckeye is named after Ohio (the Buckeye State, which wins the award for stupidest state motto), Peoria is named after some place in Illinois, Tempe is named after some place in Greece. Fountain Hills, Queen Creek and Sun Lakes are all named after water, which is cool or whatever.
Which leads me to some names of local places that actually make sense: El Mirage, Gila Bend, Guadalupe, Carefee, Paradise Valley, Tortilla Flat, Rio Verde, Sunnyslope, Citrus Park, etc. These places sound like somewhere you'd actually want to live (even though you probably don't… in fact, you definitely don't want to live in El Mirage) or they at least have tangential relation to the region they are in. These are good names.
But if you asked me what's the ultimate shitty name for a suburb of Phoenix, I'd have to say Ahwatukee. Even if all the names listed about are crappy or lame, at least they mean something. Ahwatukee doesn't mean shit. It was literally made up by a dumb white person who had a thing for the Crow Indian language. Helen Brinton thought Ahwatukee meant 'House of Dreams,' but she got that wrong. Very wrong. Like many of the names of places in Arizona, Ahwatukee doesn't mean anything.
Follow Troy Farah on Twitter or visit his website or don't who gives a shit.
---
For more Phoenix coverage that doesn't suck, follow PHX SUX on Suckbook and that tweety website for Twits.
Read more from PHX SUX: