There's a girl standing next to me wearing devil horns. Next to her is a girl wearing a gold jacket that looks like she stole it off of a Columbia at a Rocky Horror screening. I see bare shoulders dusted with glitter, men and women with cheekbones adorned with press-on jewels, bearded dudes wearing pink wigs and girls with Cleopatra eyes wearing flower crowns. Someone walks by wearing a giant fish head mask, and for a moment I thought I spotted a naked man standing in the crowd. Turns out it's a guy wearing a skintight white bodysuit that's covered in powder. Maybe he's trying to dress up as a giant rail of coke, and he's waiting for the rest of his squad to show up. I keep my eyes peeled to see if anybody dressed up as a giant nose, rolled-up dollar bill, or razor blade joins up with the Bolivian bump, but alas he stands alone.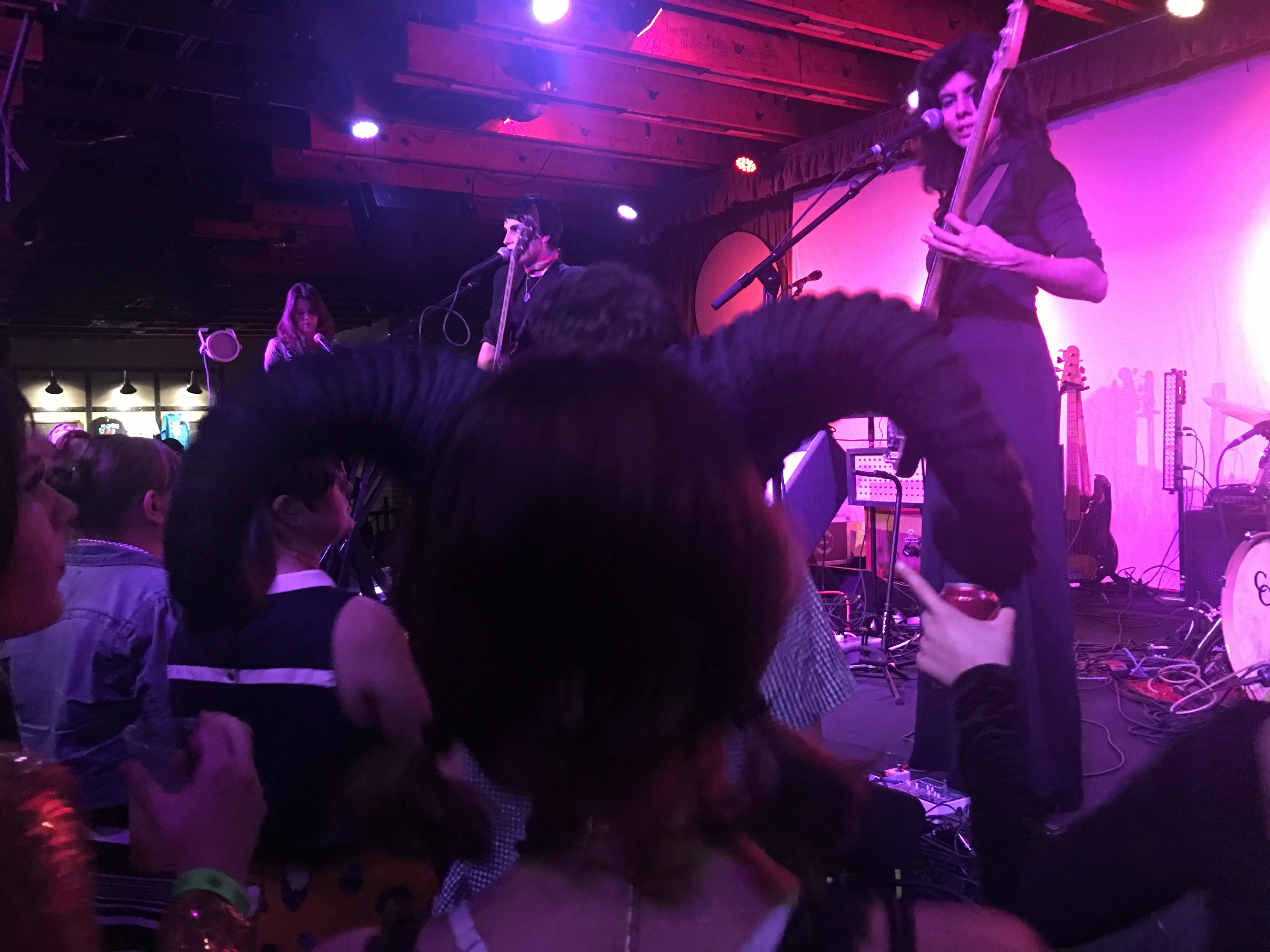 I haven't been in a concert crowd that's THIS colorful and freaky in a long time. You'd think that perhaps Halloween being a few days away would have something to do with the "Party City on acid" vibe of the crowd, but you'd be wrong: I'd bet cold hard cash that Of Montreal could do a Christmas show and people would still show up looking like they got lost trying to get to a glam rock cosplayer convention.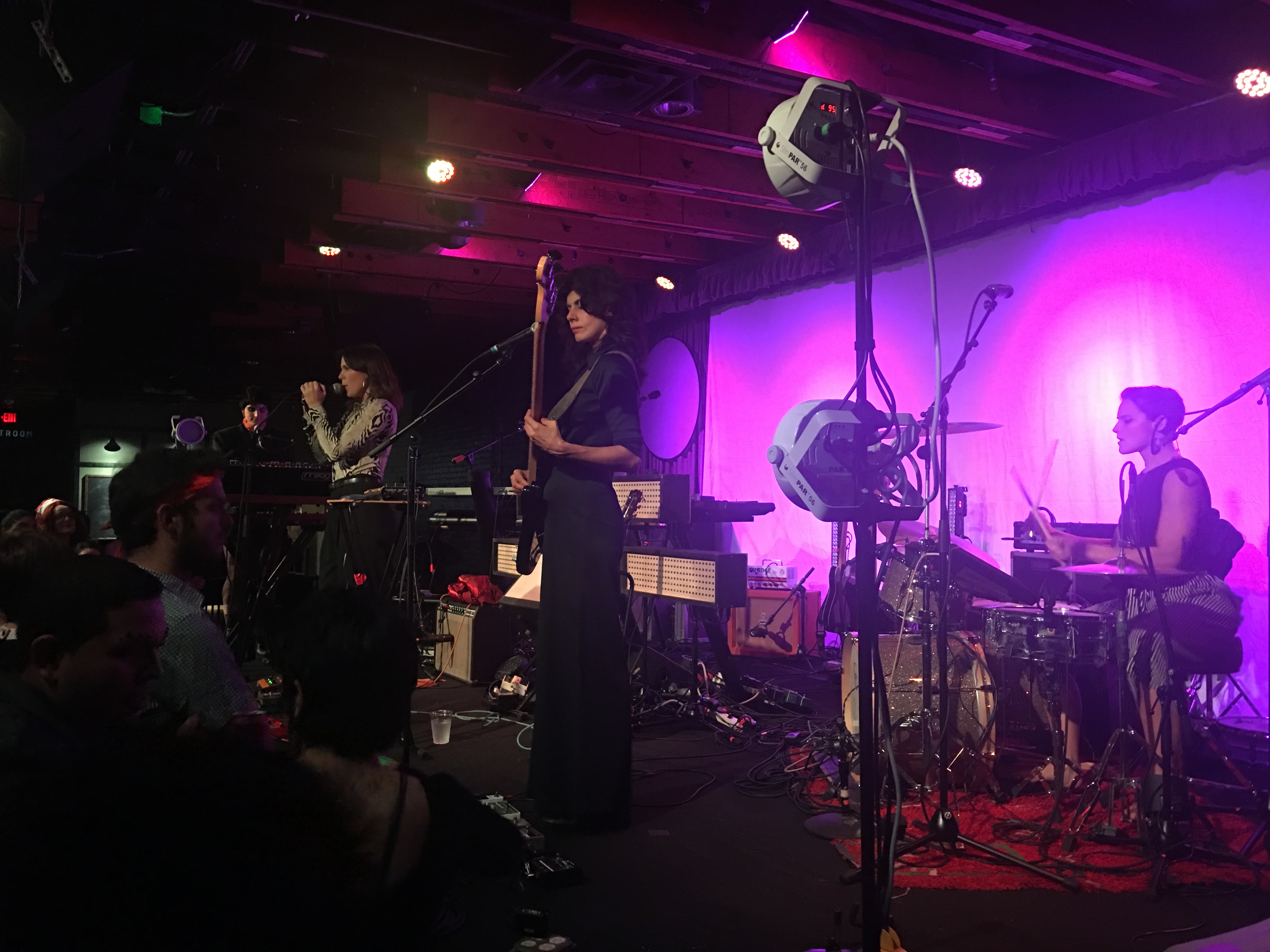 I arrived at Crescent Ballroom just as the opening act, TEEN (from New York), started playing. An all-female four piece, TEEN played a captivating set. Their lead singer looked like she was going as Siouxsie Sioux for Halloween, bounding across the stage with nervy energy. Their songs were occasionally punctuated with prerecorded sax music that sounded like The Ghost of Careless Whispers Past paying them a visit. TEEN also used interesting vocal effects that would have sounded right at home on a song by The Knife. Their stage presence and sound made me think of a poppier take on the kind of lanes occupied by Prince Rama and Lower Dens. TEEN mixed New Wave synths with shoegazer-y textures, swirling older styles together yet were still able to sound fresh and wholly modern.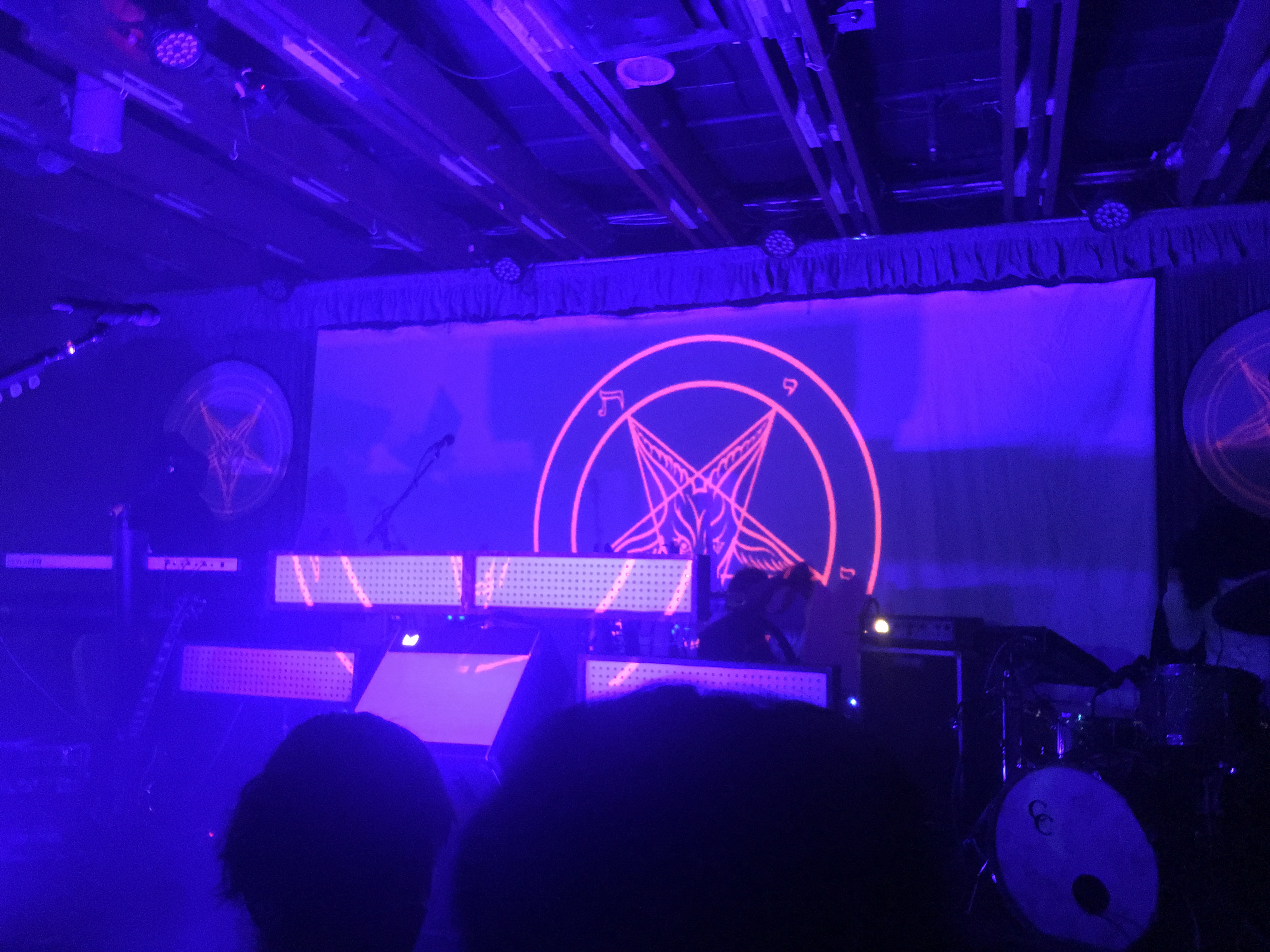 The crowd buzzed with anticipation after TEEN finished their excellent set, waiting for Of Montreal to take the stage. A few people next to me were showing each other the underwear they just bought at the merch booth; A couple behind me crowed about past Of Montreal shows they've attended. I've been to a few myself: I first saw them during the "Hissing Fauna" tour at The Marquee, and then later caught them twice at Crescent. This would be my fourth time seeing the band, and I was just as buzzed and excited at the prospect of seeing them as everyone else was. Nobody does a live show like Of Montreal.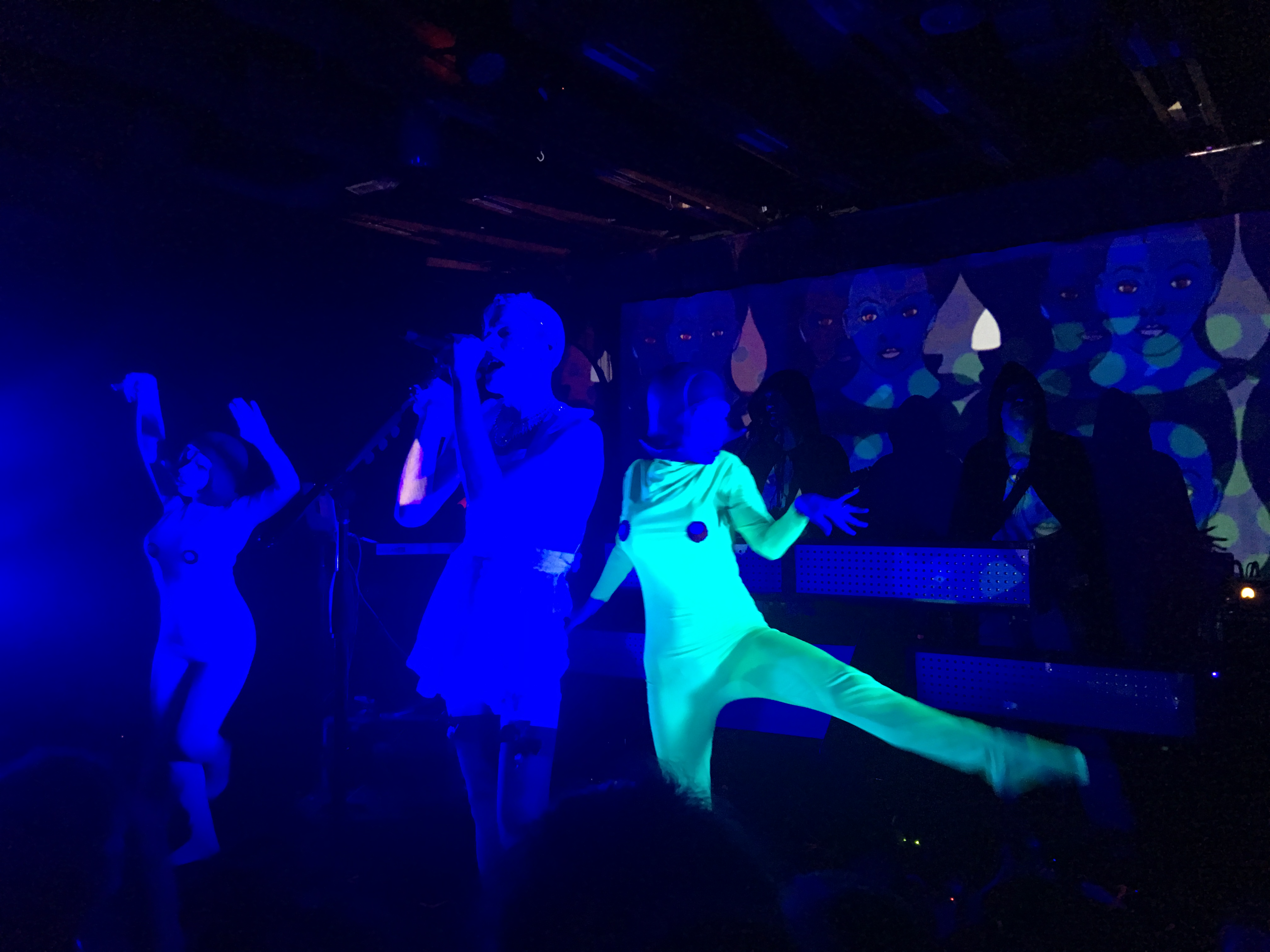 Before the band came on, Caribou's hypnotic "Can't Do Without You" played on the speakers overhead. Smoke started to fill up on the stage, and as the Caribou faded out the band filed in. They wore black cultist robes and took their places behind the banks of synths and keyboards lined up across the stage. Kevin Barnes entered the picture, wearing a black robe and an LED rope light. Projected behind the band was a blood red sign of Baphomet. Eerie atmospheric sounds filled the room as a still Barnes stood in front of the mic. And then he was stripped out of the robe, revealing his first (of many) outfit of the evening: An apron, red stockings, a giant flower brooch on his head and not much else.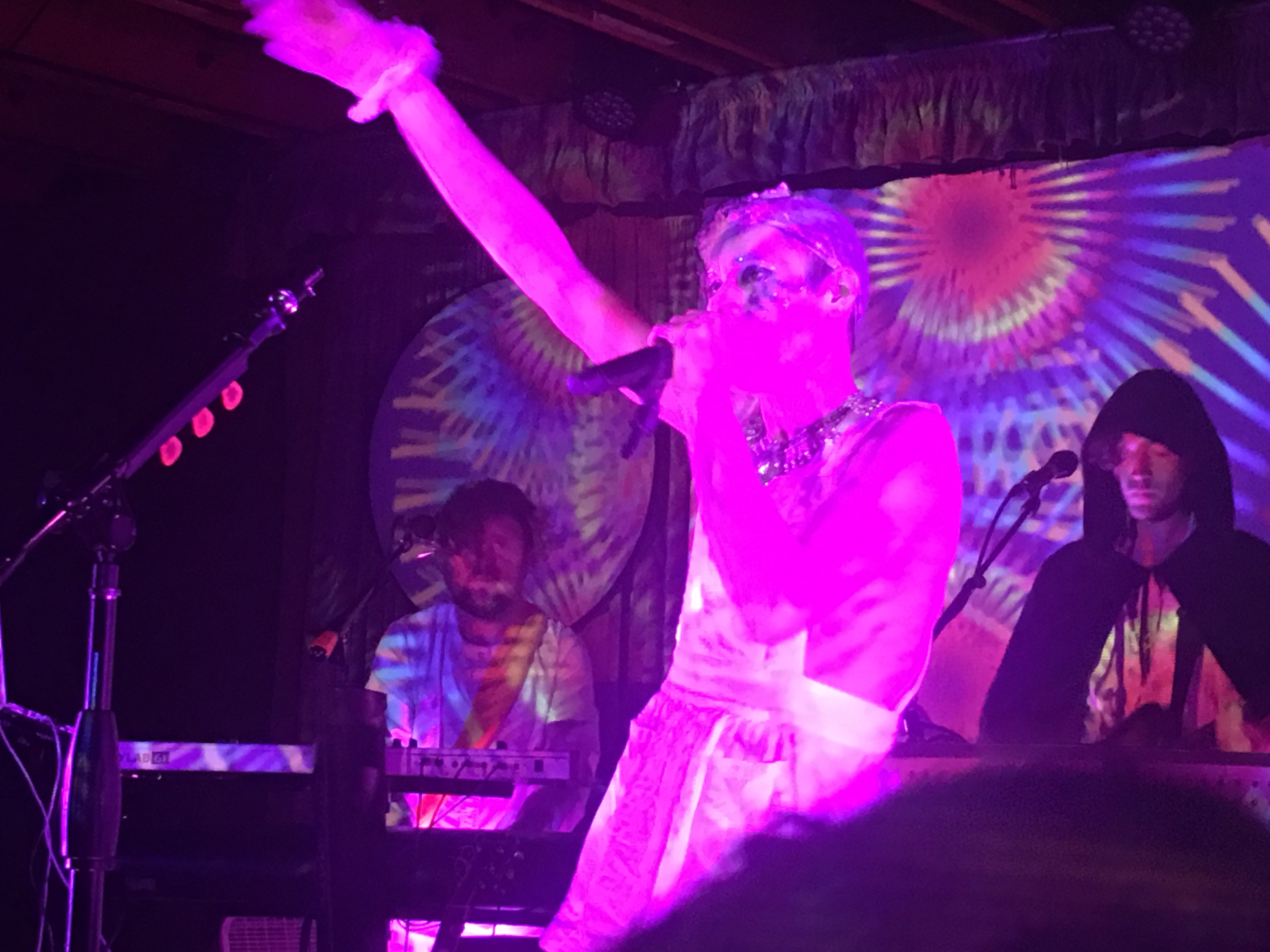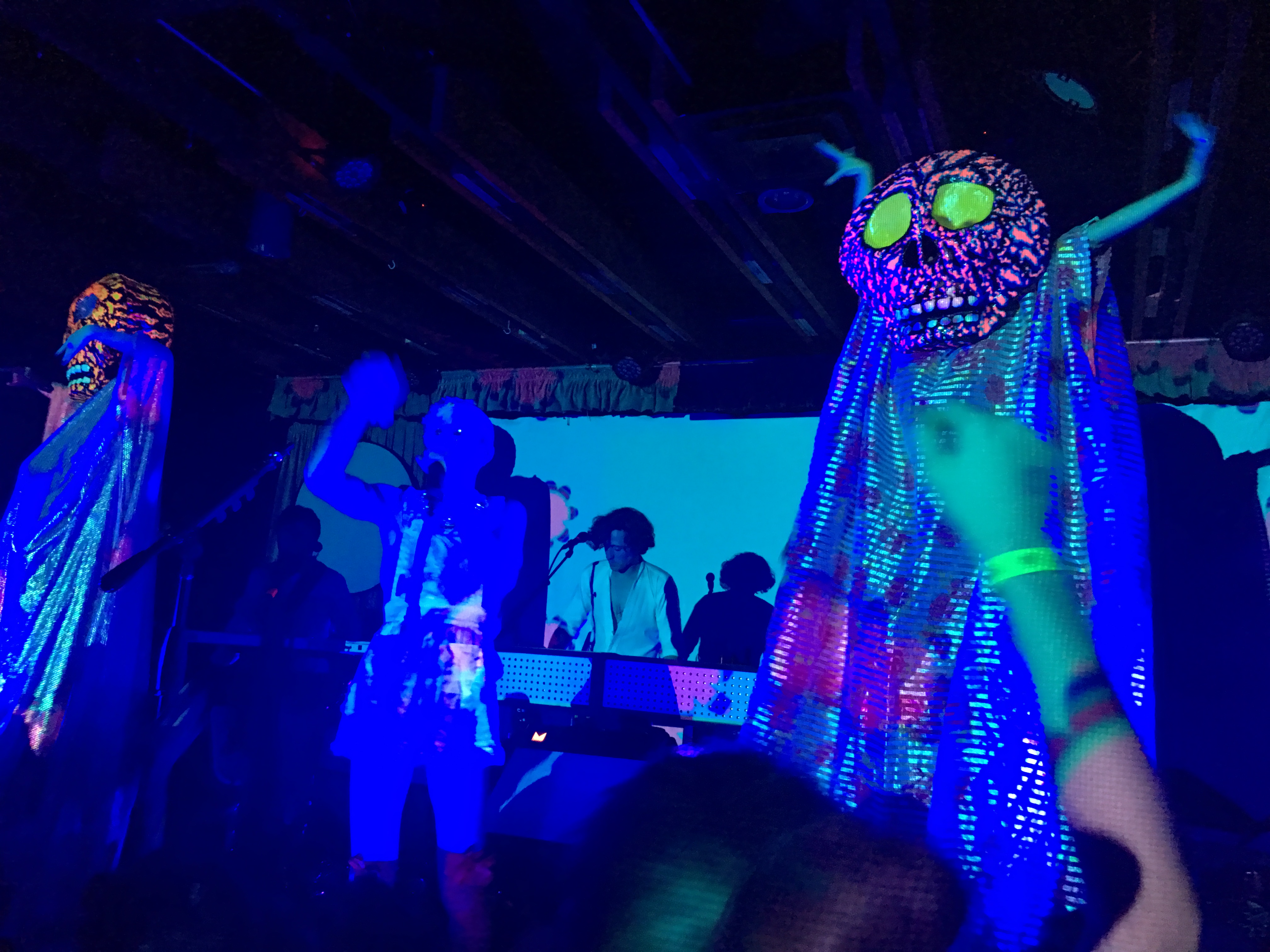 The mood suddenly shifted from Sunn O))) to DayGlo. A pair of masked neon backup dancers ran onstage, and the band launched into Of Montreal's signature manic-depressive fun house sound. The band would augment their live show with up to four backup dancers, who would come back onstage throughout the night in a variety of different guises: As giant skull-headed figures looming over the crowd; As a pair of street toughs and faceless blondes in poodle skirts; As giant possums and as tiny ostrich head puppets; As a giant cock wearing a Donald Trump mask and as twerking backup dancers wearing what looked like copper bubble wrap suits. Barnes himself would also exit throughout the show, pulling off enough costume changes to make Hedwig's angry inch itch with jealousy.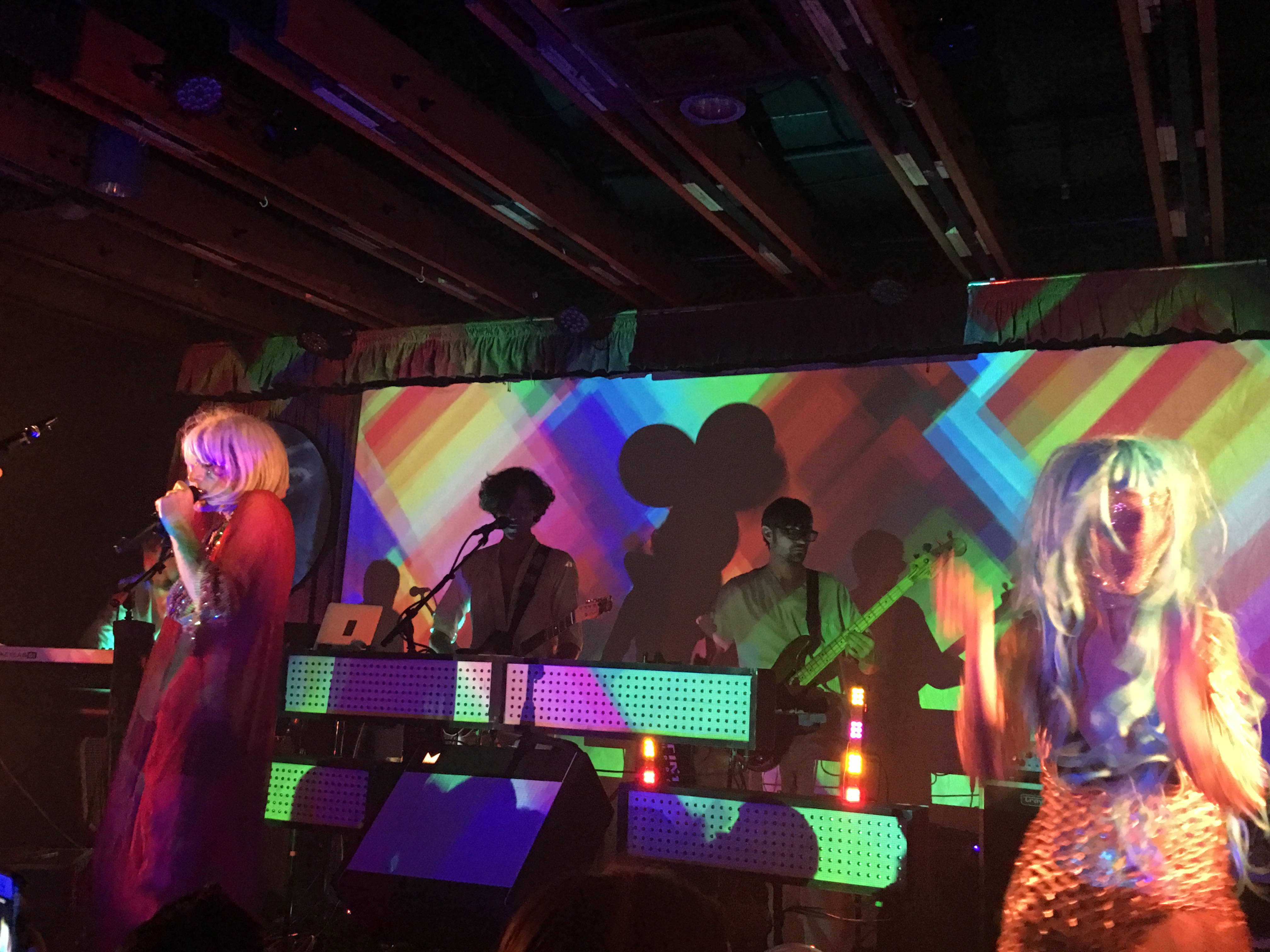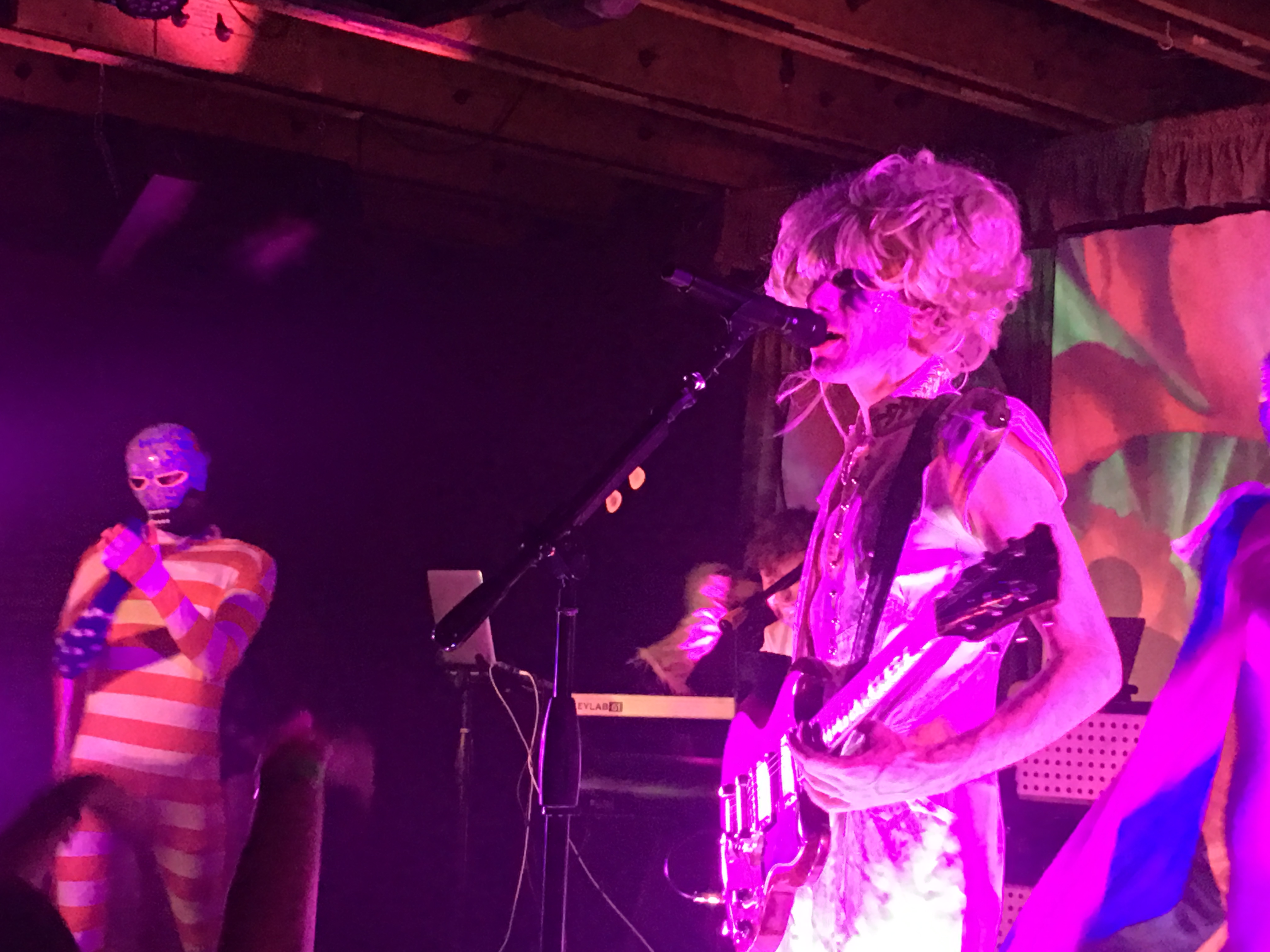 Of Montreal never skimp on the theatrics. When it comes to live shows, they put damn near every other band on Earth to shame. It's not just the costume changes, or the puppets, or the giant possum suit: It's in the swirling colors of their live show, the inventive and constant projections flashing across the back of the stage, and in the confetti guns and giant stuffed animal feather cannons spraying its downy ammo at the audience. Barnes proves himself to be the perfect ringleader for this circus. He doesn't banter with the audience: The crowd is too busy singing his lyrics back at him, and he's too busy striking glam rock poses in his underwear and simulating cunnilingus on his backup dancers. He's clearly been committing the Bowie and Prince stagecraft playbooks to memory, and it's paying off. Our Lady of Stardust would be proud.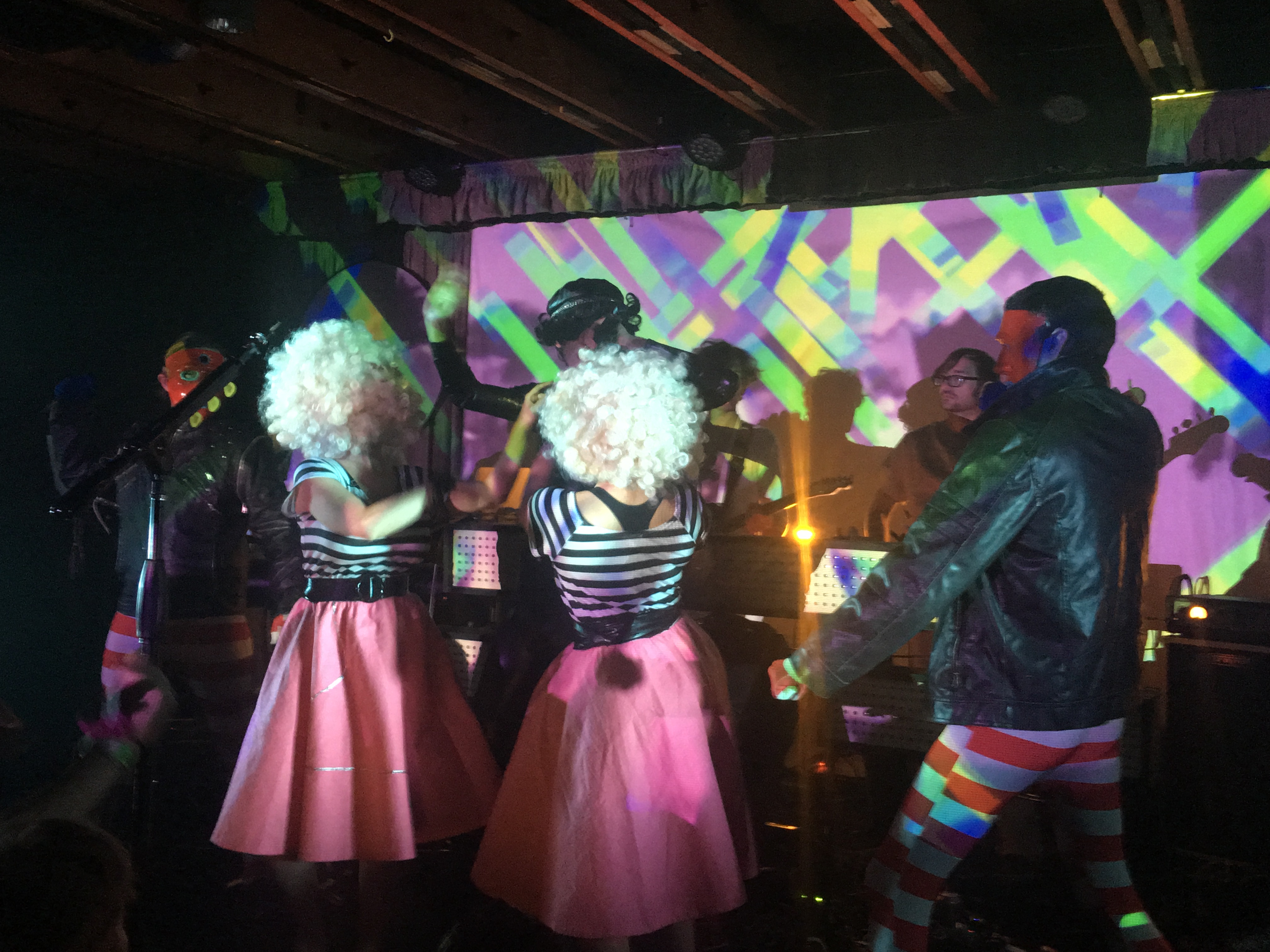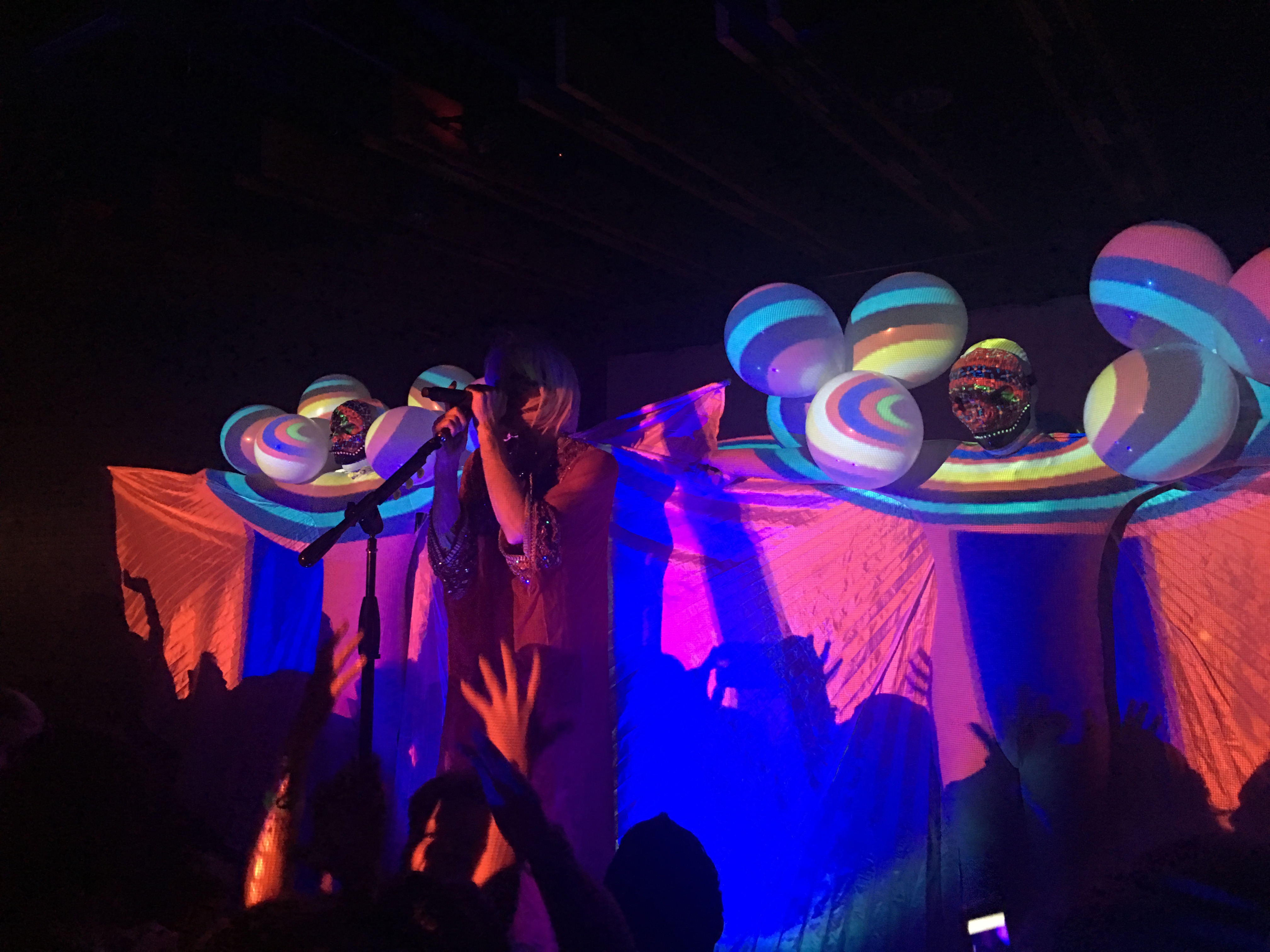 But all the theatrics in the world wouldn't mean shit without the songs to back it up, and Of Montreal rose to the challenge. They played for over an hour, hopping back and forth throughout their expansive catalog of songs. They took an almost DJ set approach to their live show: It was a continuous flow of music. As soon as one song ends they would INSTANTLY launch into the next one, not breaking for applause or letting any air out of their set. Sometimes they would seamlessly switch songs mid-verse, play a bit of another tune, and immediately dive back into the other track. For a band that's so committed to putting on such an elaborate and clearly choreographed stage show, it was impressive to see they put just as much effort and care into the flow of their set. I've seen more polished "legacy" acts that could learn a thing or two from Of Montreal's relentless set.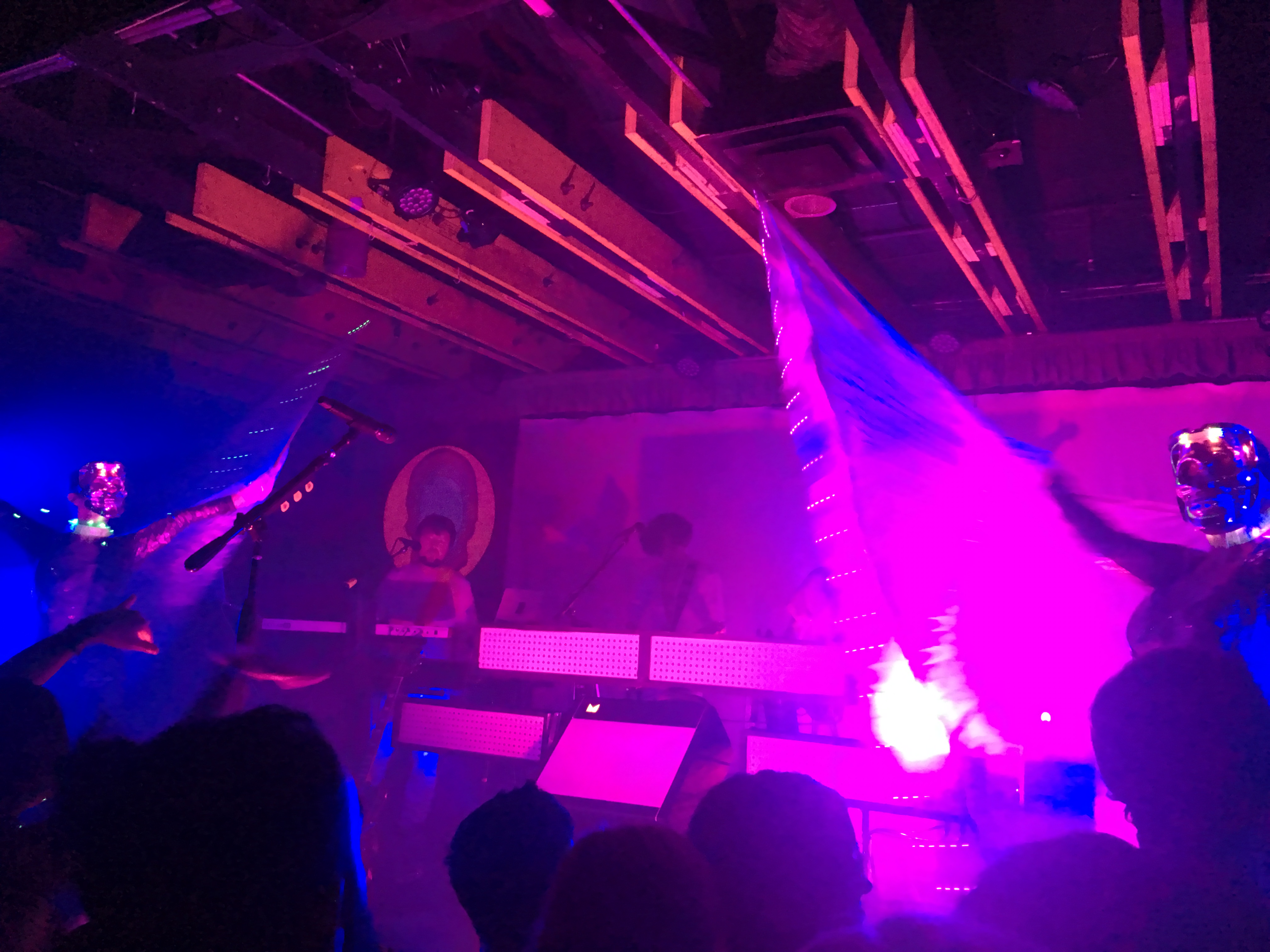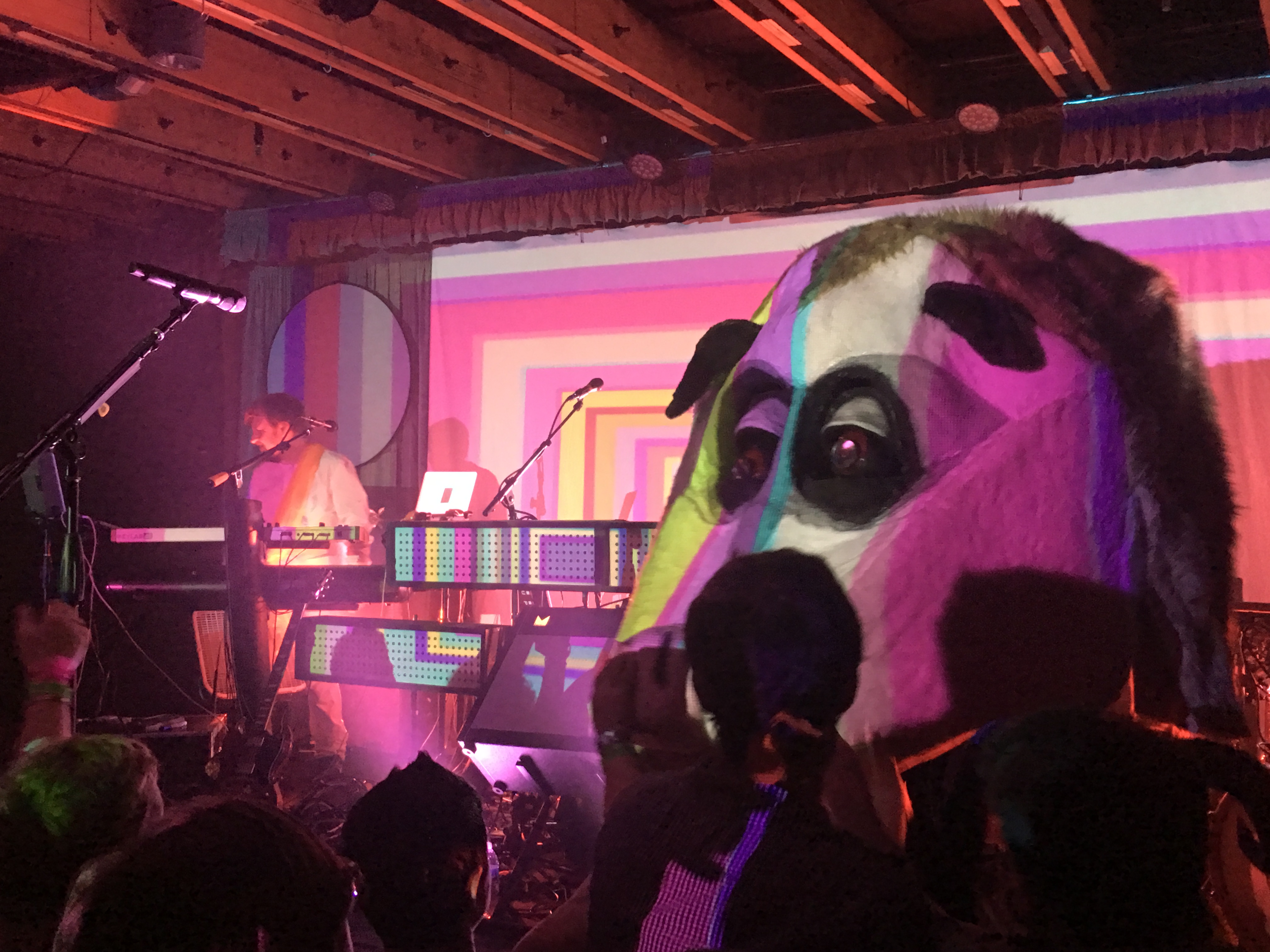 A lot of modern indie groups pay lip service to dance music and its culture, but in Of Montreal's case it looks like they really internalized that world and took inspiration from the best elements of it (the Bacchanalian theatrics, the nonstop slipstream of sounds) to put on a live show that most other rock bands would not be capable of pulling off. Hell, even their encore (one of the most tired and least enjoyable aspects of going to a concert) was phenomenal. They came on and did a medley of tunes, bookending them with "Hissing Fauna" cuts "Suffer For Fashion" & "Heimdalsgate Like A Promethean Curse", with covers of Bowie ("The Man Who Sold The World") and Prince ("1999") songs inbetween them. Honestly if any other band did Prince and Bowie covers, it could have run the risk of being maudlin or cheap homage: In Of Montreal's case, the choices were perfect. It's hard to think of another band in the indie realm right now that embodies the spirit of playful change and fluid sexuality that were the Thin White Duke & The Purple One's calling cards as well as Of Montreal does.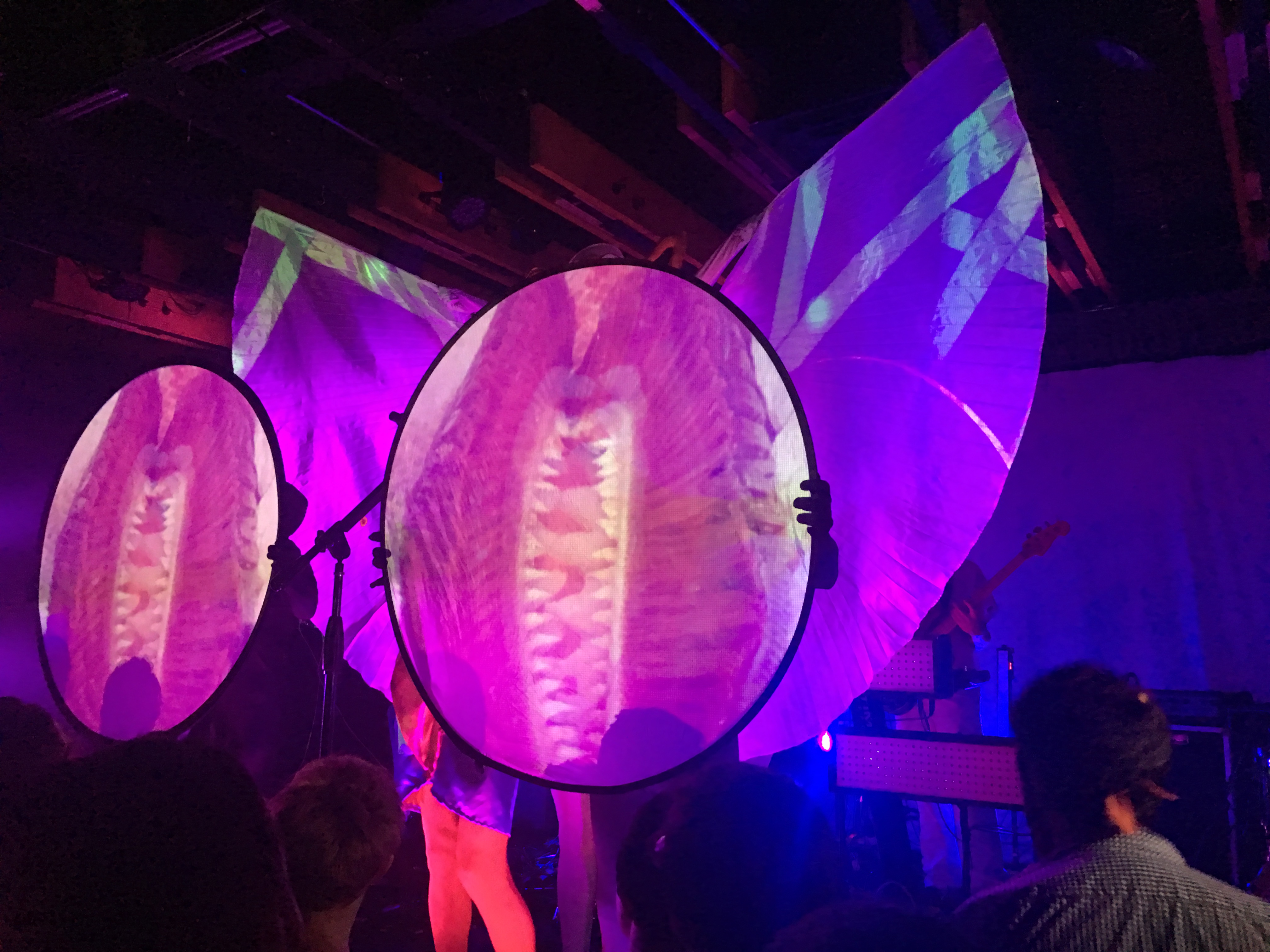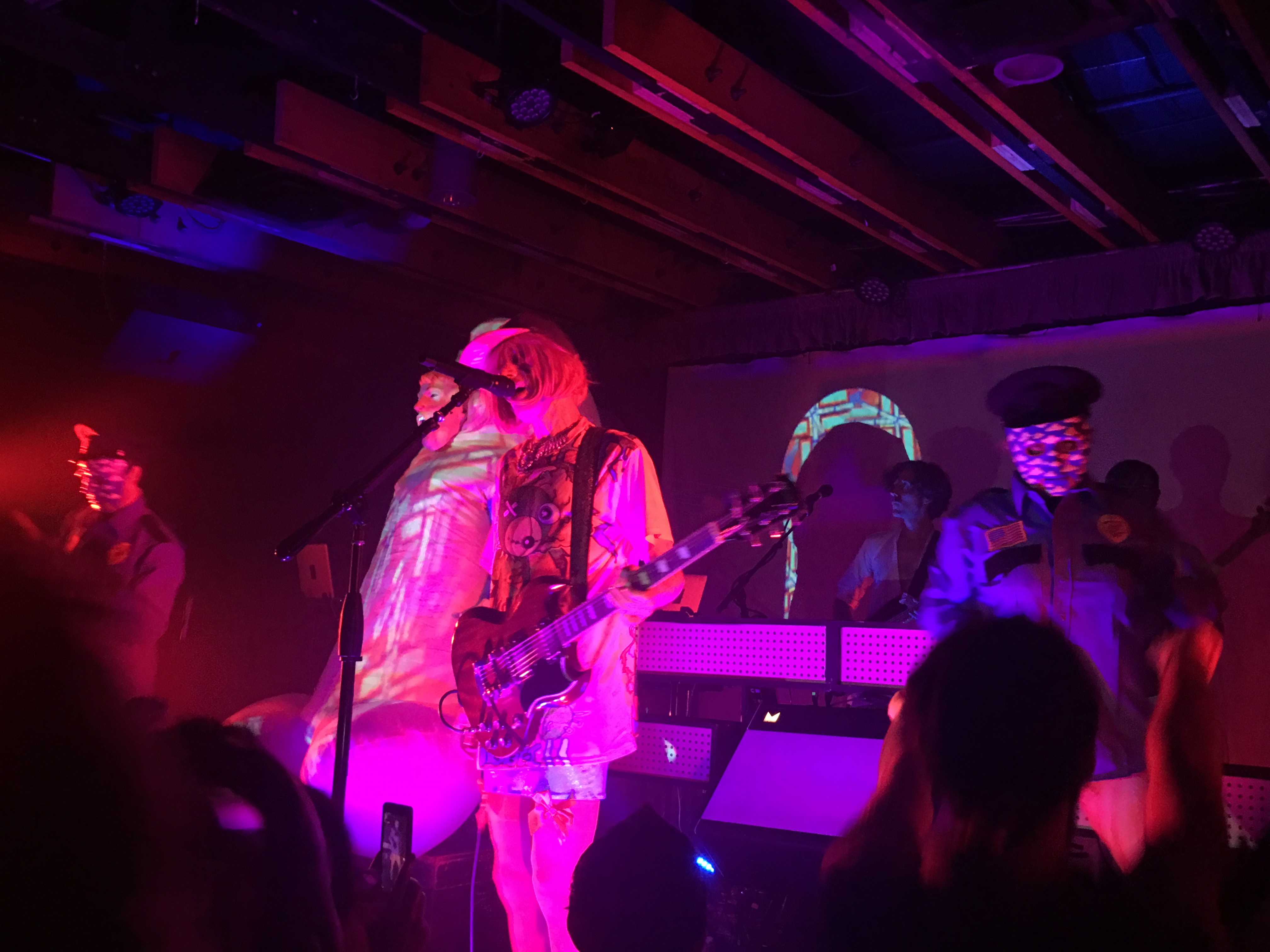 I left Crescent Ballroom with my ears ringing and my body covered with sweat and white feathers. Some of the white feathers flew into my nose as I walked to my car, and I sneezed. I could hear other folks laughing giddily and sneezing in the distance, and I felt a kinship with them. I was reminded of something that one of my concert neighbors said to their friend, as he showed off his merch underwear: "Every person I see here is my friend. At Of Montreal shows, EVERYONE is your friend." I could hear more sneezes in the distance. Birds of a feather. I look forward to the next show, when we all have an excuse to flock together again.
Ashley Naftule is a writer, performer, and lifelong resident of Phoenix, AZ. He regularly performs at Space 55, The Firehouse Gallery, Lawn Gnome Books, and The Trunk Space He also does chalk art, collages, and massacres Billy Idol songs at karaoke. He won 3rd place at FilmBar's Air Sex Championship in 2013. You can see more his work at ashleynaftule.com
---
For more Phoenix coverage that doesn't suck, follow PHX SUX on Suckbook and that tweety website for Twits.
Read more from PHX SUX: