This is Rock Blotter, our weekly column on cool-as-fuck local bands. Want to see your lousy, lo-fi garage act/electronic art school project/avant-garde jazz polka fusion group featured here? Send us info and shit to [email protected] and click here for past entries.
"If you look at the four seasons, each season brings fruit. In summer, there's fruit; in autumn, too. Winter brings different fruit and spring, too. No mother can fill her fridge with such a variety of fruit for her children. No mother can do as much for her children as God does for His creatures. You want to refuse all that? You want to give it all up? You want to give up the taste of cherries?"
In Iranian filmmaker Abbas Kiarostami's Taste Of Cherry, a suicidal man tries to find someone he can hire to throw dirt on the hole he's planning to lie down and die in. The first two men he talks to refuse him; the third pleads for him to embrace life by talking about his own suicidal struggles. The third man tells him that the thing that kept him going was the sweetness of fruit – the taste of cherries. A small, simple pleasure that makes enduring life's hardships worthwhile.
I haven't grappled seriously with the thought of suicide in a longtime. From my late teens to my early 20s, though, the idea of it was almost always on my mind. The thing that kept me going, my cherries, was books and music and movies. Anytime I would think about dying, I would think about all the things I'd miss out on. I'd never know how Bill Willingham's Fables would end. I'd never know if My Bloody Valentine would ever release another album. I'd think of all my favorite films and how they could all be overshadowed and supplanted by some even more amazing batch of films that haven't come out yet. People talk a lot about the Fear Of Missing Out as the sad curse of the Hipster, doomed to always be dashing out the door of their home to catch the next big thing or risk becoming cultural obsolete. For me, FOMO kept me alive until I could find real community, real friends, real purpose.
FOMO still haunts me now at 34, but in a different way: it's the ever-present awareness of all the books, films, and records that I'll never be able to experience because you can only consume so many things in a lifetime. Even if I won the lottery tomorrow and decided to devote the rest of my existence to reading every book that I ever wanted to read, I could live to a 100 and I still wouldn't be anywhere close to finishing that list.
The second song on Willetta's 3-song EP Frisson seems to be afflicted by the same anxiety. "Willetta" sings "All my friends now think I'm dead/too bad for them, it hasn't happened yet/A million books I still haven't read." The lines are sung as though those million books are the reason why the narrator hasn't died yet. Perhaps the singer is doomed to become a literary spectre, a ghost haunting the bookshelves of their apartment for centuries to come, reading over the shoulders of the new tenants and hoping one of them cracks open that Pynchon she never got around to reading while she was still alive.
It's hard not to listen to Willetta's music and think of ghosts. When I interviewed Anna Crossland (the group's singer, who also plays guitar and keys) back in March, she talked about the conceptual nature of the band. The songs they sing are essentially all being channeled through the voice of a character, Willetta – a dark, heavy voice that floats through their songs like oil on water's skin.
Crossland, along with fellow Willetta collaborators Kirsten Chanel Webber (backing vox), Kristen Schneider (backing vox), Kristina Moore (keys/guitar), Angel Villa (bass/guitar), and Ark Calkins (drums) bring that character to life through a slow, dreamy sound. Songs like "Books", "Honestly, Honey" and "Feel" conjure up all sorts of musical associations with their haunting, gorgeous atmospherics: the fluid guitar work of Galaxie 500; Spiritualized's opiated spirituals; the hushed reverence of Low; the vocal interplay and dramatic dynamics of the Besnard Lakes; and the zero-gravity, spacey lushness of Souvlaki era Slowdive.
I'm not trying to say that Willetta is "record collector's music". While their sound evokes other groups and musical traditions, they manage to stand part with their affecting vocals. Crossland, Schneider, and Webber's interweaving vocals create a rich, moody tapestry that gives Willetta's "drone folk" music a unique edge. The main voice of "Willetta" the character is striking: an ambiguous singing voice, Crossland invests the band's titular character with a sound that seems to transcend both age and gender. "Willetta" sounds like she could be 20 or a 100; sometimes the voice takes on an almost masculine quality. That ambiguity adds to the band's ghostly image: their vocals sound untethered to flesh or material concerns. Just a patch of darkness floating on the river of life, haunting us with its beautifully slow music while it works its way through a million books.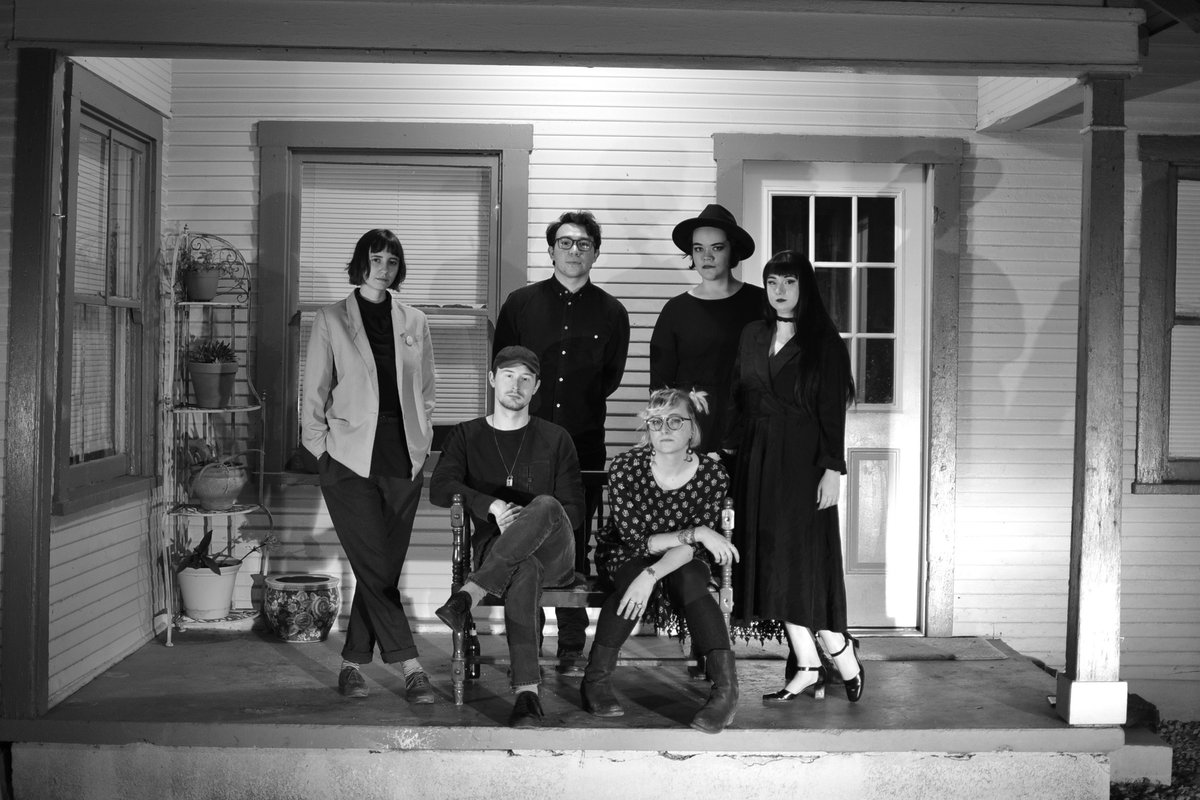 photo by Winter Calkins
Ashley Naftule is a writer, performer, and lifelong resident of Phoenix, AZ. A Space 55 ensemble member, he's been published in Phoenix New Times, The Hard Times, Runt Of The Web, and Spiral Nature. He also does chalk art, collages, and massacres Billy Idol songs at karaoke. He won 3rd place at FilmBar's Air Sex Championship in 2013. You can see more of his work at ashleynaftule.com
For more Phoenix coverage that doesn't suck, follow PHX SUX on Suckbook and that tweety website for Twits.