This is Rock Blotter, our weekly column on cool-as-fuck local bands. Want to see your lousy, lo-fi garage act/electronic art school project/avant-garde jazz polka fusion group featured here? Send us info and shit to [email protected] and click here for past entries.
A few years ago, during one of the annual Phoenix Burns, I took a strong dose of 25I-NBOMe. It hit me hard: what had been a simple pagan revelry of folks dancing around a burning wooden bird a few minutes ago quickly turned into some nightmarish remake of Fellini's Satyricon. I had a good friend with me who was willing to sacrifice his evening to babysit my idiot ass for most of the night. I watched the floors and ceilings of the building we camped out in ripple like water. The laughter spilling out of my mouth in delight at the plaster waves seemed to loop back into my ears and echo inside my skull. My whole being was vibrating like a gong.
Around 4am my friend and I went our separate ways. Still vibrating from my giggles, I went walking down to Jobot for an early morning crepe. I was the only soul in the building who wasn't working there. The barista had a Beatles playlist going on while I sat at my table, shredding my crepe into a pile of scraps with a knife and fork that seemed to be trying to wiggle their way out of my hands. The music was just as slippery: it sounded like five Beatles songs playing simultaneously. It was like "Norwegian Wood", "Tomorrow Never Knows", "I'm Only Sleeping", "A Day In The Life", and "And Your Bird Can Sing" were all playing slightly out of sync on different speakers like some fucked-up Zaireeka experiment. Gooey pop melodies, backwards guitars, symphonic noise, and psychedelic gnomes chirping in the Bardo swirled around me for an hour straight. I had no idea what was actually playing at the time, but I sat there transfixed, as dumb as Dougie Jones, slicing up my crepe into tinier and tinier fragments.
Listening to Fetal Pink's new record put me back in that psychedelic mashed-up head space. The five tracks on the self-titled album sound less like a collection of individual tracks then they do a Katamari ball of music, rolling up fragments of other tunes together into a dense soundscape. It doesn't sound like music made by people on drugs so much as it sounds like the music itself is on drugs.
The hard driving "Whispers" kicks things off with Blue Oyster Cult-ish guitars and perky synths. Like many of the other songs on the album, the production and vibe on "Whispers" reminds me of the music on Sacred Bones' Killed By Deathrock – the blurry vocals; the jaunty synth sounds, finding a middle ground between '60s garage rock organs and Vincent Prince soundtracks; the way the guitars weave from bursts of punky aggression to gothy, post-punk atmospherics; and even how it can be difficult to tell when the real drums end and the digital drums begin. You could sneak songs like "Paradise" and "The Happening" alongside tracks by the likes of Kitchen and the Plastic Spoons & Screaming for Emily and they wouldn't sound out of place.
That being said, Fetal Pink isn't a throwback act. There's enough psychedelic elements and other unique touches that makes their music stand out – like the horror movie shriek piercing the middle of "Paradise", or the strange waltz at the end of the song that could be used as music for a malfunctioning merry-go-round. Or how "Solitude" builds from a slow, fuzzy crawl to a song that's propelled forward by a clean-sounding, incandescent guitar solo that sounds like it was teleported in from another record entirely.
It's a short and sweet collection of songs by B. Bohannon (vox/guitars/bass/synths), Jamie Leer (guitars/synths/bass/drums), Daniel Pogue (digital drums/clave/mastering), Dallas Diaz (drums), and Alexa Frechette (keys/additional vox on "Paradise") that serves as a tantalizing introduction to the group's work. I can't wait to hear how big that Katamari ball of sound they're rolling up gets by the time they release a full-length LP.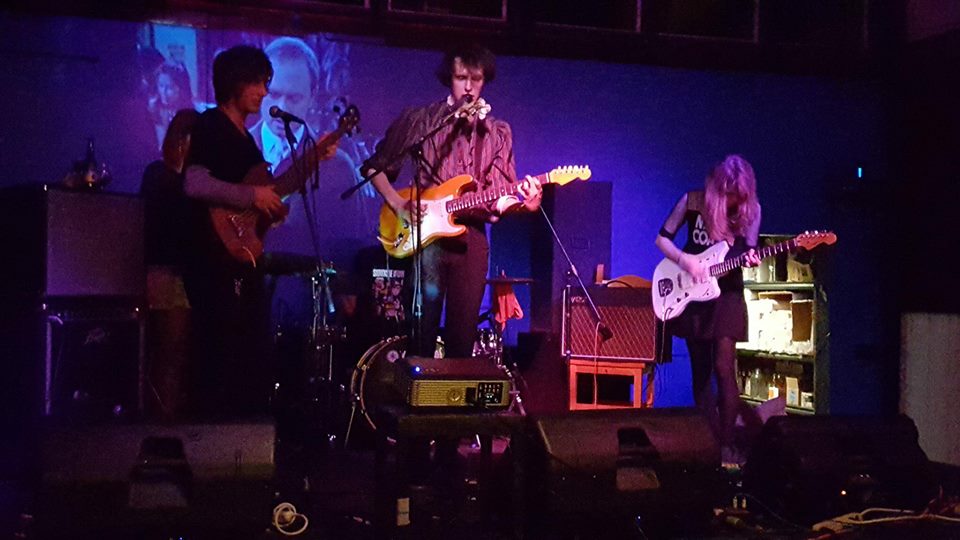 photo taken by Carrie Ann Vesica Piscis
Ashley Naftule is a writer, performer, and lifelong resident of Phoenix, AZ. A Space 55 ensemble member, he's been published in Phoenix New Times, The Hard Times, Runt Of The Web, and Spiral Nature. He also does chalk art, collages, and massacres Billy Idol songs at karaoke. He won 3rd place at FilmBar's Air Sex Championship in 2013. You can see more of his work at ashleynaftule.com
For more Phoenix coverage that doesn't suck, follow PHX SUX on Suckbook and that tweety website for Twits.