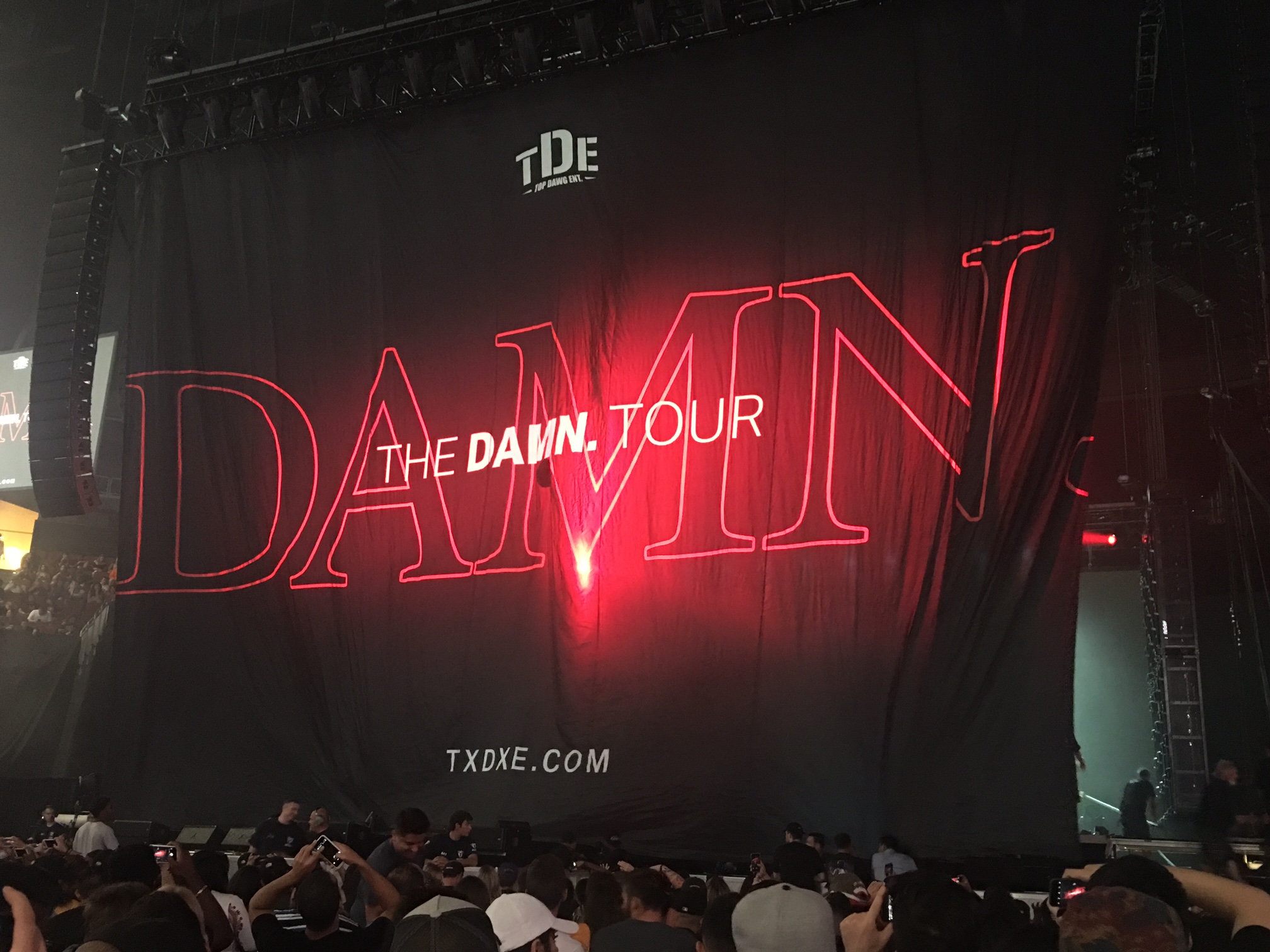 "What are you looking at me for? Check your headphones, man. Turn off the damn fog machine!"
Travis Scott is not a great rapper. He's above average, at best. He won't stink up a track the way Big Sean would (the master of dropping lines so corny his lyrics sheets should come with scarecrows), but he doesn't add much to it either. It's telling that the most riveting shit he says all night at Gila River Arena is when he's venting his frustrations at the staff.
It's the opening night of The DAMN. Tour – King Kendrick's first stadium tour. He brought along one adequate rapper with a rabid fanbase (Scott) and one dude with two killer singles who's just happy to be here (D.R.A.M.). The arena is packed and there's a palpable buzz of excitement circulating among the mostly young crowd.
D.R.A.M. opened the evening, hitting the stage in a yellow sweatsuit. He had a live band onstage, and added some visual pizzazz to his performance with bright projections of neon hearts and his own name animated as letters wrapped in what looked like living shag carpeting. D.R.A.M. live is a bit of an odd duck: at times it sounded more like a funk set than a rap performance. The live band sound helped create that impression of funkiness, but so did D.R.A.M.'s vocals – they often erred more on the side of singing than spitting rhymes.
The crowd was still trickling in while D.R.A.M. was up, so the place wasn't totally lit yet. Nor was D.R.A.M. – the dude had an affable stage presence, but you could tell that he probably wasn't stoked to be relegated to opener status.
The audience finally started to come alive towards the end of his set when Big Baby D.R.A.M. played "Cha Cha" (aka the song that Drake swagger-jacked for "Hotline Bling"). And as "Cha Cha" faded out, animations of broccoli florets (that looked like they were made with Lite Brites) popped onscreen. Showing an impish streak, D.R.A.M. launched into his monster hit by singing Lil' Yachty's chorus in a weird Disney-esque voice. Maybe the dude smoked some really good broccoli and was seconds away from pivoting into a rendition of "A Whole New World".
After the operatic false start, the song kicked into gear and the audience was up on their feet. D.R.A.M. came to life, hopping offstage to stroll through the center of the floor crowd. Camera phones swarmed around him like bees descending on a field of flowers. And then Big Baby D.R.A.M. left the building.
It didn't take long for the stage to be set for Travis Scott's set. Stripping away the live band, the stage seemed to be bare save for a cage that his DJ played inside of. When Scott came out, the crowd went nuts. I knew the guy was pretty over (in the wrestling sense of the word) with rap fans because of his work with Kanye and Kendrick, but I didn't know he was THIS popular.
So here's the thing about Travis Scott – his songs aren't very interesting. They tend to have moody, witchhouse-y productions that are great for nodding your head and getting fucked up to. But his voice lacks… character. It's hard to know who Travis is, based on the way he raps. With all the great MCs, you can hear them spit a handful of lines and get a sense of what they're all about. Even his big hits seem impersonal.
That being said: dude knows how to put on a fucking show. His set was probably the most visually arresting and theatrically compelling rap set I'd ever seen (at least, until I saw Kendrick's). It started off with arcs and grids of lasers, throbbing beats, and visual projections of ghostly horses, mushroom clouds, dark skies, and Travis' body manifesting within tendrils of smoke. Fog billowed onstage, thick and black, like there was a dragon chained beneath it. It was already a pretty impressive sight – say what you want about his music, the man's aesthetic is on-point. But then the bird came out, and you could hear jaws across the stadium hit the floor.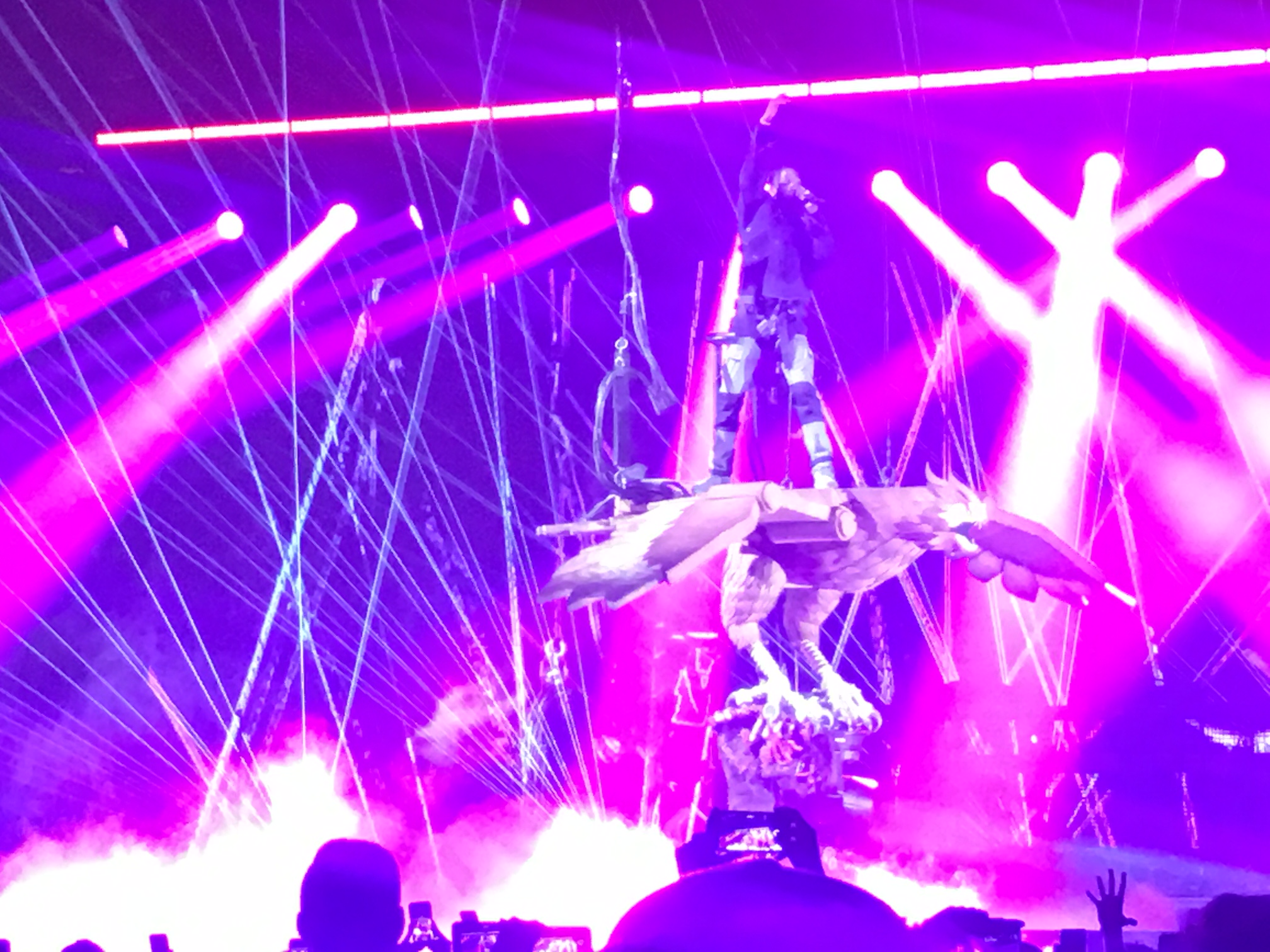 Kanye raised eyebrows with the floating stage he performed on during his brief Saint Pablo tour. Leave it to the pupil to outshine the master – Scott one-upped him by performing the bulk of his set on top of a giant flying bird! It looked like a bird of prey that flew out of the pages of a Heavy Metal comic strip. Its eyes glowed; one talon held a severed lower torso and the other held a light that shot a bright beam across the room. Scott hopped on its back and it rose over the stage, drifting back and forth for the remainder of his set.
While the spectacle of birdback rap was impressive, Scott's mic work didn't interest me until he started going off-script. Partway through the set he stopped a song to tell a security guard off for trying to eject an audience member: "Don't be a partypooper! Stop being the police, nigga. Let the people have fun." And then there was the fog accident, where a frustrated Scott barked offstage to turn the smoke off. He closed his set with "Goosebumps" (Kendrick didn't come out to do his verse) and one more bit of technical difficulties theatre, as he shouted for the bird to be put down.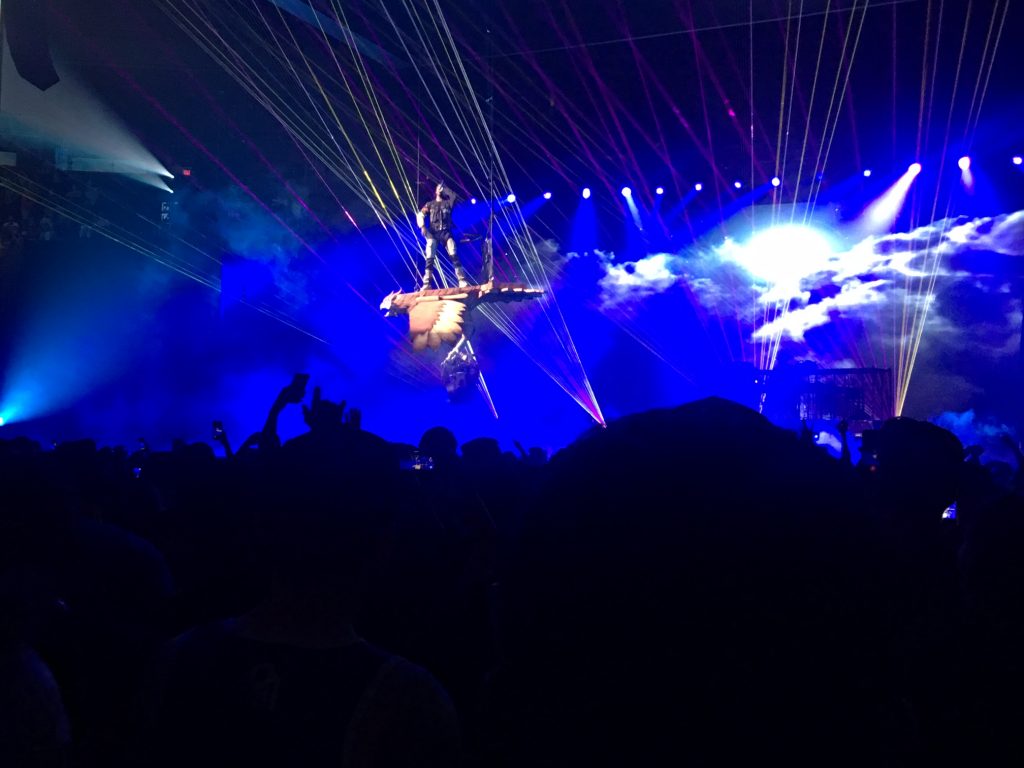 When the man of the hour finally hit the stage, I was surprised at the lack of frills. There was no live band, no elaborate stage dressings – just a pair of modular lighting rigs and a projection screen. But that's the difference between Kendrick Lamar and Travis Scott – one rapper NEEDS those frills to rock the house. The other has God-level skills, charm, and killer songs for days.
That's not to say that Kendrick's entire show was just him onstage rapping (though that would have been worth the price tag alone). He put on a stage show that rivaled Scott's for inventiveness and sheer spectacle.
Whereas Scott one-upped Kanye, Lamar did the Wu-Tang better than the Wu. He started the show with footage from his own goofy kung-fu film – starring Kendrick as The Black Turtle. Stepping onstage bathed in white light, Lamar launched into "DNA" (the first of many DAMN cuts to be played that night). A ninja with a sword would soon join him onstage – jumping, throwing kicks, and doing sword katas.
Lamar had different projections for each song, which added a lot of color and mood to his show. He also indulged in the occasional fake-out: he played the intro to "YAH" before abruptly shifting into a hard-hitting "King Kunta". Projected behind him in blood red colors was the original King Kong, straining and raging against his chains.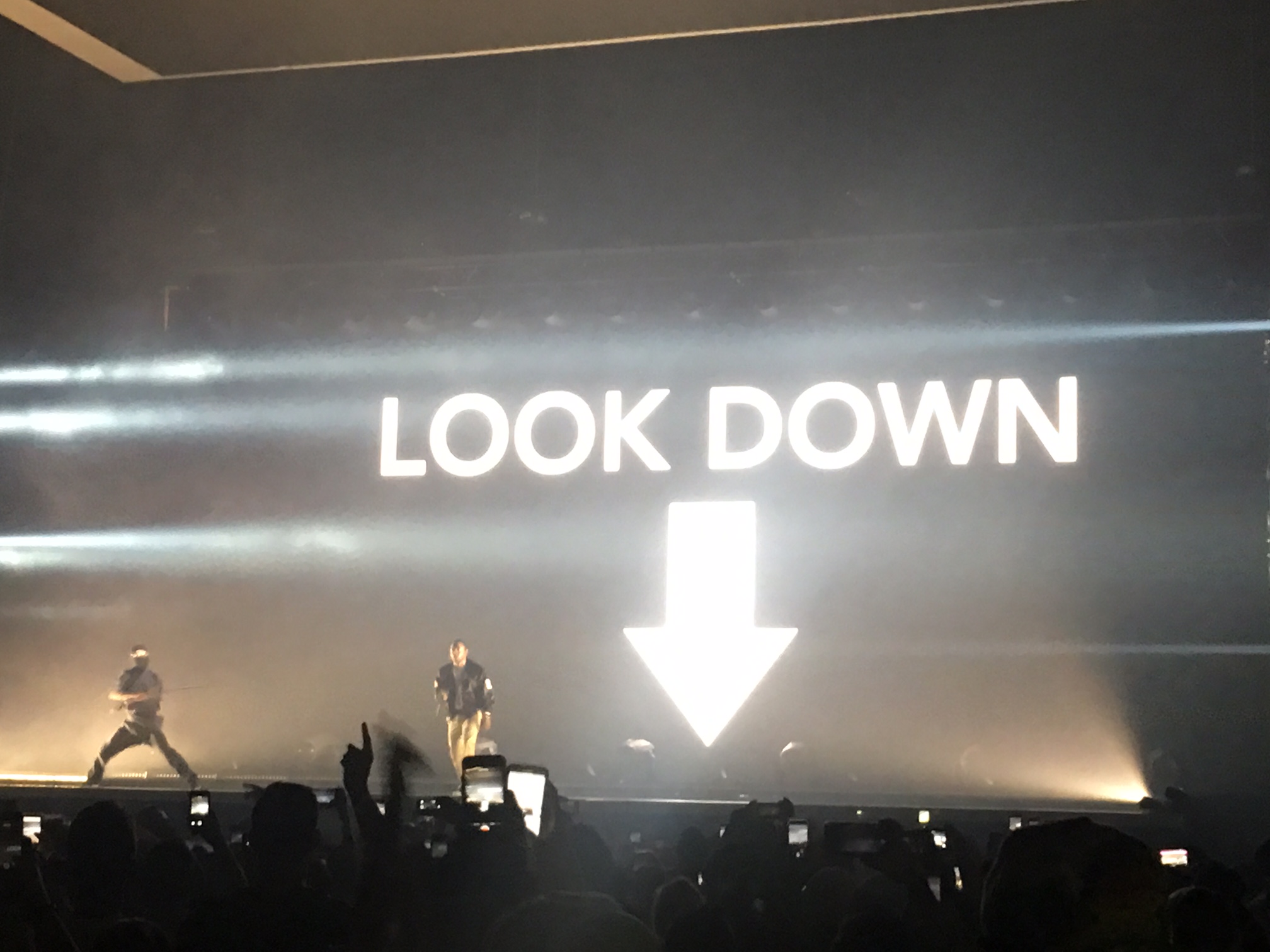 Lamar's set touched on all his albums (with the exception of Section 80). Not only did we get plenty of DAMN and Good Kid, M.A.A.D City cuts, he also played two of the best Untitled tracks and even did a couple of his fiery guest verses ("Masks Off" and "Collard Greens"). I was surprised that To Pimp A Butterfly didn't have much of a presence in his setlist. It was only represented by "Alright" and "King Kunta" – no "These Walls", "How Much A Dollar Cost", "i", "The Blacker The Berry", or "You Ain't Gotta Lie" (tied with "A.D.H.D." for the coveted "Song I Wished Kendrick Played, But Alas!" award).
That's how deep a catalog he's amassed in such a short span of time – you can think of entire alternate set lists that would've killed just as much as what he played that night. I think that was part of the excitement of seeing Kendrick live – how often in our lives do we get a chance to see such a genre-shaping talent while they're still on a MAJOR hot streak? Lamar is at the point where titans like Prince and Bowie were at: releasing a run of front-to-back amazing records, each release changing the game for both himself and the entire genre of rap.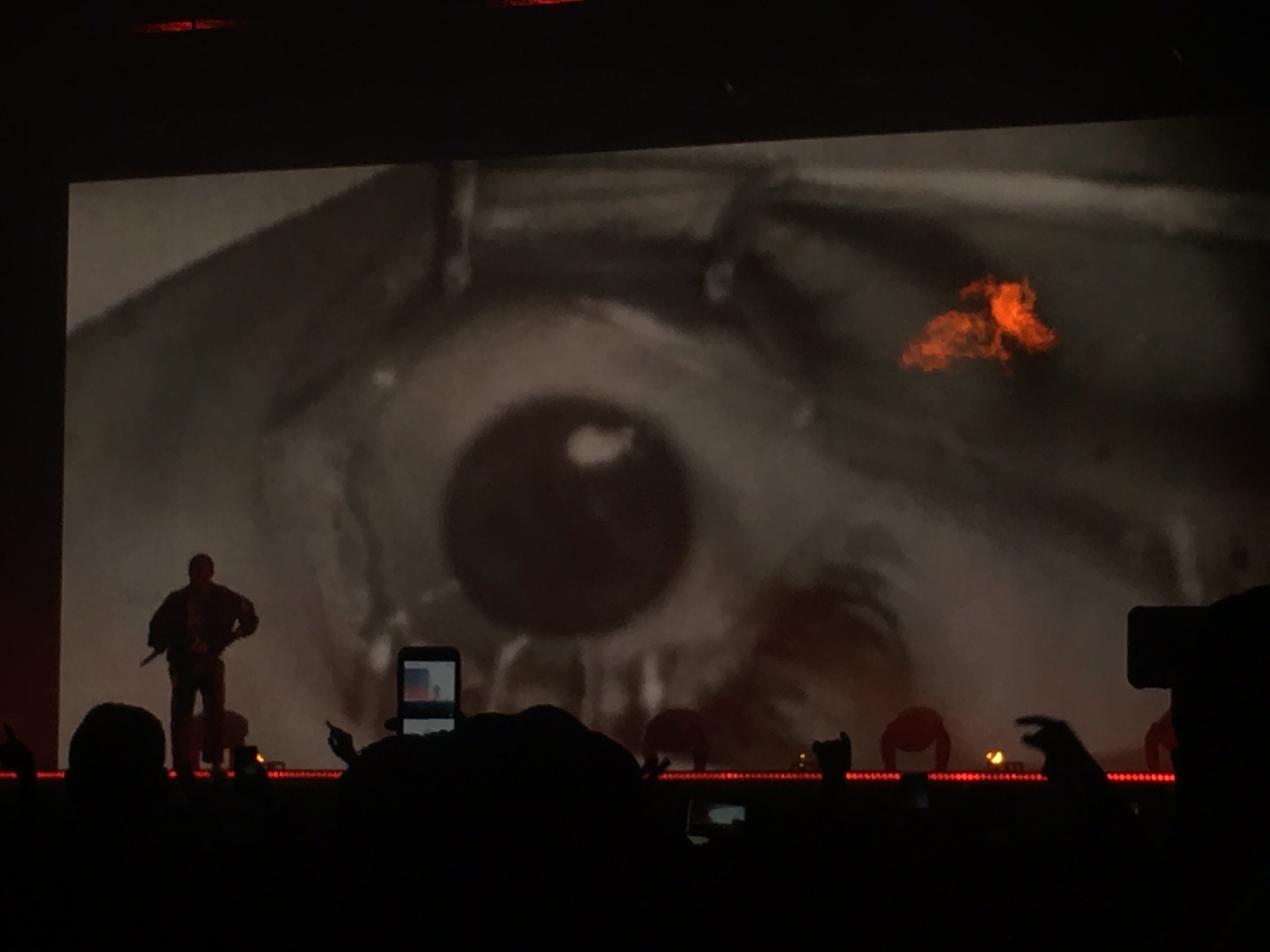 As King Kendrick tore through his set, he added more kung-fu dancers, bursts of fire onstage, and a platform that rose in the middle of floor to wow the crowd. The audience was super engaged with his set, singing along to favorites like "Backseat Freestyle." You haven't lived until you've heard a stadium full of people shouting about how they wish their dick was the size of the Eiffel Tower.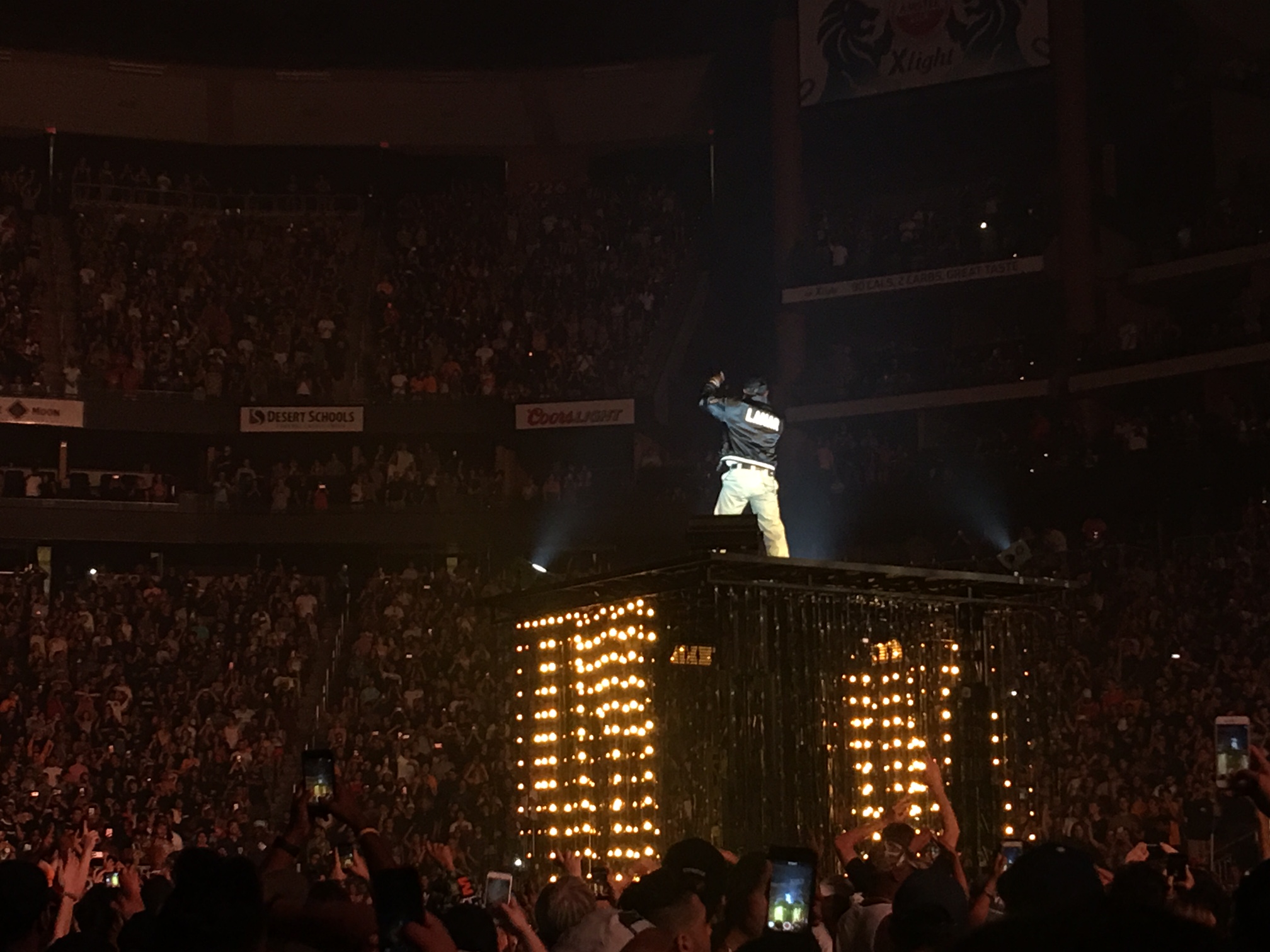 The most impressive bit of stagecraft in Lamar's set is when he did the first half of "Pride" while hanging on his side in the air, hand in hand with an acrobat. But the most emotionally resonant moment of the show is when the rapper broke down in the middle of set closer "Humble." The audience roared the song back to him, word for word, and it seemed to have a (pardon the pun) humbling effect on Compton's anointed one. He stood onstage for what seemed like five minutes, overwhelmed, trying and failing to talk on the mic. He would just burst into sudden laughter and try to compose himself. It seemed like there may have been tears in his eyes. It was like the knowledge of his status as A Big Deal, as a guy who can FILL STADIUMS, hadn't fully hit him until that moment and it completely floored him. At that moment, he showed us the man he rapped about in To Pimp A Butterfly and DAMN. – a man trying to come to grips with his fame. Earlier in the evening he had snarled "I can't fake humble", and he wasn't lying. Nobody's a good enough actor to fake being that stunned in front of an adoring audience.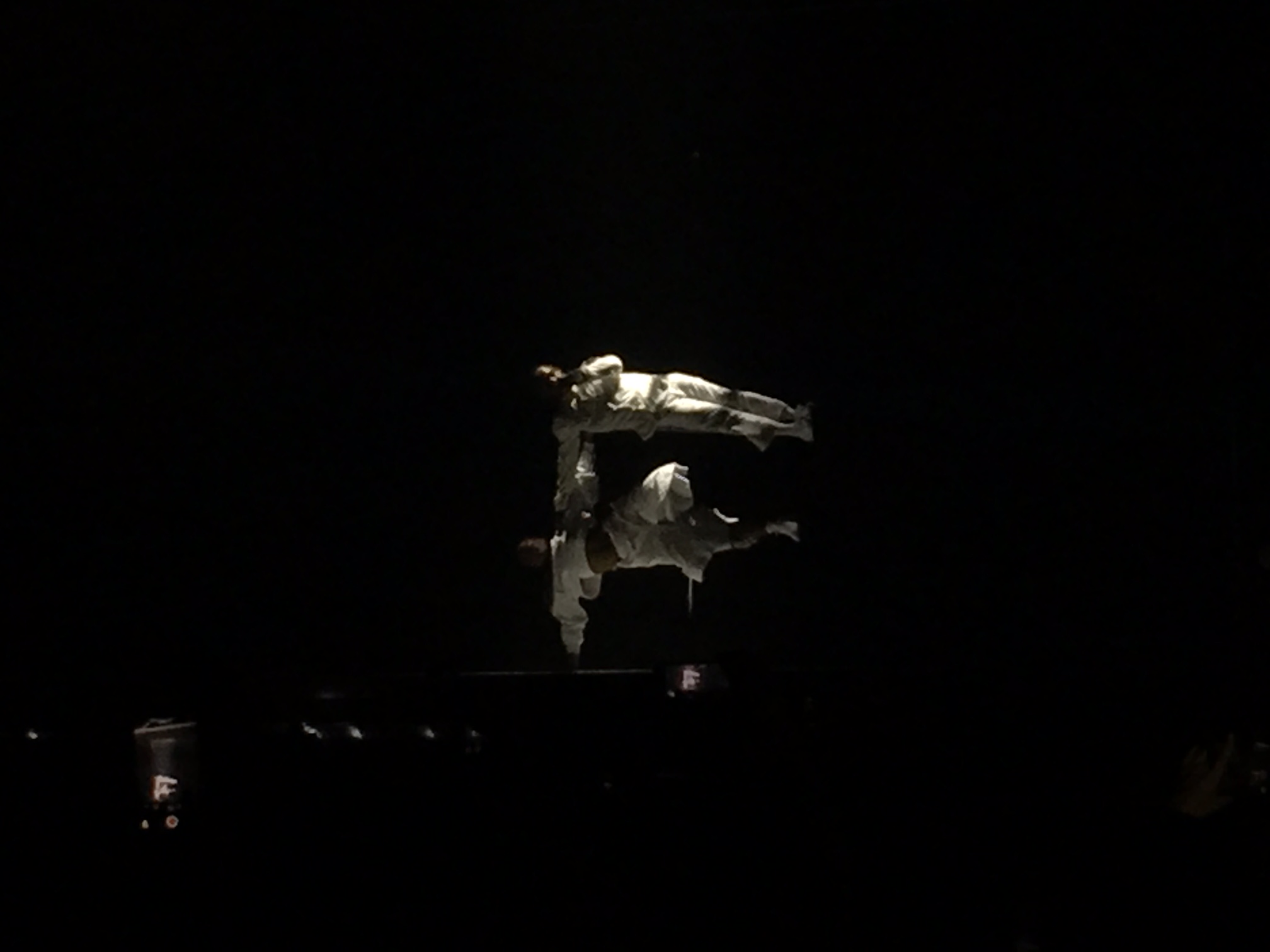 The thing that stuck with me after the show was just how much the experience of seeing Kendrick live was like listening to one of his albums. All of Kendrick's albums (even the B-sides collection) have connective tissues threading them together. Characters reappear, lines get repeated, themes get laid down like rail tracks so the songs can roll over them and circle back around to the beginning. They're as tightly constructed as the best rock concept albums, and this concert was no different.
Throughout the show lines from "Feel" (one of the two encore songs) kept getting projected onscreen and played through the speakers: "Nobody's praying for me." We got more clips from the kung-fu movie, which told its own mini-story that got resolved by the end of the set. Snippets from songs Lamar wouldn't perform also popped up between numbers: the aborted "YAH"; the Boris Gardiner "Every nigger is a star" sample from "Wesley's Theory" drifting through the room for a moment towards the end of the set. These little teases and reminders of Kendrick's other songs reminded me of the sketches and dialogues that he uses to glue his albums together (like the saga of Sherane or having a beyond-the-grave convo with Tupac).
But of all the gems he dropped onstage, the one thing that Lamar said on the mic that hit me the hardest wasn't a lyric at all. Dedicating "Love" to a young fan he met earlier in the day, Lamar asked the crowd to light up their phone lights. Hundreds of iPhone fireflies bobbed and weaved in the dark arena. Lamar pointed at them and said: "These ain't just lights – they're the stars we've been shooting for since Day motherfucking One."
Setlist
DNA
Element
King Kunta
Untitled 07
Untitled 02
Masks Off (Remix)
Collard Greens
Swimming Pools
Backseat Freestyle
Loyalty
Lust
Money Trees
XXX
M.A.A.D. City
Pride
Love
Bitch, Don't Kill My Vibe
Alright
Humble
ENCORE:
Feel
God
Ashley Naftule is a writer, performer, and lifelong resident of Phoenix, AZ. A Space 55 ensemble member, he's been published in Phoenix New Times, The Hard Times, Runt Of The Web, and Spiral Nature. He also does chalk art, collages, and massacres Billy Idol songs at karaoke. He won 3rd place at FilmBar's Air Sex Championship in 2013. You can see more of his work at ashleynaftule.com
For more Phoenix coverage that doesn't suck, follow PHX SUX on Suckbook and that tweety website for Twits.