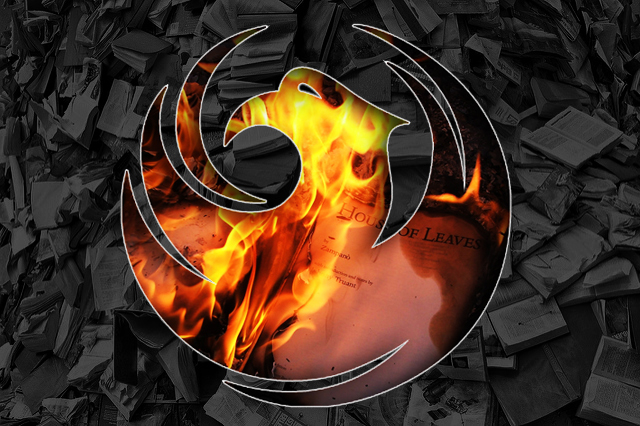 Graphic by Mene Tekel
When I asked local author and poet James Sallis, or Jim as he prefers, what he thought of the literary scene in Phoenix, he answered in his unassuming way, "As a hermit who rarely leaves the cave, I don't know that I can be much help here. Is there a literary community?"
Tucked away in a corner of the Coronado Café, interviewing Jake Friedman, founder and Editor in Chief of Four Chambers Press, I tried to reconcile Jim's initial response with my own, very different, observations. To me, the literary scene and community seemed to be booming. Jake and I wondered if we might be hyper aware because of social media feeds and jobs and friends. Is the literary scene really booming? Is there anything unique or distinctive about our lit scene versus, oh, I don't know, Dallas's or Denver's?
…
Jotting down a list of events, writers, poets, and projects I wanted to mention in this article, it rapidly sprawled from one page to another and then to a third. In the end, I think the list's sheer breadth is the best answer to the above question. So let me try to race through it.
GetLit is a community-based discussion group that meets in the secret room at Valley Bar at 7 PM on the first Thursday of every month. Moderated by Rosmarie Dombrowski, it begins with a brief intro and then lets the conversation develop organically, aided by flowing libations.
Caffeine Corridor is hosted by Shawnte Orion, Jack Evans, and the endlessly delightful Bill Compana, which for eight years has showcased local and visiting poets, and always with an open mic portion. The next one happens on Friday, April 14th at 7 PM with visiting poets Jessica Standifird & Sally K. Lehman.
Spillers is a quarterly live fiction reading and associated podcast hosted by Brian Dunn and Robert Hoekum Jr., which just occurred at Valley Bar. Be sure to check out their podcast.
The Phoenix Poetry Series is perhaps the longest continually running poetry event in the Valley. The next one takes place tomorrow night (March 24th) at 7 PM and will feature Flagstaff-based poets Andie Francis & Will Cordeiro.
A number of local bookstores host events near daily, Changing Hands, particularly it's uptown venue/bar location the Newton, the newest bookstore on the block, Palabras Libreria/Bookstore, and the Poisoned Pen Bookstore in Scottsdale [full disclosure: Poisoned Pen employs me, so maybe I'm a little too close to this story, but I wanted to tell it anyway and so I am].
Of course, in Tempe is ASU with its host of events put on by student groups, the English Department, and their world-class MFA program. Also at ASU is the Virginia B. Piper Writing Center, a unique institution that focuses on practical education for writers and hosts the invaluable Desert Nights Rising Stars Conference each Spring.
A number of writers groups meet regularly around the Valley, most notably the Phoenix Writers Workshop.
Limited Engagement, featuring discussions with and the work of local authors, is hosted by Jeff Duran on the third Thursday of every month at the HUB Patio in the HUB Modern Cooperative on 7th Avenue. There are all of the poetry events I didn't mention by name, the semi-regular slams and other readings. There was Zinefest, a veritable carnival of local literary offerings. De'lunula has hosted a few events featuring local writers and poets reading and reflecting on dead ones, and in particular the event built around HP Lovecraft was one to remember. Every second Wednesday at Grand Central Coffee there is a Silent Reading party. There was even an adult spelling bee. And I'm sure there are tons of other events I'm missing. In short, there's a lot going on.
One subject that emerged time and time again through my interviews was Four Chambers Press and Jake Friedman. Without fail, people mentioned Four Chambers and Jake by name, his ceaseless work in networking, publicizing, organizing, and really just being everywhere. If you've read Watchmen, then think of Jake as the Phoenix lit scene's equivalent of Dr. Manhattan.
…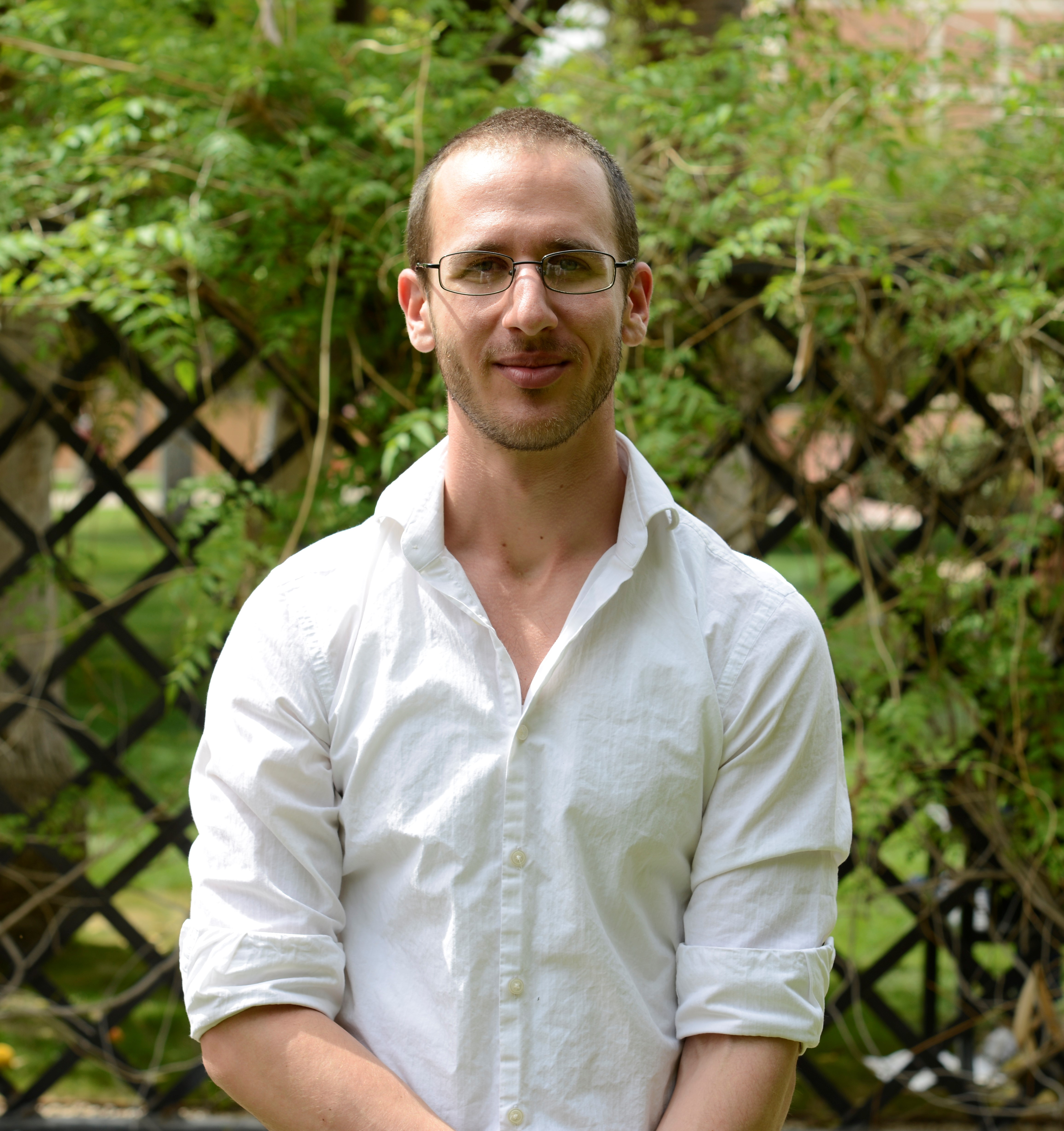 Jake came to Phoenix from some more less innocuous town on the East Coast. I don't feel it's necessary to name it, but suffice to say it is somewhere between DC and New York but isn't Philly or Baltimore. He moved around there and eventually went to a smaller liberal arts college in the same state. He did well academically and was involved in a number of extracurricular activities of an intellectual bent.
And then he decided to move to Phoenix.
Jake said, "everyone tells their Phoenix story," by which he meant people often explain the circumstances that led them to move to Phoenix or the Metro-area. I suppose this is true of most places where people move to, but it's a telling detail about Jake's worldview, a worldview where life is made up from a series of stories, and thus you can see why the story business is so near and dear to him.
Why did he move to Phoenix? Writing for a blog called PHX SUX, I was curious. Here I had spent my life trying to crawl out of this sub-Saharan suburban labyrinth and then a guy like Jake chooses to move here of his own accord. It was a puzzle. So, I asked him. The reason was no more than that the couple he lived with decided to move here for graduate school. He ended up tagging along.
It was pretty random, but then, if we examine our own lives, we may find that we made some of the most significant decisions for ourselves pretty much on a lark, too. It seems almost to be a right of passage, the urge to go someplace, anyplace, new.
Jake did have some reservations. This is another common theme with the writers and publishers I spoke with. He had heard of Arizona's racist bills like SB1070 and was aware of the general Conservative ooze pervading the state. This was somewhat tempered by his affinity for the local legends AJJ. He got here in August, which must have been bracing, though he didn't complain. He got a service industry job. They found a place in East Phoenix. He spent a lot of time cloistered in some asbestos-laced corner of Hayden Library. He would give his roommate a ride to class and then post up. I found this last part particularly funny as I myself did this same thing when I moved back. It makes me wonder what other undiscovered talent was lurking in those stacks with us.
It was somewhere in the next few months that Jake began attending one of the Phoenix writing groups organized through Meetup.com. I'll pause here to mention that the Central Phoenix Writing Workshop has come up in a number of times. Like Four Chambers, this seemed to be a major entry points for people. Jake and a number of others labored this point. When Jake joined, the group was 600 hundred strong, but now there are over 2800 members and at least 5 different regular meet ups.
The Central Phoenix Writing Workshop and Four Chambers own writing group on the last Sunday of every month at Songbird at 4:30pm, are wonderful ways to meet other writers and share stories and feedback. If you've ever thought about going but never took the plunge, you really should. There's seperate meet ups in many of the satellite suburbs in addition to writing groups organized by a number of other entities. Though I feel a little like the cartoon drug dealer from some old D.A.R.E. video when I say it, you should really try it at least once.
Jake started attending the CPWW and got involved in organizing and moderating. At that time, the group produced a zine called the Paloverde Papers. When the initial organizer moved on, a group of people from the workshop, including Jake, formed an LLC to "try and take it to the next level," as Jake put it. Jake was the marketing and public relations person. At 22, he was at least a decade younger than any of the other people involved. It never really got off the ground and like so many other incipient magazines, it died before it ever got a URL.
Somewhat disheartened, Jake went to Beth Staples, then editor of ASU's literary journal the Hayden's Ferry Review. He read submissions for them for the next year. His job situation changed, but he continued moderating the writing group. Somewhere in early 2013, Jake began attending some local poetry events, Caffeine Corridor, the Phoenix Poetry Series, and Haiku Deathmatch. He particularly heaped praise upon Caffeine Corridor, which he described as "arguably the premier open mic" in the city. Though painfully awkward at first, he powered through the contradictory pulls of being an introverted artist in a social primate world.
Things soured somewhat with the writing group. By June of 2013, Jake pulled back. Tapping people he'd met in the course of his various literary activities, we at last reach the beginning of Four Chambers. In June, they sent out their first call for submissions. He met Rosemarie Dombrowski, now Phoenix's poet laureate, at the Phoenix Poetry Series and she came on as an editor. (Shameless plug here, Rosemarie will be reading from her book "The Philosophy of Unclean Things" on Saturday, April 1st at 6:00 PM at the Clarendon Hotel.)
Others helped in various capacities. Brandi Reinke was the third person and handled much of the business side. Jake made some bad fliers in Word and put them out. He found Isaac Caruso, who designed the Four Chambers logo. He sent out emails and Facebook messages too. In total, they received roughly 900 submissions, with 600 or so of them arriving, of course, in the last two weeks. Performing a literary equivalent of one of Hercules's labors, Jake sat down and "drank coffee and lemoncello for three days and read submissions. Other people were reading too, but I was the primary person. We got it done and put a book together and that's sort of it. That's how it started."
When asked to take stock of the Lit scene now and into the future, he said the following: "In the words of James B. Hunt, 'people will continue to do what they're going to go regardless of what's going on around them.' The scene has always been here and the scene will always be here. People will always be doing things. The goal of Four Chambers, unabashedly, is to make that marketable and to get people to buy it. We are very capitalistic. We believe our authors and artists should be paid for their work. We believe that it is a valuable contribution and that people should be purchasing more of it."
What ever your personal feelings about capitalism may or may not be, I implore you to heed Jake's message and go out and buy a copy of Four Chambers. I would particularly recommend the special issue released in conjunction with Eye Lounge, featuring writings inspired by local artist's work.
Remember, God may not be always watching you, but the Government is.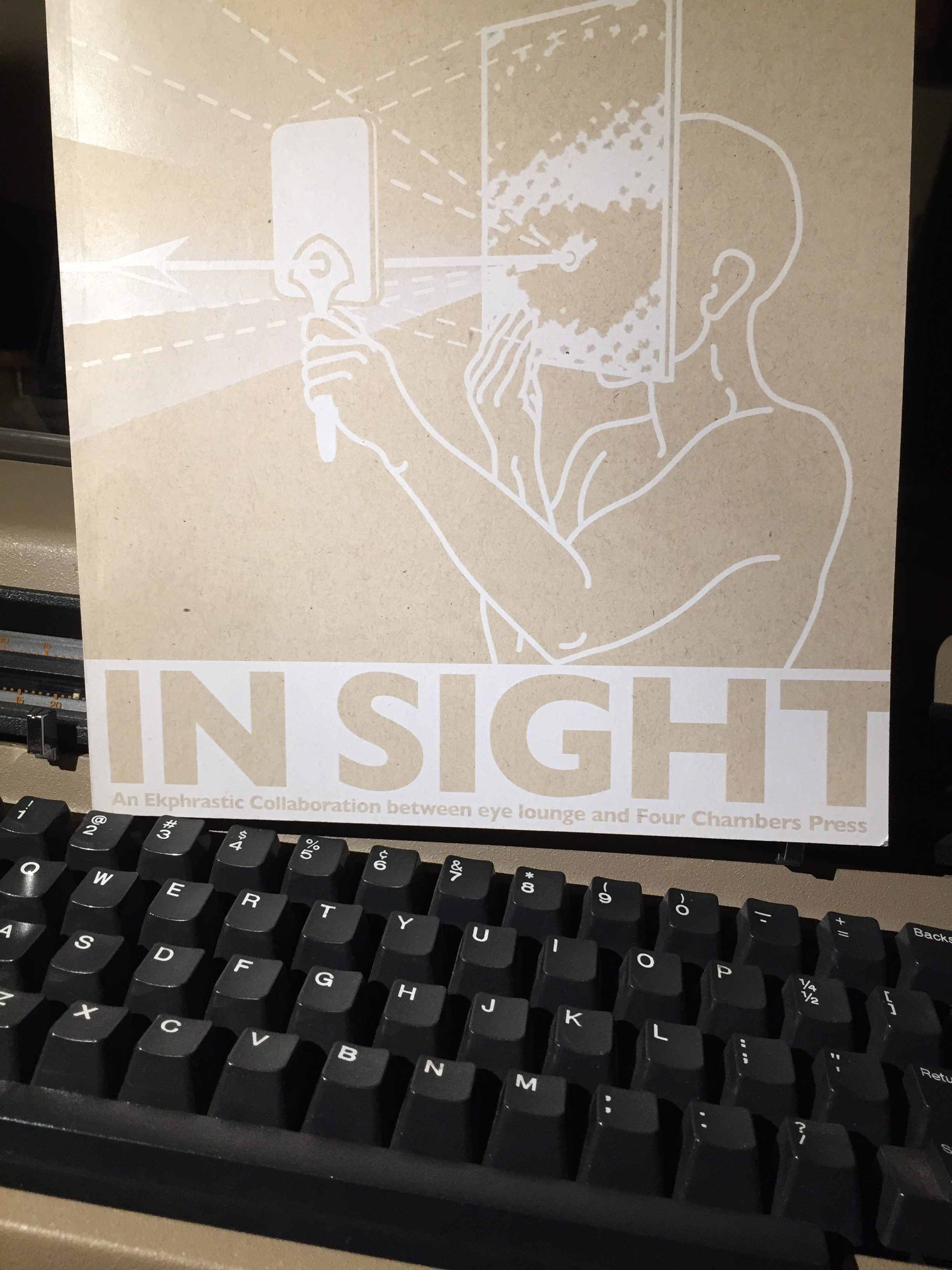 …
Spillers is a quarterly live fiction reading event and podcast. It is another example of the growth and interconnectedness of the Phoenix scene. While there are a number of excellent nonfiction reading events, Barflies and the Arizona Storytellers project come to mind, fiction readings are less common outside of universities and bookstores. Spillers recently relocated from the Crescent Ballroom to Valley Bar. It draws substantial crowds, eager to drink and listen to a night of fiction. Its sophisticated stories and quality sound editing make it easy to imagine it following a program like This American Life or the Moth Radio Hour.
Brian Dunn's and Robert Hoekman Jr.'s jocular interplay is part of the event's charm. They clearly get a thrill out of making writers feel like rock stars, if only for a night. And like all good things, Spillers started on, more or less, a lark.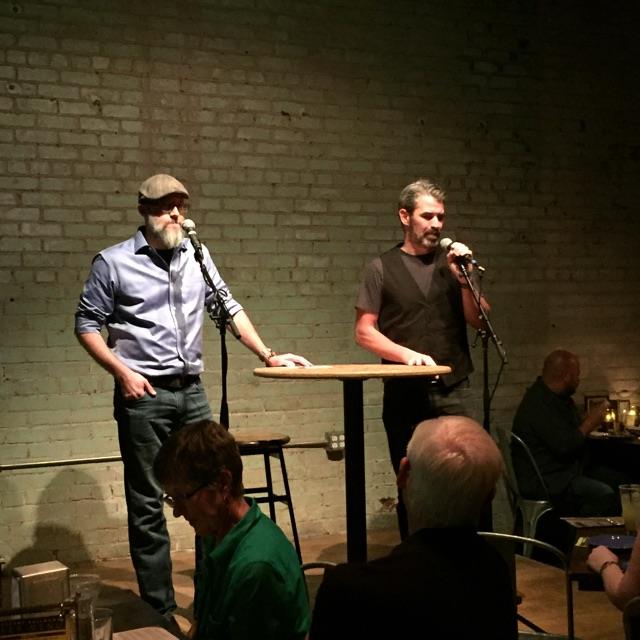 Photo from Spillers FB
Brian and Robert met at work ten or so years back. A few years later, they put together a story telling event for Brian's birthday. It was a one-off thing and a good thirty people showed. Brian described it as, "barely curated. Sliced was the name, like slice of life." At this, Robert laughed and confessed to having not recalled it even having had a name.
Flash forward to Brian and Robert meeting for lunch in June of 2015. Brian proposed another one-off storytelling event. Robert somehow translated that into that they should start a fiction reading series. They weren't exactly sure how Jake heard about it, but he reached out and suggested a few potential readers and set up a booth for Four Chambers at the event. They stressed how invaluable Jake and Four Chambers assistance had been.
That first night, they packed the lounge. It was mostly a blur. Not only were they both performing, they were meeting most of the people, their performing readers included, for the first time. At the events end, breathing a deep sigh of relief, surveying the incredible crowd and energy, they decided they needed to do this again. And thus, Spillers was born. Overtime, they refined their methods, started recording and producing the podcast. The podcast now has 4000 plus downloads and as many as 150 people have come to a single Spillers event.
…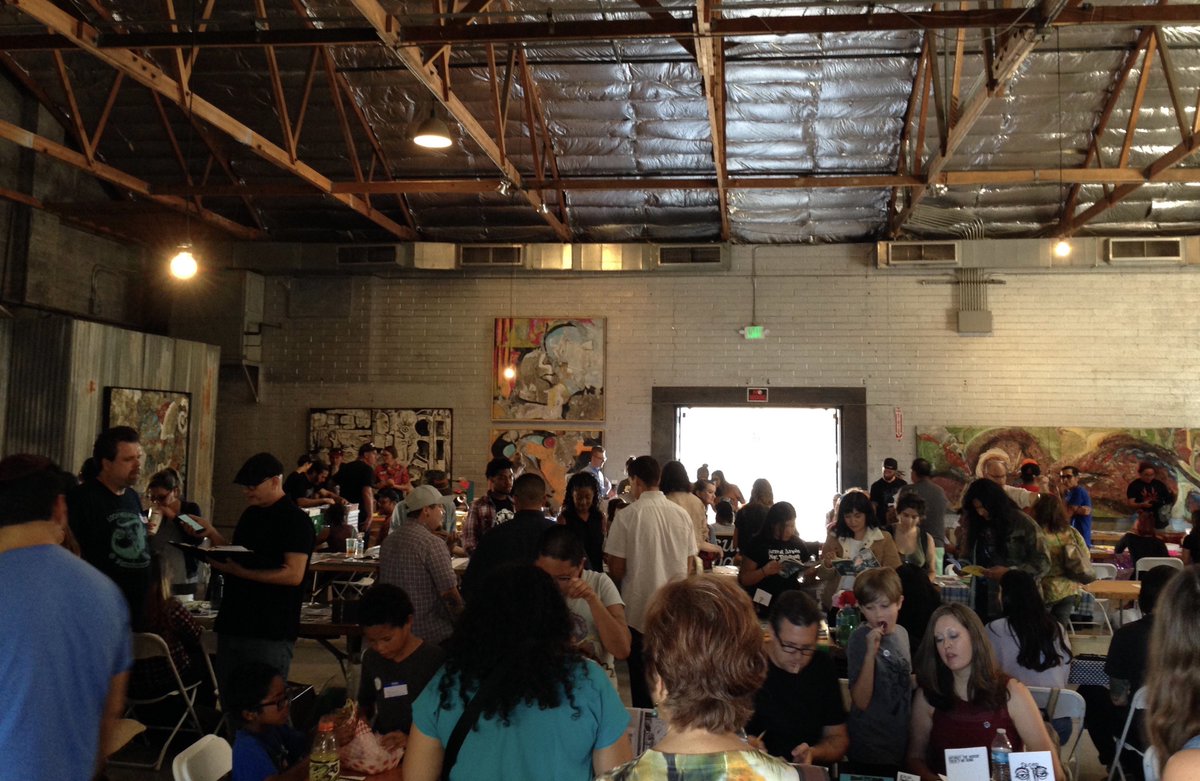 Photo by @PHXZineFest
At the first annual Phoenix Zinefest last year, I marveled at the vastness of the Phoenix literary community as it sprawled before me. It was there I got a chance to speak with a number of local writers and creators.
Russ Kazmierczak produces Amazing Arizona Comics, which ponders the absurdities of Arizona life in a decidedly comedic fashion.
Rosemarie Dombrowski, Phoenix's poet-laureate, was there with her plethora of incredible students who together run Rinky Dink Press. They produce series of very small chapbooks that pack an artistic punch well and above their weight class.
Cardboard House Press had a booth. They produce poignant poetry collections, beautifully bound, often highlighting voices otherwise given too short shrift.
It was also at the Zinefest that I had a chance to meet and talk with Bernard Schober, AKA The Klute. He had been involved with slam poetry even before moving to Arizona from Florida in 2000. He became involved in Mesa's then-thriving slam poetry scene. He said that scene had a "unique sound due to its physical isolation, you might say in-bred quality, in its voice, which led to interesting stylistic choices and chances. It was a controversial scene." He noted that more well-travelled scenes tend to imitate each other simply because there is more physical interaction and cross pollination. He went on:
"It is a cliché that the Phoenix is a bird which burns itself down to birth something new. From the perspective of the poetry community, I've seen it happen at least three times. The Mesa scene, the strongest voice in Arizona poetry, ran out of gas. Then the Phoenix scene literally sprung from the ashes of Mesa. Where Mesa was very funny, very comedy oriented, and we weren't very much socially conscious in the sense of how we wrote. We were socially conscious people, but we wrote for the laugh, for entertainment, for getting butts in seats. And the next phase, and I want to preface that by saying there was a Phoenix poetry scene before Mesa, but I wasn't part of that and can't speak to it. The New Phoenix scene, let's call it, emerged from the remnants of the Mesa scene, but we started incorporating more social messages, which has kind of been the pattern of the national scene too. And then that scene kind of fell apart due to some interpersonal conflicts between organizers. And then a new scene emerged out of that. And that's kind of where we're at right now, where the voice of this community is still being discovered."
…
I'd hoped to devote time to each literary event in the valley in this article, but it became evident that the Valley's lit scene was too large and dynamic to be encapsulated in a single article. I'm sure I'm missing some people, so for anyone not mentioned by name, thanks to you all for helping foster a cultural oasis in this dystopian metropolitan desert
After thinking long and talking to the overwhelming to so many artists and writers who call Phoenix home at this moment in time, I realized the very structure of my question was absurd. The life of a creative community, like a city more generally, flows from the people who make it up. It is the aggregate of their hopes and fears, their fever dreams and reverent flights of fancy, the strange combination of words that linger in the quiet parts of their hearts, a group of strangers brought together on a week night to celebrate their collective unwillingness to be blinked into silence.
I'll leave with a quote from poet Melissa Dunmore, one that stood out in Jake's mind and seems as apt as any.
"Phoenix, where the wave of manifest destiny hit the shore and rolled back."
Jeff Kron is gainfully employed by the Poisoned Pen. He has stories featured in The Sharpened Quill, a recent collection of short stories by Phoenix-based authors. To order, click here. Feel free to send all hate mail and love letters to him at jeffkronenf[email protected] and he'll definitely write you back. Or not.
---
For more Phoenix coverage that doesn't suck, follow PHX SUX on Suckbook and that tweety website for Twits.
Read more from PHX SUX: