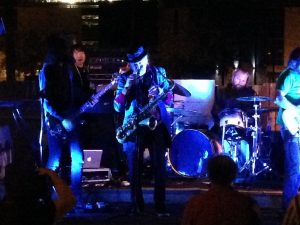 I would have never guessed that legendary space-rocker Nik Turner would bring his silver spaceship in for a pit stop at Lawn Gnome Publishing. I had it marked on my calendar two months out; I would rather burn my collection of Elric of Melniboné paperbacks than pass up the opportunity to meet another one of my heroes. I threw my "Night of the Hawks" live DVD (which I snagged from Revolver Records downtown a while back) into my bag, and set off for my own night of live Hawkwind.
I started collecting Hawkwind records somewhere in the middle of my ongoing obsession with Blue Oyster Cult. The mother of these obsessions being, of course, the novels of Michael Moorcock and his pulp-fantasy ilk. Call it kitsch, corny, and contrived all you want, I am still absolutely in love with the genre. I am awed by these fables spun anew, of eternal legends and champions transcending space and time. From the likes of Tolkein and Asimov, to Heavy Metal magazine, to the animated films they spawned, to the contemporary rockers and weirdos who carry on the banner of creative eccentricity, there flows onward the narrative of a new, living mythology.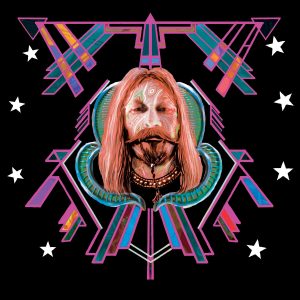 Cover of Space Fusion Odyssey by Nik Turner's Hawkwind
My partner and I settled into the wooden bleachers at the back of the crowd. It wasn't much of a 'crowd', really; the back yard of Lawn Gnome Publishing held a modest, intimate gathering of friends and stalwart fans. First to the stage were Stinkeye, a local group brimming with energy and fresh talent. The surreal vocals echoed into the far reaches of the cosmos, and the wild guitar riffs carried us even farther beyond. They are truly the children of progressive space-rock; the hand-chosen heralds of Hawkwind.
The stage sufficiently initiated by Stinkeye's aural ritual, Hedersleben proceeded to dominate the stage in a blaze of cyan light. A woman led the band on violin, her movements sweeping, sliding, and leaping through a landscape of dramatic compositions. The highlight of their set was a continuous triad of tracks from their concept album, The Fall of Chronopolis, which I have since added to my Bandcamp wish-list. One's collection can only benefit from a surplus of musical storytelling.
All the while, Nik Turner had cleverly blended himself in with the onlookers. He sat in the second row to the right of the stage, between two British-accented fellows and a young man in a red holiday sweater. I had earlier noted his reedy silhouette, topped with a pork-pie hat, when we had both stood inside of Lawn Gnome waiting for the bathroom. The experience of seeing a renowned individual in an ordinary public space is my favorite surreality. Realizing that the smallness of their being is equal to the smallness of your own is as humbling as it is illuminating. The dual existence of a legend's storied past and mundane personhood is wonderful to behold, and I adore him all the more for it.
In a crimson-trimmed gray blazer fit for a high-ranking space admiral, Nik Turner took to the stage with his band. Armed with a flute and saxophone, he screeched and noodled, narrated and gesticulated through favorites such as "Sonic Attack" and "Orgone Accumulator." At the mic stand, he maintained a sage-like presence, with mysterious and nuanced hand gestures trailing after each lyric.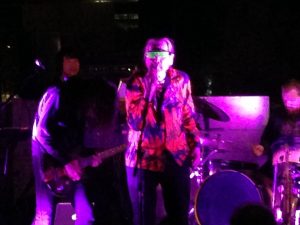 Halfway through the set, Nik donned neon yellow shutter-shades and threw off his jacket to reveal a zig-zagged dress-shirt that appeared to glow and flash under the rapidly blinking stage lights. In complete defiance of his age, he once again embodied the wild Sun Jester of his youth. The final piece for the night, in respect of their "strict curfew of ten o' clock" as Nik put it, was "Silver Machine." He indulged one of his more exuberant fans, extending the microphone out to him, to sing the chorus.
Concluding the set, Nik descended from the stage among a gathering of the same friends and fans. He signed my DVD, asked my name, and smooched me on the cheek. A young admirer couldn't ask for anything more. The show was one of a kind, and I hope that Lawn Gnome Publishing continues to feature talented lineups like Stinkeye, Hedersleben, and Nik Turner's Hawkwind in the future. It proved that Phoenix talent is on par with internationally known voices, and that our locus is an important part of a global creative mythos.
---
About the author: Hannah Irene Walsh was born and lives in Phoenix. She is a poet, storyteller, and multimedia artist. Her work is biomythographical, inspired by a combination of her studies, imagination, and experiences living in Arizona. She received her BFA from Northern Arizona University in 2012, and is currently working on her MFA at Arizona State University.
---
For more Phoenix coverage that doesn't suck, follow PHX SUX on Suckbook and that tweety website for Twits.
Read more from PHX SUX: