When it comes to telling short and sweet stories, nothing beats animation. Most live action short films feel like a slice of life, like you're experiencing the immensity of an entire fictional universe by gazing at it through a keyhole for 5-13 minutes. Even the best live action shorts rarely feel complete, which isn't a bad thing; that feeling of not being able to see more is beguiling, intriguing.
Animated shorts, on the other hand, are a different beast entirely. A short piece of animation can contain an entire universe of fully realized possibilities. The best Looney Tunes, Pixar shorts, Fleischer brothers shorts, or even episodes of "Adventure Time" can convey more information and breathlessly spin more yarns in less than fifteen minutes than most films can accomplish in two hour running times.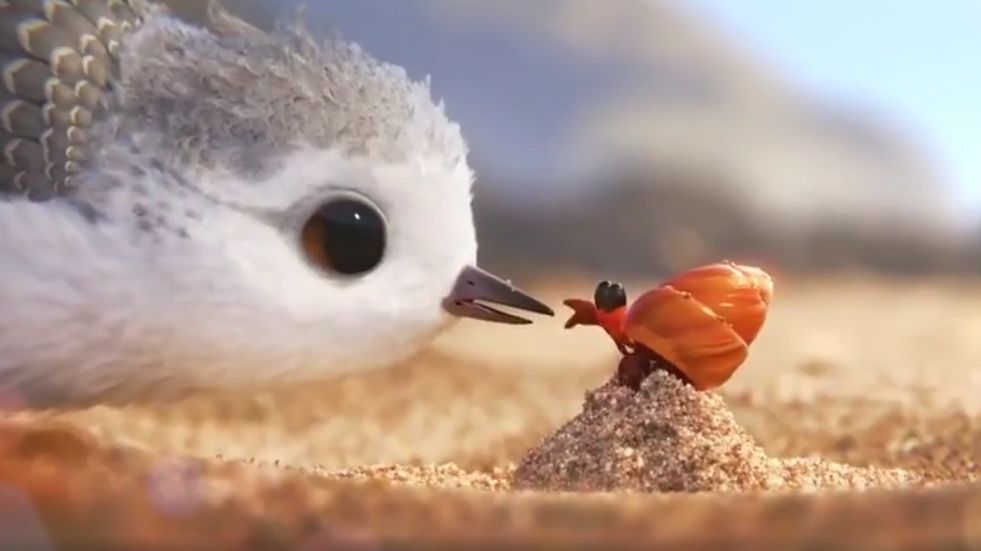 Piper
You can see this kind of incredibly intricate world-building happening in the short films that are a part of this year's Animation Show of Shows. Founded and curated by Ron Diamond, this series has been going strong for 18 years, presenting a collection of some of the freshest and most innovative student films from leading animation schools in the U.S., Belgium, Canada, Korea, Latvia, Russia, and Norway.
The films on display run the gamut from stop-motion animation to CGI and beyond. There isn't a single bad film in the bunch, nor do any of them feel derivative of existing work. And some of them are simply breathtaking: Pixar's "Piper" short is a masterclass in fine details. The foam of the waves surging across the beach, the tiny shadows cast on a baby bird's stomach by its feathers, the clumps of wet sand a crab digs out of its shell: in the words of U2, they look even better than the real thing.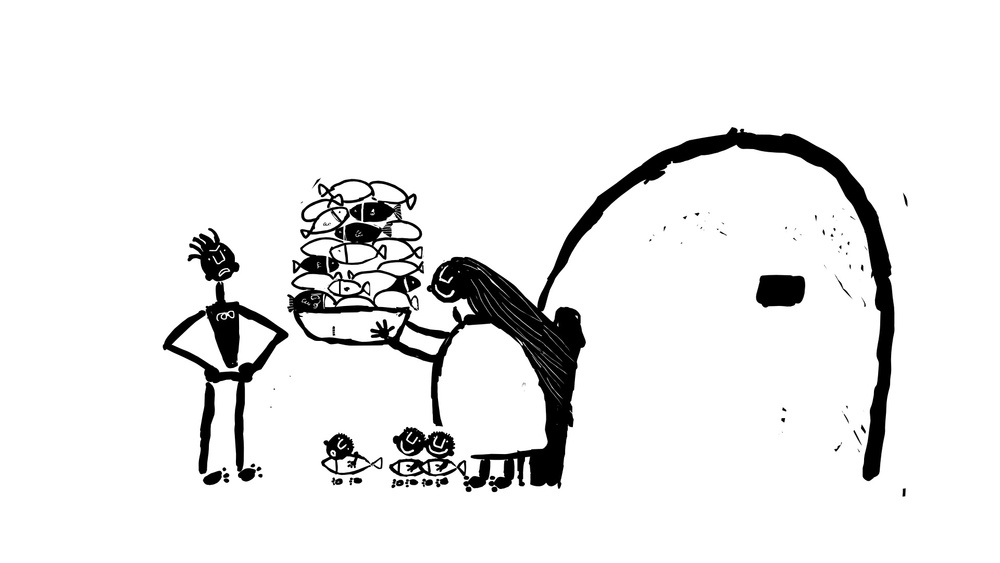 Pro Mamu (About A Mother)
Another standout is Dina Velikovskaya's "Pro Mamu (About A Mother)", which looks like a fascinating hybrid of tribal art and Shel Silverstein drawings. The plot even has shades of "The Giving Tree" to it, as a loving mother cuts off chunks of her looooong hair (long enough to cover an entire village during a rainstorm) to help her three sons.
Bekky O'Neil's "Last Summer In The Garden" uses markers and crayons to create a dizzying, hallucinatory blur of images. Dead cats dissolve into skeletons, roses bloom and rot in the blink of an eye, fishes swim in burgundy water, and black lines turn into clouds of liquid darkness that look like squid ink blots floating in water.
Most of the shorts don't use any dialogue, which gives these shorts a universal appeal. No need to worry about language barriers: they let the pictures do the talking. But some pieces, like O'Neil's "Last Summer", effectively use narration to propel their narratives along. And in the short "Pearl", a father and daughter's relationship is effectively rendered in two original songs, sung by the characters as they spend their lives driving around in the same family car.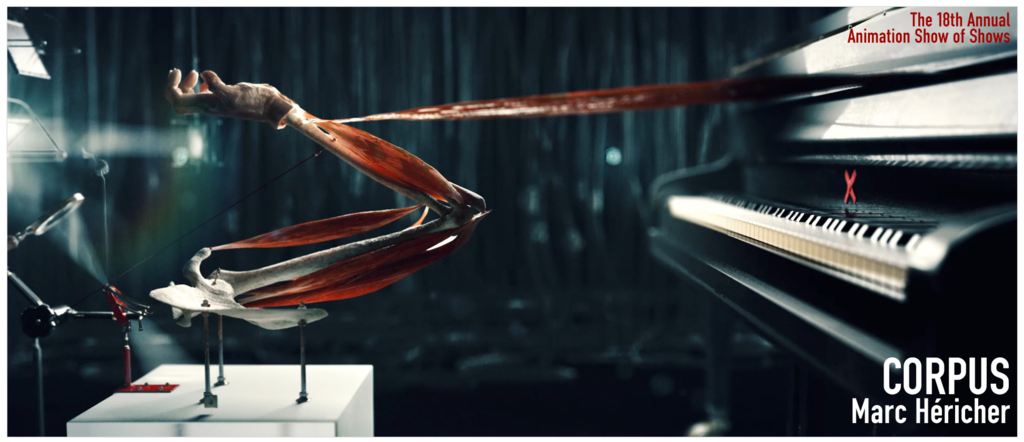 Corpus
The content for these shorts is fairly family friendly. A nude woman appears in the computer animated "Split", but there's nothing lascivious about her- she's just a carefree woodland spirit. Marc Hericher's amazing "Corpus" reimagines the human body as one giant Rube Goldberg machine, showing off isolated body parts working together to play a piano. And even the tone poem "Blue" is able to take a gruesome scene where a surgeon plunges their arm into a pile of guts and makes it look beautiful; the short's limited palette of blues, whites, and blacks helps take the sting out of the operating room (it's hard to be grossed out by intestines when they look like a pile of black licorice). The only piece that really sticks out as a "hide your kids" short is "Manoman", which uses puppets to show a man getting his naked, hairy, ravenous Id unleashed at a primal scream therapy session.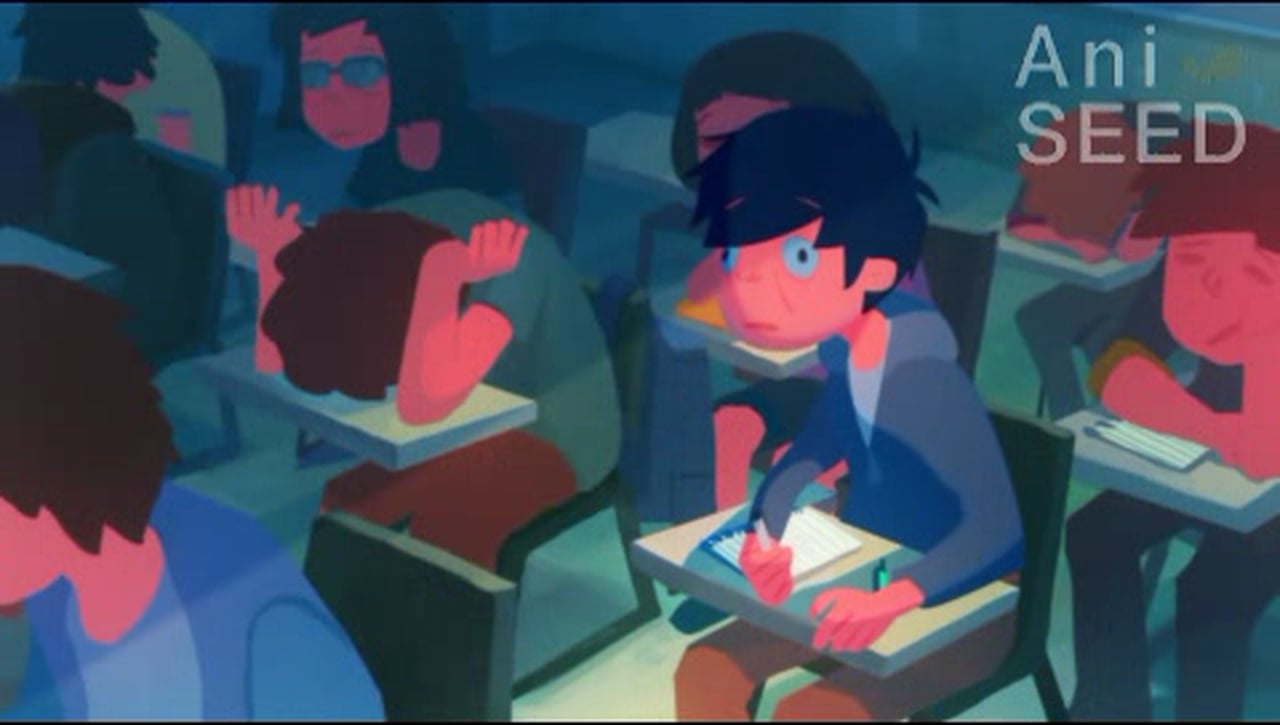 Afternoon Class
My personal favorite was the Korean short "Afternoon Class". It's the PERFECT depiction of what it feels like to wrestle with boredom and lethargy. A boy in a classroom (whose character design reminds me of Jamie Hewlett's work), struggles to stay conscious during a dull lecture. His lolling head transforms into a bowling ball, a chunk of rock, a hammer, an oak barrel splashing wine, and dozens of other heavyweights. In less than five minutes, it's able to hilariously depict an experience that anyone who's watched the clock tick with heavy eyelids has had to deal with.
For anyone who loves cartoons, short films, and experimental art, the 18th Annual Animation Show of Shows is an experience that you don't want to miss. It's not every day that you can completely lose yourself in 16 different universes without getting out of your seat.
You can see The 18th Annual Animation Show Of Shows this Saturday night, February 25th, at the Third Street Theater in the Phoenix Center for the Arts (1202 N. 3rd Street). The screening is brought to you by No Festival Required and Zia Record Exchange.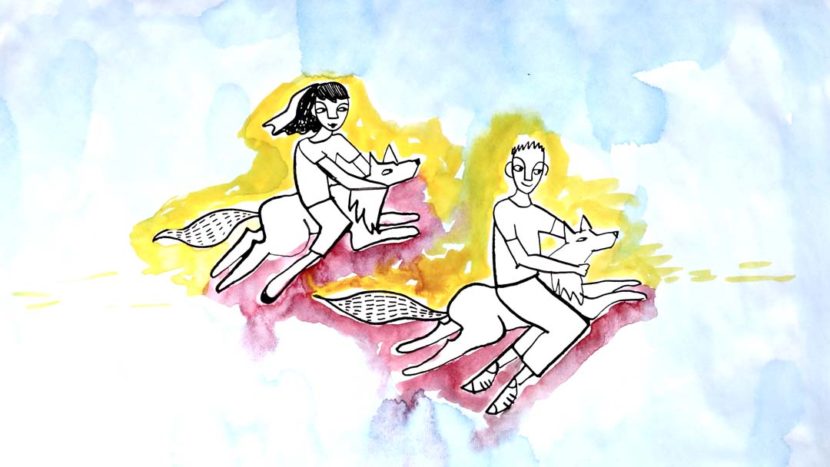 Last Summer In The Garden
Ashley Naftule is a writer, performer, and lifelong resident of Phoenix, AZ. He regularly performs at Space 55, The Firehouse Gallery, Lawn Gnome Books, and The Trunk Space He also does chalk art, collages, and massacres Billy Idol songs at karaoke. He won 3rd place at FilmBar's Air Sex Championship in 2013. You can see more of his work at ashleynaftule.com
For more Phoenix coverage that doesn't suck, follow PHX SUX on Suckbook and that tweety website for Twits.
Read more from PHX SUX: