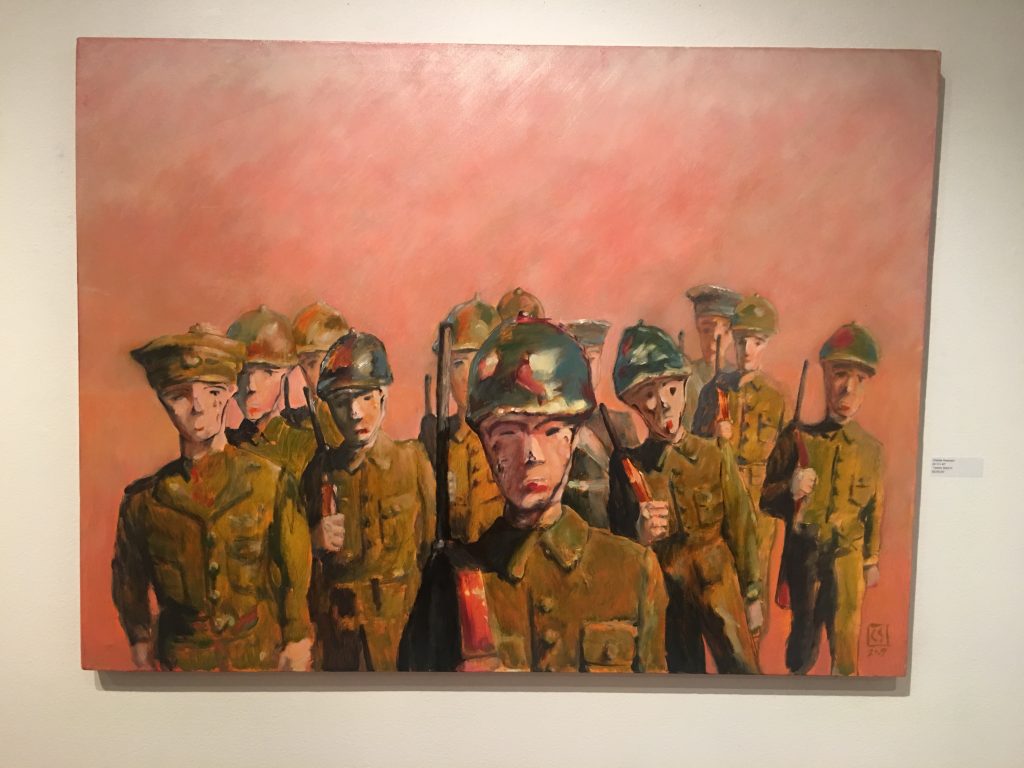 Photos by author.
Last Friday was the most somber Third Friday I've ever seen. A part of it probably had to do with the Seattle-like climate: the air around Roosevelt was frosty and cold, the sky blanketed with tufts of dark gray clouds, and rain poured down in a steady stream. It gets cold in January in Phoenix, but not like this.
There was, of course, a darker, more spiritual cold in the air too. It was Inauguration Day and you could see anxiety, fear, and weariness stamped on the faces of everyone out on the town that night. Whoever was happy about American History's sharp right turn down a nightmare alley of alternative facts wasn't a part of this Third Friday's foot traffic. If they were, then they had the good sense to keep it to themselves.
I strolled through the gloom to visit Modified Arts and see their newest collaboration with the folks at Perihelion Arts: "Tooth & Nail." "Tooth & Nail" showcases the figurative works of David Dauncey and Charles Swenson, two artists with long histories. Dauncey is a member of the 3carpileup collective (along with Chaos Theory alums Randy Slack & James Angel). He's been deeply embedded in the Valley's arts scene for over the last 20 years. The other artist on display, Charles Swenson, is based in L.A. In addition to being an accomplished painter, he's had a long career working in animation (including stints on Strawberry Shortcake, Puff the Magic Dragon, Rugrats, and Ahh! Real Monsters).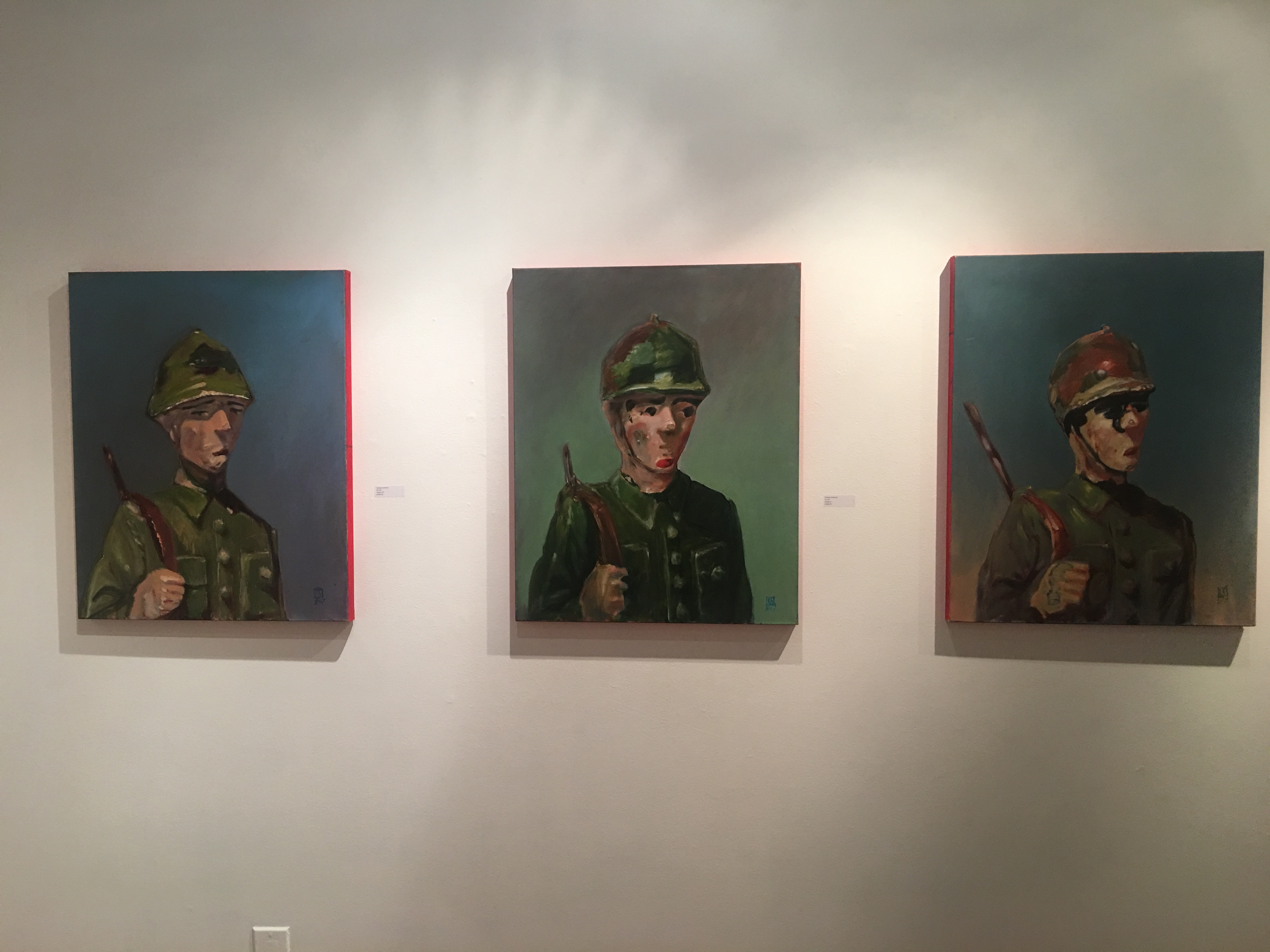 Walking into Modified, the first thing you see is rows of Swenson's soldier paintings. His "side" of the exhibition is composed entirely of these paintings. What makes them so striking (and I don't know if this is an intentional effect) is how they seem to bleed into each other, become each other. Swenson paints the soldier's faces in a blurry, abstracted fashion that makes them look like melting wax figures. Pasty pale-skinned men with eyes as black as obsidian chips, holding onto their rifle straps for dear life.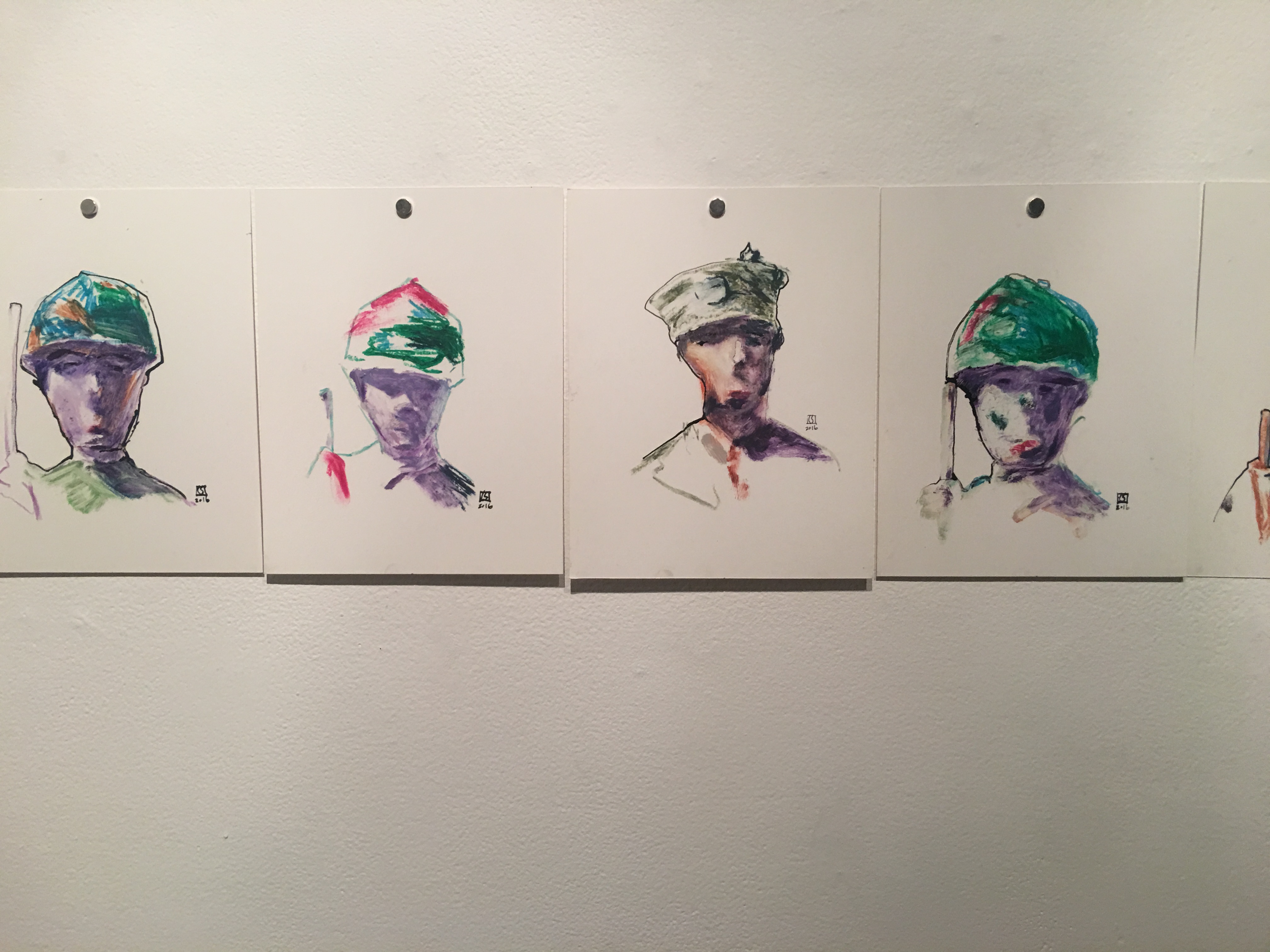 Staring at the rank and file of painted soldiers, it almost looked like they could all be the same man, the same subject, reporting for duty over and over again. The only distinguishing difference lying in the buttons and insignia on their uniforms, the color of the straps, the shape of the helmets keeping the contents of their skulls contained until a bullet liberates them. Rather than being tedious, the repetition of the pieces, their similarity, was haunting.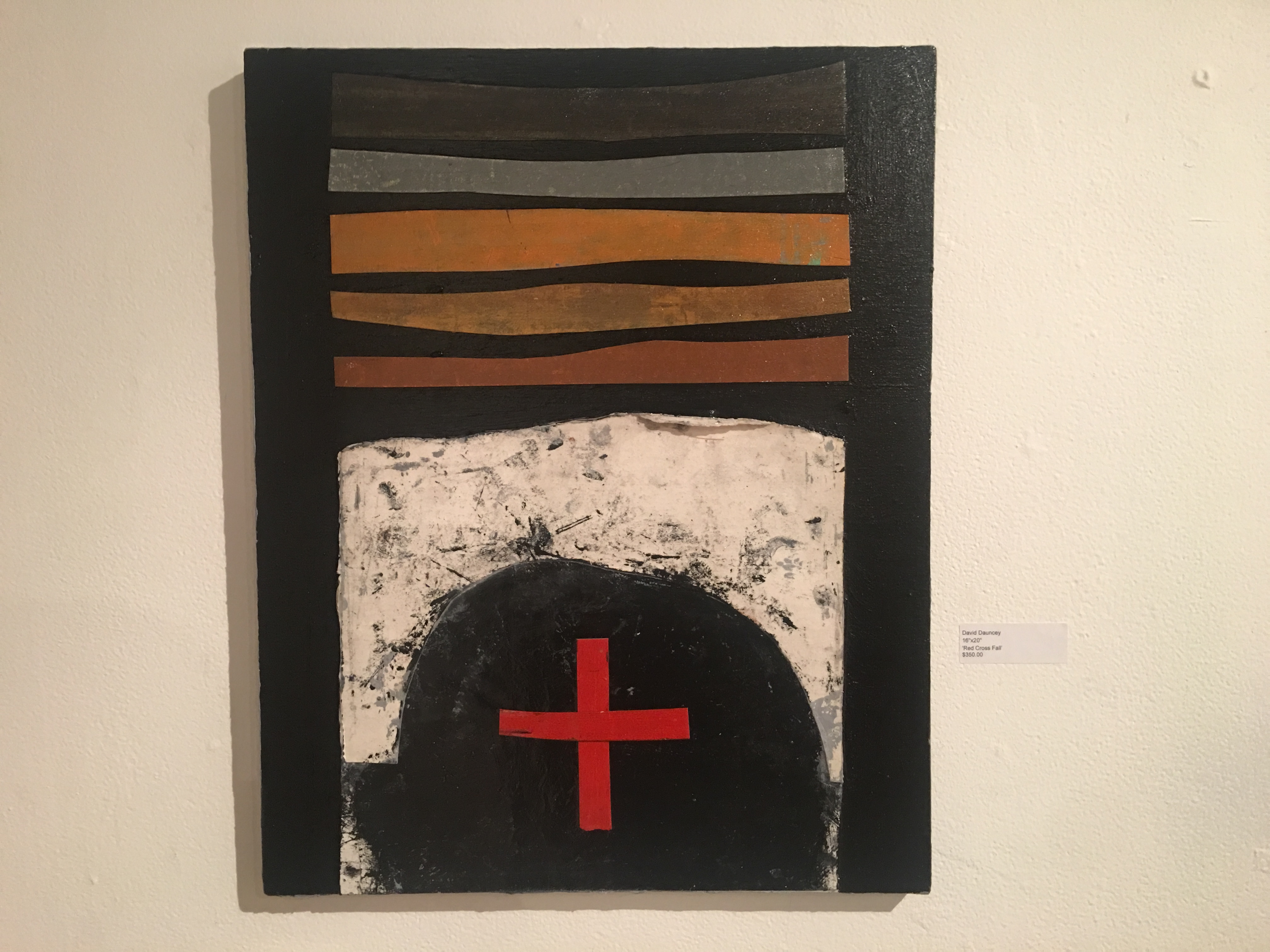 "I liked the idea of putting these two together – both of them doing figurative work, but one of them does it through portraiture and the other through abstraction," Perihelions curator Amy Young tells me after I drifted over to Dauncey's half of the exhibition. She points out the other thing that unifies the two painters: the sheer amount of labor that goes into their work.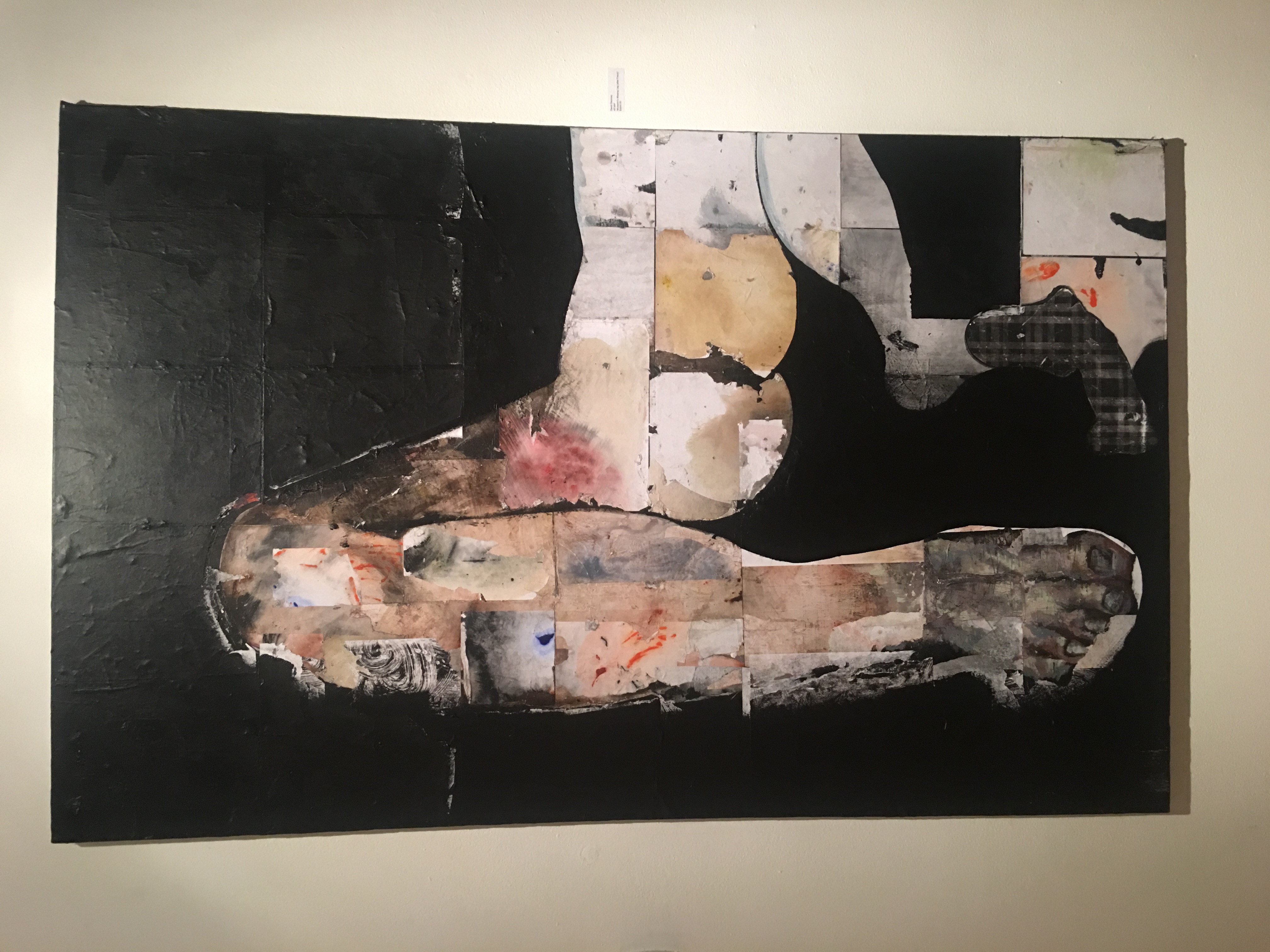 Dauncey's work makes for a striking contrast to Swenson's pieces. If Swenson's paintings looked like an army of melting wax soldiers, the subjects of Dauncey's paintings were burnt shadows, like the silhouettes action-painted onto walls by nuclear blasts. You could see the suggestions of human forms buried in Dauncey's work, mixing paints and collaging effects to produce pieces that looked like Rothko blocks on acid.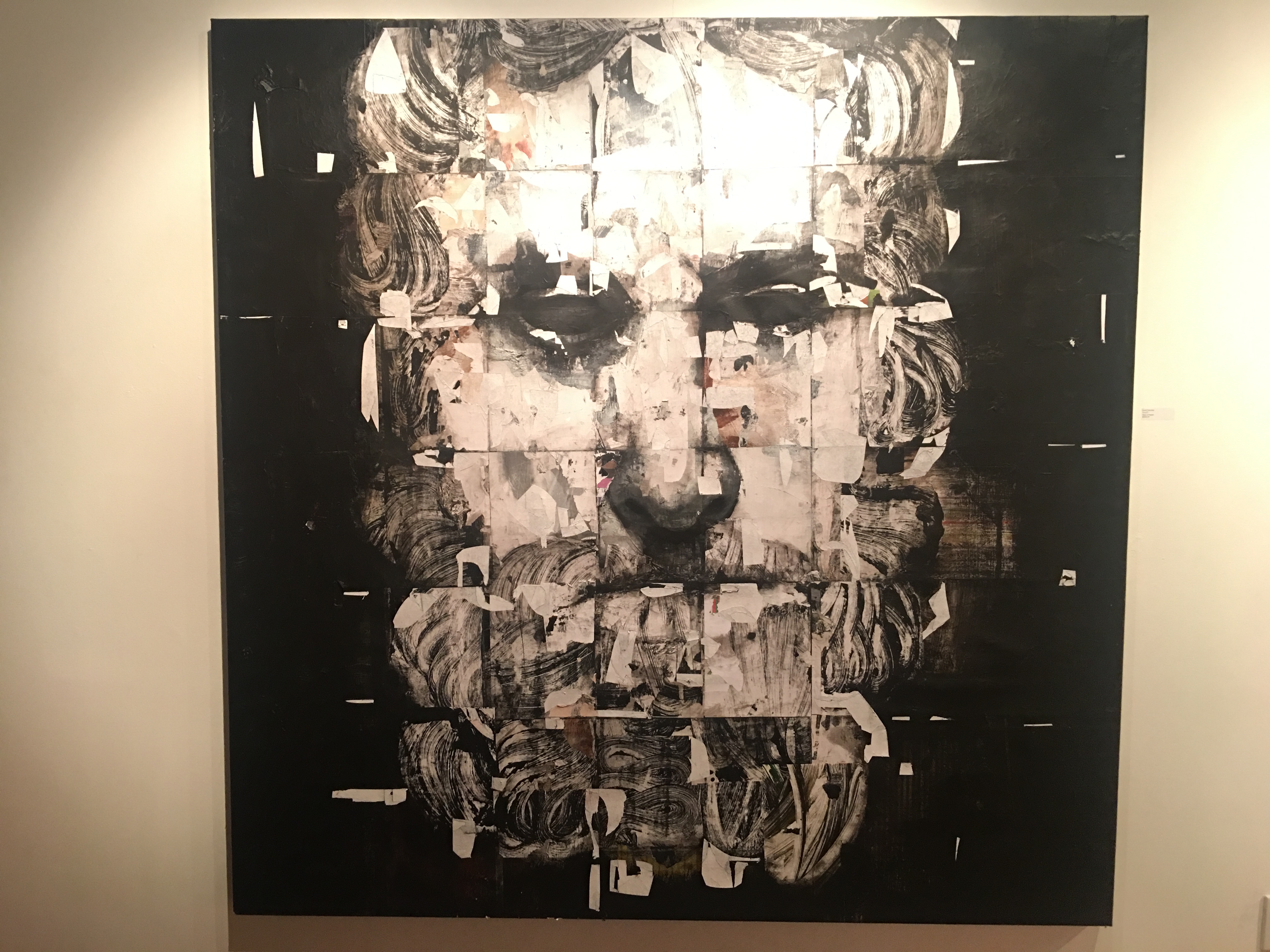 "Tooth & Nail" isn't an expansive show- you could pop in and see the whole thing in less than 15 minutes. But the small collection of works makes it easier to focus on individual pieces and let them seep into your consciousness. There was something deeply unnerving about the exhibition, in light of current events. Seeing pictures of the human form buried beneath abstractions or warped beyond individual recognition, it was hard not to think of Stalin's "a single death is a tragedy; a million deaths is a statistic". Looking at Swenson's work, I could imagine them just as easily depicting the soldiers of tomorrow. Looking at Dauncey, I imagined the craggy faces on Mount Rushmore buried beneath layers of bullshit and distortions. Truth papered over and impossible to look at head on… another case of art imitating life.
Ashley Naftule is a writer, performer, and lifelong resident of Phoenix, AZ. He regularly performs at Space 55, The Firehouse Gallery, Lawn Gnome Books, and The Trunk Space He also does chalk art, collages, and massacres Billy Idol songs at karaoke. He won 3rd place at FilmBar's Air Sex Championship in 2013. You can see more of his work at ashleynaftule.com
For more Phoenix coverage that doesn't suck, follow PHX SUX on Suckbook and that tweety website for Twits.
Read more from PHX SUX: