Juliette Lewis is hands down one of the greatest performers of our generation. I've been obsessed with her band Juliette Lewis and The Licks since I was a confused teenage boy. Upon hearing she was playing Riot Fest in Denver this year fresh off of her role in the Gem and the Holograms movie, I almost lost control of myself (as well as the vehicle I was driving at the time.)
I couldn't make it to Riot fest. Our band had just come back from Denver ironically, and we had an L.A. trip to plan. I resolved to figure out a way, possibly drive the 800 miles again. Why not, fuck it, it's Juliette fucking LEWIS!
Low and behold, they scheduled a date in fucking SCOTTSDALE on their way back from Riot Fest! Arizona is an excellent pass-through destination, and this awkwardly landed the femme-glam-punk band playing on a Wednesday night in the most conservative, ritzy part of the state with Los Angeles based Exsage along for the ride as openers. I resolved to go to this, even with my West Phx Punx aversion to Snottzdale. I was rewarded with one of the best shows I've seen in the Valley.
After parking (which is o.k. to do outside of LivewireAZ passed 5pm) I found the venue with less trouble than an L.A. (or even Central Phx) venue of the same caliber. The line was long, but I was instantly greeted by my good buddy Geri Wright (from local acts Camel Enamel and Gamma Function) and his charmingly macabre socialite partner in crime Angi Marie. Tickets were $20 day of the show.
The line picked up and bouncers separated the drinkers from the under 21 Scottsdale punx, applying wristbands where needed and ushering the line in hastily. The venue was very well staffed with security acting in near unison, taking orders from some shadowy force via two way radios.
LivewireAZ it's self is very modern. A ravey, edm feel meets bar rock atmosphere perfect for top 40 hipster bands, but catering more to bands like Crescent and Valley Bar books. Think if the Trunkspace had millions of dollars and everyone did MDMA. Everything was purple and pink and aesthetic as fuck. There was no assigned seating and the open room area was lined with classy leather couches and chairs. The bar was lined with neon lights, making every bottle look like a bottle of Hypnotique.
After running into local musicians Cassidy Hilgers and Brenden McBride I became aware that locals WYVES were opening the show. Having actually shared a stage with them at last year's Pho Cao Halloween Party, it was a thrill to see them opening for one of my favorite acts ever.
WYVES blended rock and blues influences with the skill of a band like Guns and Roses or Journey, with some organ flares keeping things toasty. It was fucking excellent. Front man Corey Golden was equal parts Bon Scott and Marc Bolan, shredding his guitar and rocking a white blazer and black sunhat. Cassidy (formerly of local Jazz rock band Sister Lip) Joined them for a number that was both sultry and chord-ripping rock n' roll. They were a perfect addition and a skillful extra touch by the venue/ promoter.
The next band to play that evening was Exsage. The irony of so many beach area bands repping the mescaline drenched sounds of desert rock is not lost on me. They took the genre to some brave new heights, adding a spookiness and dark futurism to a fuzzy wall of bass and surfy drums. Their visuals were outstanding (summoning images of switchblades and eyes splitting apart with symbols evoking witchcraft), and their performance was haunting and captivating, even through the sheer vampiric groove. I guess I just don't understand why Arizona doesn't have one notable desert-rock-beach-goth band of our own since we are kinda "that place".
Juliette Lewis took the stage last, to raucous fanfare. She wore a skin tight Evil Knievil jumpsuit and blue bandana, singing into an American flag microphone and brandishing the white mic cable like a bullwhip. The Actress turned rock goddess addressed the city/state she was playing in, calling Hillary Clinton something like a corporate reptile and Donald Trump a "Blue-eyed, culture deprived American Boy," transitioning into her trademark ode to white privilege and toxic masculinity, "American Boy."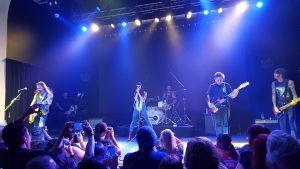 The band ripped through classics from the Licks records like " You're Speaking My Language" and new material from Lewis's solo record like the excellent "Hello Hero," as well as squishing in bits of covers like "Lord Won't You Buy Me A Mercedes Benz" as crowd pleasers. They titillated and preached, with Lewis embodying the timeless, gender bending spirit of Iggy Pop and the sheer ballsiness of Janis Joplin.
They were dancey and funny and punk rock, but the soulfulness is what sold it for me. the band played with the skill of an old blues band, creating what seemed to be on the fly medleys of songs. If they did ever fuck up, no one noticed. Juliette's banter, callbacks and energy were enough to fill the entire room. The highlights of the night were her stage diving, their amazing rendition of Tina Turner, and the moment she gave the mic over to a little girl in the audience.
"You may be asking 'Hey Juliette, why do you do this? Why not stay in L.A. with your big mansion?" she posited at one point in the evening. "Some times you've got to just love something a little too much.."
Juliette Lewis embodies what rock n' roll is, a fucking passionate, rage filled, destructive, uplifting, beautiful labor of love.