Maybe you've heard of the 311 App, a device similar to Nextdoor (but maybe less racist) that let's you communicate with your neighbors. That's the idea anyway. According to the app itself, "Tempe 311 provides a fast and easy way for residents to connect with the city for non-emergency services." The app is mostly used to report offensive graffiti, potholes, and for anonymous snitchers to report their neighbor's tall weeds. It's also used to report homeless people sleeping, since they can't sit on Mill Avenue anymore.
On Saturday, June 5 there were over 50 requests filed in the Tempe 311 app in less than 6 hours. The app usually has a dozen or so open requests, but never this many at once and never in this concentrated of an area.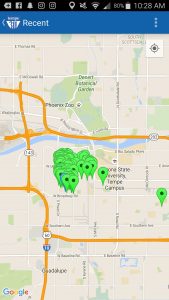 The neighborhoods Gilliland and Holdeman (two neighborhoods who do not have HOAs) seem to be the primary target in the mass reporting which raised an eyebrow for the members of the Maple Ash Farmer Wilson group on Facebook.
Many of the group members believe Tempe 311 is a tool used for gentrifying their respective neighborhoods — having a tool that anonymously lets users report lower income and rental homes homes over and over again for having a "slum-like appearance" makes it easier for developers to receive permits from city council to build high rises, condos, and other luxury buildings.
It is unclear who actually reported all 52 and counting tickets, but this didn't stop the residents of Maple Ash Farmer Wilson from responding. Several members of the group created their own reports to the app geo-located in the heart of Downtown Tempe – an area which includes Farmers Arts District and Mill Avenue. One of the reports included a dig against Tempe city council member Kolby Granville who is a supporter of Tempe 311.
Other Tempe residents took things to the next step by making their own yard signs and putting up posters.
Tempe city council member Kolby Granville denied to comment on the recent Tempe 311 reports.
To learn more about Tempe 311, visit http://www.tempe.gov/tempe-311 or https://www.facebook.com/No-311-Snitch-App-in-Mafw-819145314856899/?fref=ts
---
For more Phoenix coverage that doesn't suck, follow PHX SUX on Suckbook.
Read more from PHX SUX: